'I am just an artist trying to establish my own voice and be my own person,' the unconventional designer tells Amrita Singh.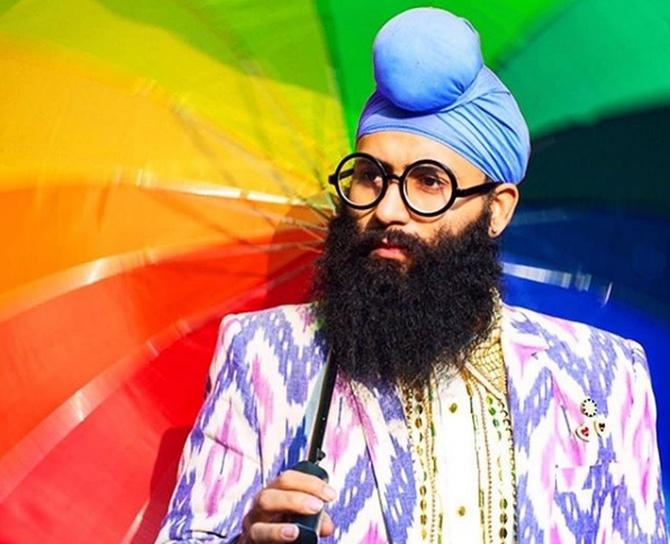 A few weeks ago, an eye-catching portrait of a Sikh man, dressed in golden overalls, purple sneakers and purple patka (head cover) made it to my Instagram feed.
I promptly fell down a rabbit hole. I began by scrolling through his Instagram handle, @parambanana.
Param Sahib is a Delhi-based artist and fashion designer popular on social media, I learn.
But he recently lost thousands of followers because his account was hacked and lewd messages sent to many of his followers, some of whom unfollowed him.
When I speak to Sahib later, he tells me that his account was hacked probably because of his unabashed sexuality and graphic, self-reflexive art.
He quickly let his remaining followers know that he had nothing to do with the messages, but I realise that such instances of hacking, trolling and threats are par for the course for this outspoken Sikh.
Sahib's artistic depictions of the Sikh man cock a snook at the cliché of the hypermasculine sardar.
His turbaned, bearded sardar is not the butt of a tired joke in an animated gag. He is neither a valiant warrior nor a macho alpha male.
He is sexual, liberated, colourful, feminist and gay.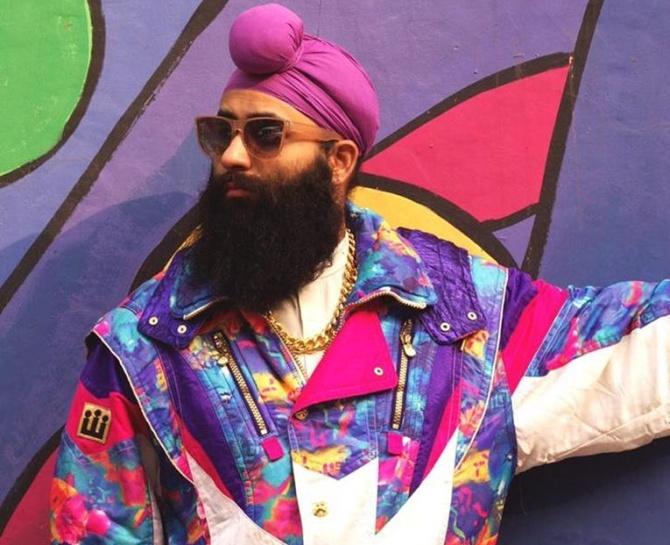 A graduate of the National Institute of Fashion Technology, Bengaluru, Sahib has been creating self-referential art for as long as he can remember.
Chatting over a video call, I realised that the familiar Sikh man in almost all his illustrations -- typically featuring long, untrimmed beards and colourful, striking patkas -- was the man himself.
Several aspects of this Sikh man's persona, such as cross-gendered flamboyance, are clearly at odds with his community's beliefs.
Sahib became active on social media, particularly Instagram, in 2014, replacing his hand-drawn drawings with illustrated graphics.
But like with most posts on social media, with recognition and positivity came trolling and negativity.
He often creates graphics of sexual encounters between unmistakably Sikh men, sometimes between men of different religions.
Within a year, he managed to stir up anger among conservative Sikhs who berated him for negatively influencing youths in the community.
"When I started creating these illustrations, my intent was never to rebel or prove a point. It was simply a way for me to express myself," says the 29-year-old artist, a resident of North Delhi's Ashok Vihar.
Despite threats and incessant trolling, Sahib decided to create a comic series with his illustrations three years ago -- one that tracked the day-to-day affairs of a gay Sikh man.
His attempt to do so was soon thwarted, as the virtual threats became all too real.
He was stalked by a group of Sikhs who threatened him with a gun while he was riding his bike.
As he fled from the goons, Sahib met with an accident, leading him to recuperate in isolation.
After this episode, Sahib started his eponymous clothing label, coming up with a range of quirky, contemporary Indianwear towards the end of 2016.
A social media hiatus, along with the unconditional support of his parents, helped him overcome the trauma of the incident.
But the next unpleasant incident was around the corner: one day, 40 to 50 Sikhs broke into his store in Ashok Vihar.
Later that night, a meeting was held at the Gurdwara Nanak Piao Sahib, where religious leaders, including members of the Delhi Sikh Gurdwara Management Committee, heaped abuse on him.
Sahib says many of these men were armed with swords and kirpans. Accused of poisoning the minds of Sikh youths, he was told to issue an apology.
The apology was telecast on channels such as PTC Punjabi and on YouTube, so that the diasporic Sikh community could tune in as well.
Along with this, he was told to post an apology on his Instagram handle. "It was as if they wanted to publicly lynch me," says Sahib.
Despite these challenges from within his community, there's nothing that's "not Sikh" about Sahib.
He always sports a beard and a patka, albeit in unconventional colours and prints. But his personality and sexuality have complicated his relationship with his religion.
Sahib tells me he has refused to work with brands who want to change his aesthetic to protect their own brand image.
"I have been told to trim my beard to suit the needs of brands. But this should be and always is my choice," says Sahib.
Today, his collection of colourful and contemporary Indian clothes is available online at pop-up shops such as Pernia's.
His Web site, paramsahib.com, will launch in a few days. "My fashion label is an extension of my personality -- vibrant and larger than life," says Sahib.
Being influenced by pop music icons such as Elvis Presley and pop art pioneer Andy Warhol, Sahib's aesthetic is characterised by big motifs and loud colours that somehow steer clear of the merely kitschy.
His current collection of shirts plays with nostalgia and is dedicated to the '90s generation.
"A true '90s kid will remember tazos, Mango Bite toffees, Little Hearts biscuits and those edible sugar cigarettes. I have designed quirky shirts inspired by these products," says Sahib.
He wants his clothes to eventually become individual pieces that are passed down as legacy.
With close to 31K followers on Instagram, support from people who like his work has also resulted in the creation of a protective shield of sorts, which allows him to continue to express his woke art.
Now, he is branching out, and has begun creating drawings on issues such as body positivity and domestic violence to support others around him.
"I am just an artist trying to establish my own voice and be my own person in a very competitive industry."
Production: Rajesh Alva/Rediff.com