'The turquoise blue-green waters glistened against the clear sky dotted by clouds.'
'The white sand in the foreground and angular mountains laden with snow behind made for a perfect landscape.'
'All those photographs I had seen before about Ladakh were not photoshopped.'
'Ladakh, truly, was nature's masterpiece.'
Today: We drop altitude and soak in the Ladakhi air as Rediff.com's Divya Nair travels from Tso Moriri to Pangong Tso, a high altitude lake with a strong filmy connection.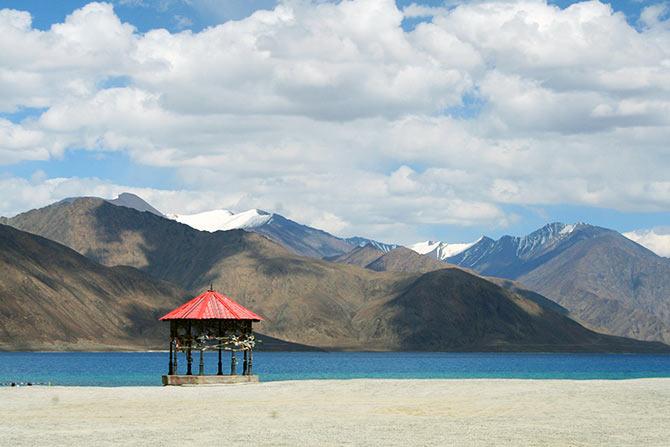 IMAGE: Pangong Tso is a treat for sore eyes and a haven for shutterbugs. Blame it on the success of 3 Idiots, the natural habitat is now a popular tourist spot. Photograph: Divya Nair/Rediff.com
Around 5 am, I sat up in my bed. I felt acidic and my head was aching too.
A few months ago, I had done sky diving, jumping off from 15,000 ft in extreme weather (minutes after we were on the ground, there was a cloudburst) and I was okay.
Two months ago, I had walked the streets of Riga at minus two degrees in the night with just a cardigan to keep me warm.
I have trekked to forts, covering maybe 1,000 steps or more without much halting. But this weird sickness was nothing close to that.
I wanted to eat something that would make me feel less acidic. I opened my snack box: There was masala khakhra, nachni khakhra and some fried food. I took a bite of the khakra and immediately spat it out.
I felt more sick from eating. I drank some water and tried to go back and sleep. Around 7 am, I felt uneasy and went out looking for a doctor. The tent next to ours was shared by Usha and Anil Suranaji.
She immediately called out for Dr Sangeeta Siwach. I told her I was feeling out of breath. She rushed in to get a tablet while Ushaji sat down with me and told me how she had a similar bad experience last night.
The three of us talked about how even a little exertion at this altitude was affecting us so badly. Dr Vishal came in and checked my vitals. He said I was dehydrated. The air was thin and the lack of oxygen in our bodies impacted each one differently, he said.
At breakfast, Anilji and Ushaji forced me to have two slices of bread with ginger water and half boiled potato.
Dr Vishal checked on my vitals and suggested that I had improved a bit and that I should take more fluids, perhaps ORS mixed with water. I cursed myself for falling sick and attracting attention.
Meanwhile, Jijo was recovering slowly and I learned that Diptiman Chakraborty, Swati Deshkar and Aiman Kalia were on and off oxygen since the previous evening.
I missed home, particularly my mother. I wanted to call her, but I thought I might break down. The lack of a cellular network was probably a sign for me to act strong.
I covered myself in three layers of warm clothing, packed myself a flask of ginger water (courtesy Tashi) and a bottle of ORS to keep sipping from. We rolled out at 8.30 am and I must say, I started feeling better as we drove to lower heights.
Everyone in the media car was surprised by my unusually quiet demeanour, but only I knew how low and helpless I felt.
A Ladakhi lunch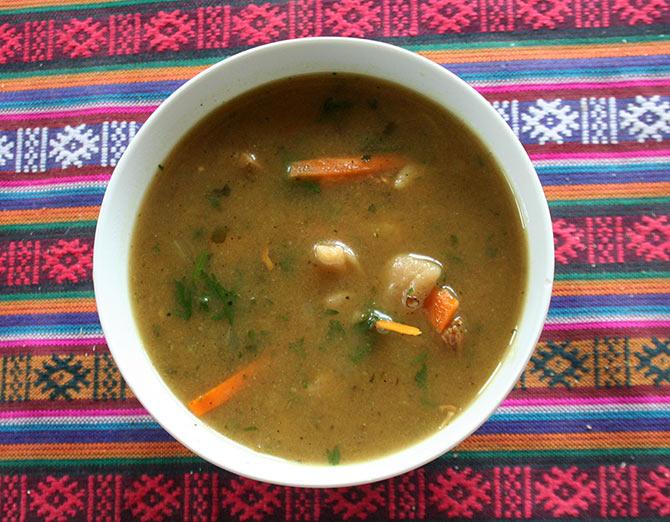 IMAGE: Thukpa is a common name for Ladakhi soup. It has an equal mix of veggies and meat and is known to keep the locals warm. Photograph: Divya Nair/Rediff.com
We stopped at Nyoma (13,000 feet) for lunch. There was rice, fresh, thick curd and dal that tasted so good.
Some of us argued about the yellow creamy curd -- whether it was from yak or goat. We agreed that it was the best part of the meal.
There was hot lemon tea that felt heavenly.
A short walk away, I spotted an STD booth and I couldn't resist calling home.
Amma's voice choked up as she was hearing me after five days. I hadn't called her since Delhi because of the poor network.
She said was worried about my health. I reassured her that I felt better.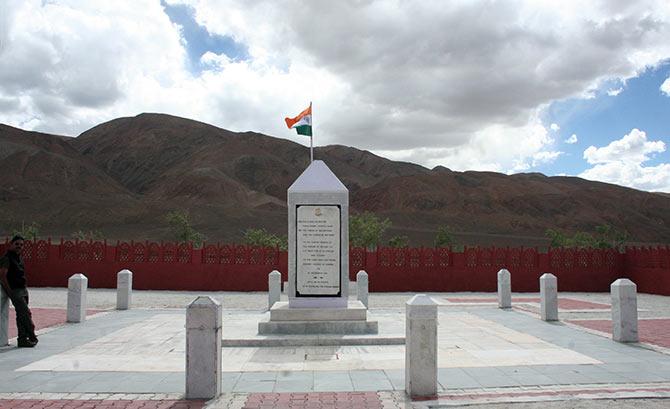 IMAGE: The Rezang La war memorial. Photograph: Divya Nair/Rediff.com
Around 3.30 pm, we stopped at the Rezang La Memorial.
In November 1962, Major Shaitan Singh and his troops repulsed seven fierce attacks by Chinese troops. Major Singh and 114 Indian soldiers made the ultimate sacrifice for the nation in the brutal 1962 India-China War.

Major Singh was awarded the Param Vir Chakra posthumously, and The Rezang La memorial is a tribute to those brave sons of India.
Ikson took the driver's seat in our car because he wanted to go ahead and take charge of the arrangements at Pangong. Jijo moved to Gyurmet Sonam aka Shehenshah's red Thar so he could shoot some pictures. It was thrilling to ride ahead of the convoy.
A window with a view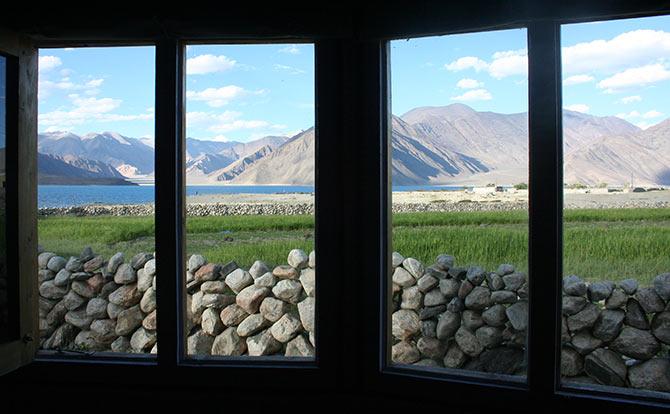 IMAGE: The view from my tent window at Pangong Sarai resembled a live painting. Photograph: Divya Nair/Rediff.com
At 5 pm, we reached Pangong Tso (14,000 feet), another high altitude lake, after Tso Moriri.
It felt as if my dream was playing in front of me -- the turquoise blue-green waters glistened against the clear sky dotted by clouds. The white sand in the foreground and angular mountains laden with snow behind made for a perfect landscape.
All those photographs I had seen before about Ladakh were not photoshopped, I told myself.
Ladakh truly was nature's masterpiece.
Over the radio, we learned that two-thirds of the lake is located in Tibet, China.
We drove up to Pangong Sarai in Maan village and parked our cars. There were about 30 plus tents and a large enough common dining area.
My last experience in a tent was not so good so I was hoping against hope that this better be good.
And lo, it was. As soon as I rolled up the windows, I looked out in disbelief. Was I dreaming?
As I came out, Ikson pointed out that our room would not have intercom and central heating. I did not mind layers of clothing and sleepless nights for a view so beautiful.
Music, bonfire and bonding
In the evening, Jatin showed us all the photographs he'd shot. Once again, there was a bonfire and drinks and all the participants gathered for a boys versus girls around of antakshari.
Pranabda kept a close watch on me. Although I am a light drinker, he told me that alcohol and altitude don't go together. I reassured him that I would not touch alcohol, to which he joked that alcohol was better than smoking.
Pangong Tso
IMAGE: How does anyone describe this colour changing landscape? Photograph: Kind courtesy Sudhir Babu
I was up by 8 am because we were asked to dress up in our best clothes for a photo shoot.
I thanked my husband Prasanna for packing a white dress. Then I realised that I did not have matching shoes to go with it. So, I opted for a white top and a pair of denims.
At breakfast we were informed that Adventure 14 and 18 would travel directly to Leh because it was important for Diptiman and Aiman to lose altitude. Besides, it wasn't practical to keep them on oxygen for long. Parth and Dr Pawan Sharma would drive along with them.
We reached the lake and took turns clicking solo and group photographs, some of us with and without props (a rainbow coloured umbrella, hats, caps, boots, colourful scarves and more).
New learnings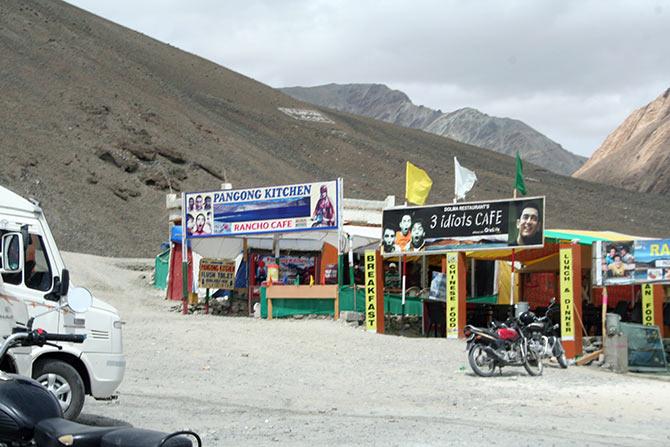 IMAGE: A few metres away from the filming location, there are restaurants banking on the film's title to attract tourists. Photograph: Divya Nair/Rediff.com
The rest of the convoy headed to the 3 Idiots point while Ixson and I stayed back for Jatin to get some candid shots of the Mahindra vehicle with Ceat branding. I got to learn a thing or two about wide angle shots.
Ixson tried to teach me how to drive and I finally found my place in the driver's seat, for the first time during the trip. I turned in the key, brought the gear to neutral, punched the clutch hard and changed to first gear.
When I slowly released the clutch, the vehicle jerked a little and stopped. I had not accelerated the vehicle enough for it to move out of the sand. I tried a few more times and eventually it moved a few metres before it stopped again.
The sun was up and bright and I did not want to get late for the 3 Idiots point. Ixson took over from me, but the road was so confusing that within five minutes we realised we had lost our way.
We came back to the hotel, asked for directions and tried to catch up with the convoy.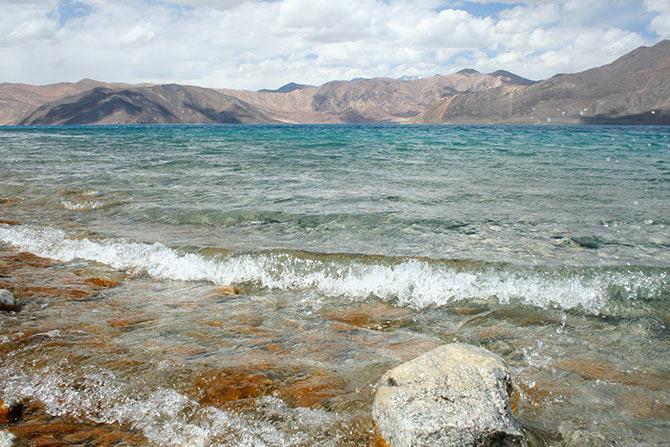 IMAGE: How often do we get to see such clear water reflecting the colours of the sky and the mountains? Even the red-green-yellow algae lend its colour to the rocks beneath. Photograph: Divya Nair/Rediff.com
The point was about 15 kilometres away from the camp site and there was no proper road to lead us.
Since Ikson had driven around the place during his recce, he used his judgement to stay on course.
There were smaller camps on our way which became our reference point. Although we could see the point from a distance, to reach the location by road, we had to further drive uphill, take a turn and come down, which was quite strange.
If you have watched the film, there is a scene in the climax where Kareena drives a scooter in a lehenga where everyone else including Aamir Khan is waiting. The location would bring back those memories and almost everyone who comes there would identify the scene. When we reached the point, the rest of the convoy was getting ready to leave.
I wetted my feet in the water and it was chilling enough. I remembered Anushka Sharma sharing how her body double in Jab Tak Hai Jaan couldn't stay in the water for more than a few seconds while shooting the opening scene. By the time she came out, her lips were blue, she'd recounted.
I quickly grabbed some shots of the 'filmy' lake.
Further ahead was a tourist point where there were restaurants banking on the film's popularity. The convoy ordered Maggi and clicked pictures for memory.
Enroute, we met a couple (Manjula and Dev) whose vehicle had some trouble. Since the place was remote, Vinod suggested they come along with us till the vehicle was repaired by the Mahindra service team and good to go.
Knowing Ladakh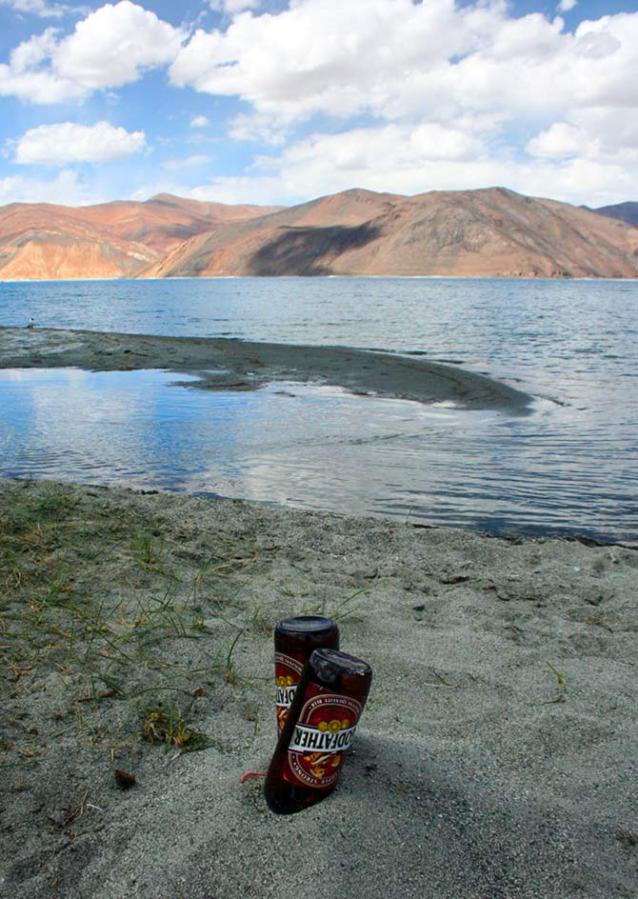 IMAGE: Tourism can be a bane in pristine land such as these that are inhabited by rare flora and fauna. Photograph: Divya Nair/Rediff.com
Back at the hotel, I had a chat with Sonam Gyurmet, the owner of Pangong Sarai, who told me about the lives and culture of the Ladakhis.
The local population comprised 80 per cent of Buddhists, 18 per cent Muslims and 2 per cent Christians.
The temperature, he said, dips to minus 25 degrees in winter.
I asked him how the locals survived the extreme cold and he told me that they survived mostly on rice and thukpa -- a soup made from mutton stew and atta to stay warm.
Speaking about the local cuisine, he shared that butter tea, skyuu, kholak (a soup made from finely ground roasted barley) served with butter tea and chutagi (a noodle stew mixed with potato, carrot, green leafies, meat and onion for flavour) were popular.
It takes a week for supplies to reach Pangong from Delhi and Jammu and Kashmir.
For dinner, we relished a veg thukpa made from butter and lots of palak. It was easily one of the best comfort foods I had had in a long time. My tummy felt happy.
It was soothing to listen to the water splash in full splendour, but it was even wonderful to watch the star-studded sky above us. Each star shone bright like a diamond, urging us to stay longer.
The cold winds slapped us in the face, but that was a small price to pay for the surreal experience.
When we headed back, we heard over the radio that Adventure 14 and 18 hadn't reached Leh yet; there was a landslide on the way which kept them busy for six hours or so.
The last we heard was that they were considering driving back. Kanishk Malick and Kabir Waraich from the XSO team were trying to get in touch with them.
It was 11 pm and we were worried about Aiman and Diptiman's well being. Aiman's oxygen saturation had dipped to 38, we were told.
Minutes later, we heard from Parth who told us that both were shifted to the army hospital where they were being well taken care of.
Relieved, we walked to our tents. It was indeed a long and beautiful day.