With the India launch of Nokia 3, Nokia 5 and Nokia 6 confirmed, buzz around the launch of the flagship Nokia 8 grows, notes Ashish Narsale.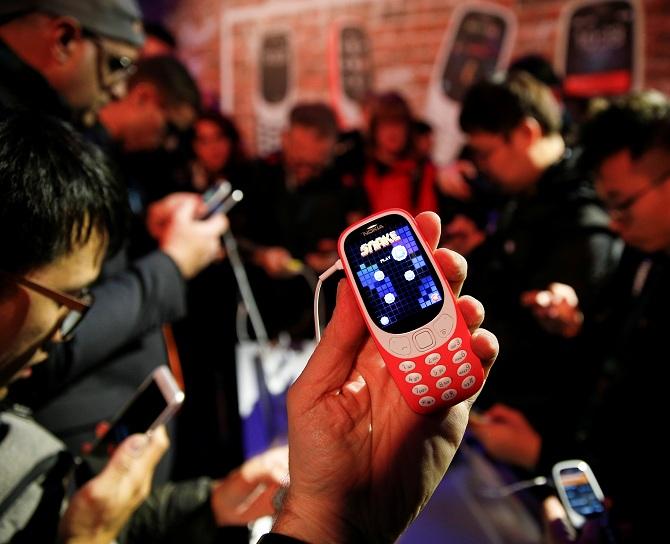 IMAGE: The new Nokia 3310 was unveiled at the Mobile World Congress in Barcelona in February.
The phone, which is still recalled by many for its durability and simplicity, has been renovated with a colour display and social media connectivity, and has also brought back the popular Snake game.
Photograph: Paul Hanna/Reuters
Set to a polyphonic background score of Star Wars, a reminder of Nokia's polyphonic ringtones, it began as Star Wars nods usually do: With the words 'A long time ago in a galaxy far, far away...'
The Star Wars-themed teaser, titled 'Coming to your galaxy soon', showcased the new Nokia phones -- and even an android robot stand-in for R2-D2 -- on a desert planet with a rather Darth Vader-isque Nokia 6 stating 'I am your father.'
Only to be outgunned by the revamped Nokia 3310, which states: 'I am the father of you all.'
The teaser was a prelude to HMD Global's much-anticipated event in New Delhi on May 8, where the Finnish company now manufacturing Nokia phones revealed it was on track to launch the Nokia 3, Nokia 5, and Nokia 6 in India next month.
HMD Global, which is attempting to return the Nokia brand to its former glory, unveiled the three new Android smartphones at the Mobile World Congress in February along with the new Nokia 3310, which became the MWC show stopper.
The buzz in the industry now suggests that the company is also ready to launch its flagship phone: The Nokia 8.
If the multiple leaks are to be believed, the heavily beefed up smartphone will be a nightmare for its rivals.
Insiders speculate that the Nokia 8 will be powered with the latest Qualcomm Snapdragon 835 SOC (also seen in the Samsung Galaxy S8), 6 GB of RAM, Max 128 GB ROM storage and a memory card slot to expand storage.
Could this then be the 'Baap of all phones'?
---
Reader Invite
Are you a gadget/technology wizard?
Would you like to contribute articles and advice on gadgets, gaming, the Internet, software technologies, OSs and the works?
Please mail a brief sample of your writing to gadgetsandgaming@rediffmail.com with the subject as 'Gadget/technology wizard' and we will get in touch with you.