So what if your bank has imposed/will impose a transaction fee of Rs 20 for using ATMs after your fifth visit in a month? You can still remain within your free transaction limits and avoid being charged at all. Wondering how it is to be done? Read on.
If you are the kind of person who has the habit of hopping across to your nearest ATM to withdraw small amounts of cash because you cannot really rely on the use of plastic money, or are still not compatible with the idea of internet banking, there is a piece of bad news for you!
You may soon receive a communication from your bank saying that it will charge you anything between Rs 5-20 on your ATM transactions.
This is applicable if you exceed the limit of five ATM transactions in a month in your home bank.
Also, if you are using the debit card in the ATM machine of a bank other than your own, the free transactions will be limited to three.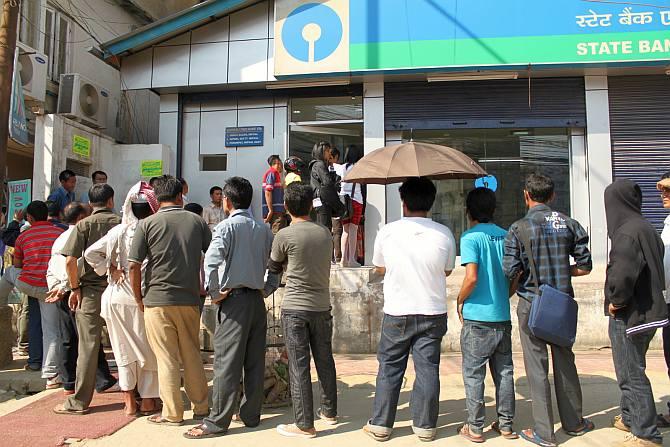 Photograph: rajkumar1220/Wikimedia/Commons
If you are a compulsive ATM hopper, banking with the largest commercial bank of the country, the State Bank of India, you may already be fretting and perhaps even complaining about the fact that free ATM transactions have been restricted to five in a month and you are expected to cough up anything between Rs 5-20 for your ATM transactions, the moment you cross the limit of your five free transactions. This includes non financial transactions such as checking your balance and changing your PIN as well.
The same holds true if you are banking with private sector banks such as Axis Bank and HDFC Bank as they have indicated on their website that beginning December 1, Rs 20 (excluding taxes) will be charged for financial transactions beyond the limit of the first five ATM transactions in a month that will remain free.
For every non-financial transaction that also falls within the limit of five, HDFC Bank will charge Rs 8.5 (plus taxes) while Axis bank has decided to charge Rs 9.5 (plus taxes).
And so far, we just told you about the use of your ATM/debit card in your home branch.
If you are an SBI card holder using your card to withdraw cash at the Kotak Bank, your free ATM transactions have now been restricted to three instead of the earlier five.
But that's if you are a resident of cities such as New Delhi, Mumbai, Kolkata, Chennai, Hyderabad and Bangalore. If you live in any city other than these, you can still get away with five free transactions at ATMs of lenders other than your own.
Heavy users of ATM/debit cards, however need not worry about parting with a princely sum for using your own card!
Use the debit card of a smaller bank
Unlike the big boys of banking such as SBI, HDFC Bank and Axis Bank, some smaller banks such as Federal Bank, Yes Bank and Kotak Mahindra Bank have taken a step backwards and do not want to jeopardise their brand equity by charging their customers on ATM transactions at least in the forseeable future.
If you have an account in any such smaller banks, it makes sense for you to use their ATMs instead of the big ticket banks in which your salary probably goes into.
Withdraw cash in bulk
If you do not have an account in the above mentioned smaller banks or are skeptical that they will follow suit by levying charges sooner than later, quit withdrawing small amounts from the ATM to see you through your immediate needs.
Withdraw some cash in bulk instead of hopping across to an ATM every single time you need money.
Make best use of various existing 'branchless' facilities
Till date, there are many Indians who shy away from financial transactions made in the virtual space or are wary of revealing their PIN numbers in restaurants or retail outlets where it is now compulsory to punch in one's four digit debit card PIN whenever you pay with your credit card.
In this advanced age, banks have put in many layers of security to make your debit card transactions safe at retail point of sale machines.
The same holds true for internet transactions and funds transfer online.
Be assured that checks and balances have been put in place to ensure that your financial transactions are secure. Besides, why waste a free transaction by using your ATM/debit card to check your balance at an ATM machine when you can do so by either using the phone banking facility or by signing in to your banking account.
Thus, as you can see, you need not necessarily be the 'victim' of the new charge that banks have introduced. If you use your bank account judiciously, five ATM transactions for cash withdrawal in a month may well suffice for you.
The author, Director & Co-founder of Creditvidya.com, is a credit expert with 10 years of experience in personal finance and consumer banking industry and another 7 years in credit bureau sector. Rajiv was instrumental in setting up India's first credit bureau, Credit Information Bureau (India) Limited (CIBIL). He has also worked with Citibank, Canara Bank, HDFC Bank, IDBI Bank and Experian in various capacities.