Work hard, earn more, save well, invest wisely and love your money. But, love yourself first, says Rajiv Raj!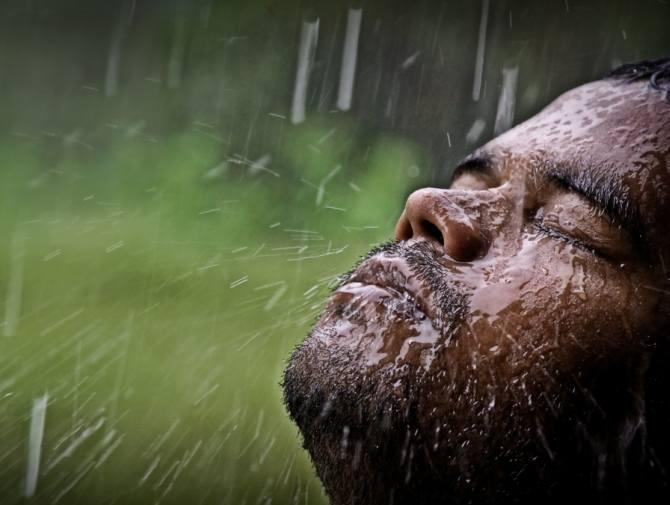 Photographs: ram reddy/Creative Commons
Seems like Bob Marley knew it all when he said, 'Money can't buy life!'
Money can buy you a lot of things but cannot buy happiness. Not everything that matters can be exchanged for money. And what are those things? Read on to know more.
Most of our time is spent on earning, saving and investing money. And very conveniently weekends are kept reserved for 'spending time on self'. That too if there is time left after finishing all the piled up chores, shopping and other activities which have to be completed because there is no time on weekdays!
That leaves us with the question what is our hard earned money actually buying for us? Products and services which are essential to live a comfortable life, of course!
But is that all we need to live a happy and fulfilling life?
The answer is no! Human life has many more dimensions which cannot be ignored. And yes, money cannot buy that.
1. Feel the rain!
Rainwear. Check. Umbrellas. Check. Gumboots. Check. So you think you are all set for the rains? No way!
What's more important is welcoming the monsoons. Take time off to enjoy the rains. Go for a walk or a drive without an umbrella or rainwear.
Instead of protecting yourself from getting drenched, soak in the happiness and feel the rain.
The breeze will feel cooler, the plants will look greener and you will feel happier.
The smell of mud after the first rain can never be bottled and sold. Money cannot buy you the happiness that rains bring along!
2. Ok! I'll buy that Rolex, but can it promise me a good time?
If you had to pen down moments from your life which make you smile which ones would those be? The walk on the beach with your spouse/partner or the day you bought those expensive hand-made leather shoes?
The crazy all night party at your best friends place or the day you checked into that seven star hotel for a business stay?
Good times are made of people and happy memories. The exclusive gold-plated Rolex cannot buy you a good time for sure!
3. Elegance and class are not sold in high street fashion stores!
Even a sack will look glamourous on some women and some men even make an old tee work like they are going to walk on the ramp! And then there are people who have to scream and tell about the brands they are wearing because nobody notices!
Well, what differentiates the former from the latter is elegance and class. These qualities help you carry off anything and look like a million bucks.
On the other hand, you can part with a million bucks, pick up the best stuff and still not stand out that evening. Elegance and class has to be worked on! It's a combination of your physique, taste, attitude and personality. Precious stuff which money cannot buy!
4. Health is wealth! Cliched I know but worth writing in gold
So you have availed a loan for home renovation and turned it into your dream place to live. That's truly amazing! But what about your body? Isn't that where you primarily reside?
We pay so much attention to a brick and mortar room around us and take the only human body in which we will be residing all our life on this planet, for granted. Yes money can buy healthcare services, best doctors and expensive surgeries. But it can never help you get rid of the pain that comes along and the horrible feeling of being confined to the bed.
The high after exercising, the energetic feeling after a good night's sleep and the liberty to enjoy good food even when your hair is turning grey, is what money cannot buy.
5. A little bit of love can heal but it costs nothing!
Concern, care, loyalty, a warm hug and sloppy kisses. Love is made of that and a lot more.
We are all capable of loving and being loved. And what is life without love! Remember the story of King Midas? Gold everywhere and no one to love.
Make a promise to yourself to never take people for granted who make your life worth living. Prioritise people over things because love cannot be bought. Value what's precious and the rest can wait. Play some music and do a little dance and sing with me the Beatles song, I don't care too much for money, money can't buy me love.
It's good to have money and all the things money can buy, but once in a while stop and make sure that you haven't lost the things money cannot buy.
The author is a credit expert with 10 years of experience in personal finance and consumer banking industry and another 7 years in credit bureau sector. Rajiv was instrumental in setting up India's first credit bureau, Credit Information Bureau (India) Limited (CIBIL). He has also worked with Citibank, Canara Bank, HDFC Bank, IDBI Bank and Experian in various capacities.