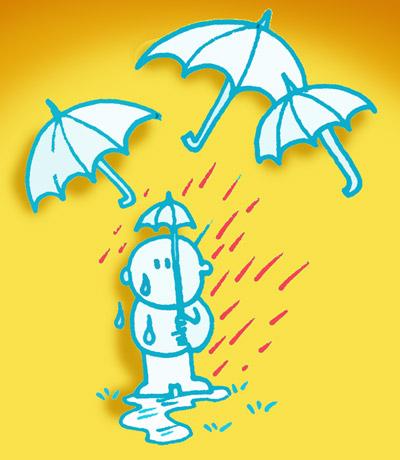 There are four important reasons why you must also buy personal mediclaim over group mediclaim, says Dhruv Sarin
Illustration: Dominic Xavier/Rediff.com
It's not easy to choose one health insurance policy over the other and if you are a salaried professional, you always wonder whether a personal health insurance be chosen over a group health insurance policy.
In simple terms, group health insurance is a plan that employers get for their employees to make them feel safe and secure at the workplace. Both terms and conditions associated with such policies are set by the employer and an individual cannot alter them.
In contrast, a personal health insurance policy is bought by an individual either for their family or for self.
Both these plans have their own benefits, but there are certain reasons due to which personal health covers prove to be more adequate.
1. You choose your policy
Personal health insurance is a direct contract between an insurance company and a customer.
You have the freedom to choose a policy out of a whole bunch of similar policies available across the insurance market, including the right to continue and discontinue the policy.
You can customise the policy as per your needs and can opt for additional coverage through different riders.
2. Policy portability is viable
At some point, if you are no longer satisfied with your policy and want to change to some other insurer, choose personal health insurance since it allows you to do it.
In this while, changing from one plan to another or from one insurer to the other, you do not lose the benefits you have earned so far.
This also means that you can very well carry forward all your benefits alongside the waiting period of your existing policy.
3. Avail coverage for dependents
In many cases, there is a provision of getting coverage for your dependents and the number of family members you want to include too. Though getting a family member insured under one plan seems like a nice idea, it comes with several drawbacks, such as the limitation on the number of dependents and less coverage for each of them.
In such a scenario, you are leaving them uncovered even after having a health insurance policy.
Hence, it is better to have personal coverage for the benefit of the individual family member.
4. Coverage for your retirement
Even if you find your group insurance plan more efficient than your personal health coverage, it might not walk hand-in-hand with you after your retirement.
Once you are retired or decide to leave your job, the policy stands cancelled automatically and so is the accumulated benefit of the policy over the time. Therefore, you would be deprived of health insurance, when you need it the most.
Hence, to live happily in the darkest hours of your life, make sure you invest in an apt personal health insurance plans.
Dhruv Sarin is head of health insurance, PolicyBazaar.com