We are a cricket loving country and there is so much to learn from the game about investing and financial planning.
Mumbai Indians played a glorious inning this IPL season. They did not have a great start and had to face defeat in a couple of matches initially. However, once they picked up momentum team Mumbai Indians was unstoppable! So what is it that we can learn from the winners' run to the cup? Read on to find out.
The Mumbai Indians team was a fantastic mix of people on and off the field. The players, the coaches and the mentors contributed to the spectacular performance on the field. Each team member brought with them the magical touch which led to the team holding up the sparkling IPL Champions trophy at Eden Gardens May 24.
So what is the stuff that winners are made of?
The power of experience: Harbhajan Singh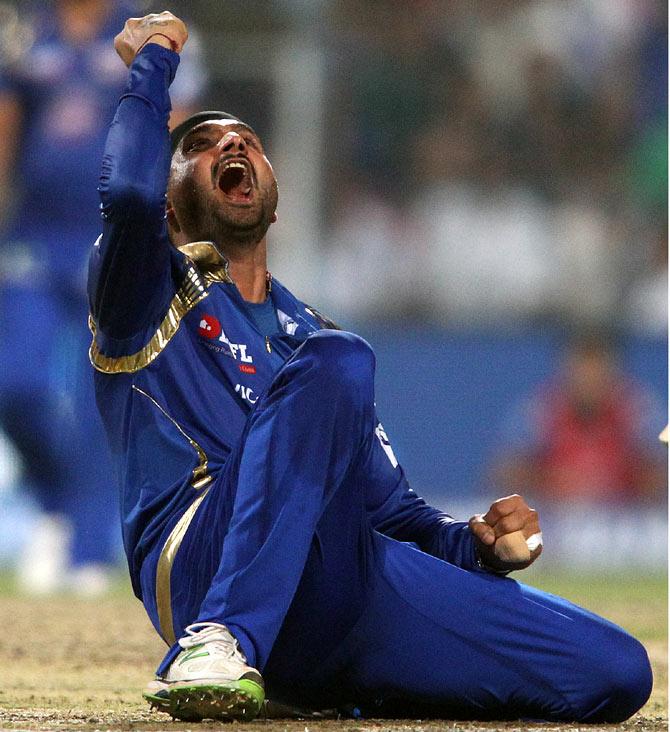 Harbhajan Singh celebrates taking the wicket of Dwayne Smith in the final match at Eden Gardens. Photograph: BCCI
Experience is a tough teacher but the lessons it teaches are invaluable. Harbhajan Singh's experience helped the team to sail smoothly through crucial overs. His experience also guided the team to target important wickets and get an edge in the game.
No amount of practice or technique can be as powerful a guiding force as experience. Your past is your personal reserve of gold mine. Capable of yielding rich dividends.
While making decisions, whether personal, financial or professional, take notes from past experiences.
Razor sharp focus: Malinga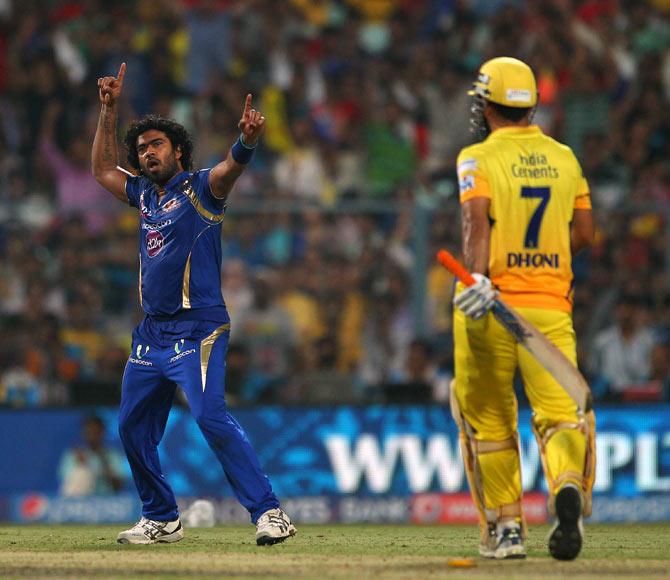 Lasith Malinga celebrates the wicket of Mahendra Singh Dhoni. Photograph: BCCI
Scene during a typical IPL match is like this: the audience is cheering on, the music is blasting and the cheerleaders are dancing. However for Malinga, all he can see is the middle stump! The focus is steady and his efforts consistent. Malinga was able to change the course of the game by picking crucial wickets with this strategy.
That is what focus does! Decide on your financial goals and go after them with unflinching focus.
Form is temporary but class is permanent: Rohit Sharma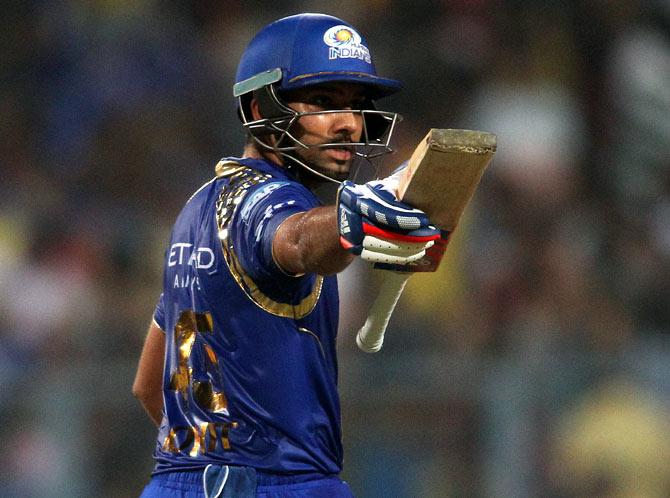 Mumbai Indians captain Rohit Sharma. Photograph: BCCI
And Rohit Sharma demonstrated ultimate class by gracefully leading the team to the Number One spot! The Mumbai Indians captain has shown outstanding determination and persistence as he led the team through initial failures to the ultimate win.
Losses on the way through this seasons IPL had people questioning his current form. But he knew that form is temporary. He continued doing his job to the best of his ability and it worked!
We must bear this in mind while investing in equity as well. Good stocks may temporarily sway due to market sentiments or other factors. But in the long run, investing in companies which are focused on business will definitely yield rich dividends.
Expert guidance, the best mentor combos!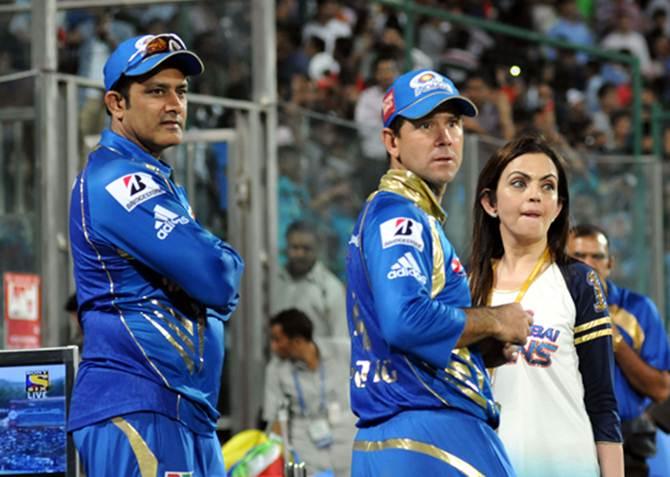 Anil Kumble, Ricky Ponting and Nita Ambani, co-owner of the Mumbai Indians franchise in the Indian Premier League
Mumbai Indians's mentor Sachin Tendulkar celebrates. Photograph: PTI
Expert guidance is an essential requirement for top-notch performance. Coaches help validate the methodology, help correct plans in case things are not going the right way and also provide psychological support to the team when the times are tough.
Chief Coach Ricky Ponting in his interview after Mumbai Indians win stated that he always believed in the team's talent and hence the initial loss did not deter him. He continued guiding the team and building strategies which lead to the spectacular win in the IPL final.
Similarly, it is essential to have mentors in your life to guide you. Professional financial advice helps you implement your strategies and reach your targets.
Trust in your teams abilities!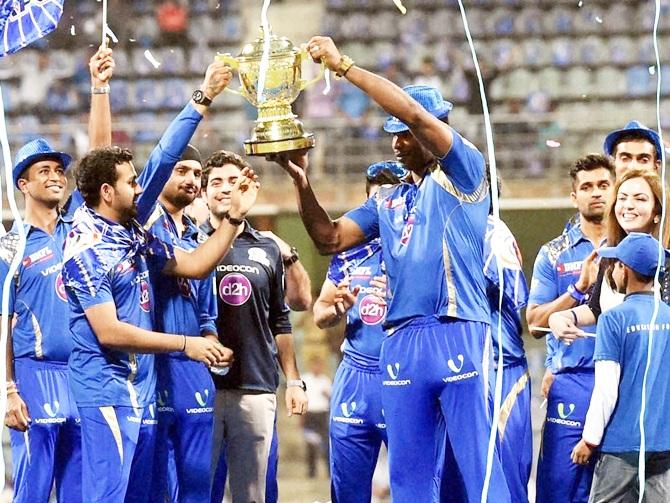 Mumbai Indians celebrate their Indian Premier League 2015 win at the Wankhede stadium in Mumbai on Monday after winning the finals at Eden Gardens May 24. Photograph: PTI
Players like Hardik Pandya have turned the course of matches during this IPL season! Young talent was recognised and that has helped the team succeed. To scale your business it's important that you have a great team of talented people. It is essential to have an eye for talent to choose the right people.
Identifying talent is a skill which has to be developed. It takes time and strengthens with experience. Once you have the right people and complete faith in their abilities, everything else falls in place.
Just like it did with Mumbai Indians!
Never say die spirit!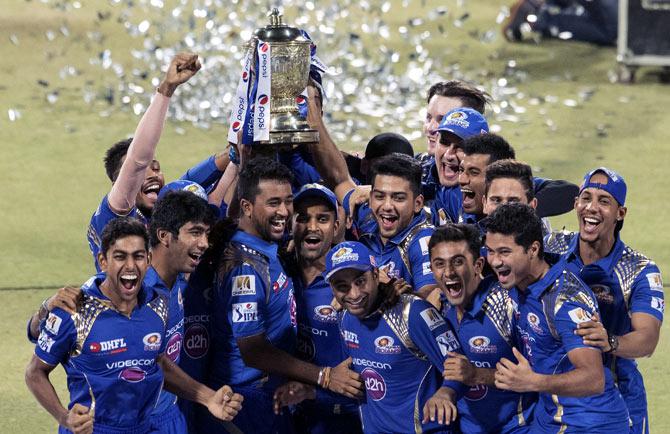 Mumbai Indians celebrate winning IPL 8. Photograph: BCCI
After losing the initial couple of games this season, it was easy for the team to get bogged down and blame the pressure. With the audience doubting your abilities, it takes courage to get on the field and play your best game. Kudos to team Mumbai Indians for dealing tough times with patience and persistence. No matter what people around them said, they maintained their high spirits and focused on the Champions trophy.
A resilient spirit is what differentiates your winning ideas from the rest. You just have to keep faith in your sound investment ideas no matter what and persevere with them to deliver best returns.
As Shiv Khera says, 'Winners don't do different things, they just do things differently.' Imbibing the above qualities will help you achieve your financial goals and deliver a roaring, applaud-worthy performance in real life. We are a cricket loving country and there is so much to learn from the game. Hope our perspective on it motivates you to do better.
Three cheers for the winning team!
The author is a credit expert with 10 years of experience in personal finance and consumer banking industry and another 7 years in credit bureau sector. Rajiv was instrumental in setting up India's first credit bureau, Credit Information Bureau (India) Limited (CIBIL). He has also worked with Citibank, Canara Bank, HDFC Bank, IDBI Bank and Experian in various capacities.