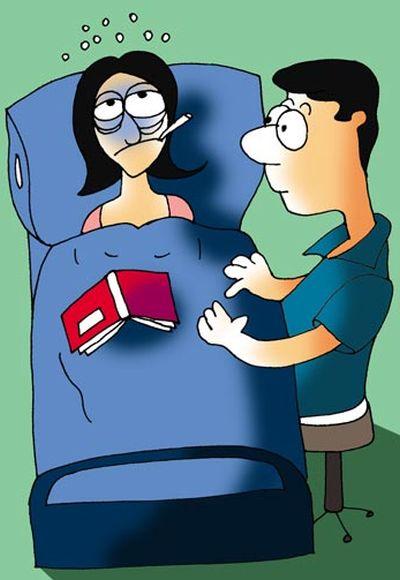 Mahavir Chopra explains the pitfalls one may face after buying a day care insurance policy
Illustration: Uttam Ghosh/Rediff.com
Healthcare in India has advanced manifold. It is no longer a matter of concern to get that cataract surgery or operation for kidney stone removal.
You don't have to stay at the hospital for days, or take a week long rest after the surgery.
A treatment can happen within 2-3 hours at a hospital of your choice near your area.
These treatments, which once required more than a day's hospitalisation and have now been reduced to an afternoon's trip to the hospital because of 'technological advancement', are normally termed as 'day care procedures'.
However, accessibility to such treatments hasn't really been directly proportional to their cost. Good healthcare comes at a premium price, and we all have accepted that.
This brings us to the focus of this discussion, day care procedures and your insurance policy.
Day care procedures: Paying a price
Like mentioned earlier, day care procedures are expensive.
In any Indian metropolitan city, a laser cataract surgery can cost more than Rs 60,000, kidney stone removal procedure starts at Rs 12,000 and a chemotherapy for cancer treatment costs minimum of Rs 2 lakh (all quoted costs are ballpark figures).
The expenses involved for day care procedures are the reason why they become the selling point for most health insurance sales calls.
Health insurance policies often cover expenses towards hospitalisation of minimum 24 hours.
Day care procedures, which take less than a day's time, are covered as per the terms and conditions of your insurance company.
Understanding coverage
Ask yourself the following three questions when your review a health insurance plan on the basis of day care procedures:
How many day care procedures does the plan cover?
This is a classic case of over promise and under delivery.
A health insurance plan may be covering up to '200+' day care procedures, but it's not necessary they include all the broad categories.
20-30 broad categories of day care treatments covered is better than 200 detailed procedures.
What kind of day care procedures are included?
Like mentioned before, broad categories are more important than specific treatments.
An insurer's policy wordings may name 15 day care treatments under category 'eye operations', and none under 'operations on kidney and bladder'.
This means that important and common operations like kidney stone removal would not be covered.
How do I understand this long list?
Unless you are a practicing physician, it is impossible to understand the list of day care procedures in the policy wordings.
Ask your family doctor or a health insurance agent / broker to guide your through the list in some detail. Depending on the coverage you may be looking for, such guidance may be useful.
A family floater plan, including your parents, demands the inclusion of some day care procedures that you could have skipped for yourself.
Best practices and plans
The best practice while purchasing a health insurance plan should be to not base your choice just on the number of day care procedures offered.
Nonetheless, there are insurers that claim to cover all day care procedures. Those are the most recommended of the offering.
All public sector insurance companies and some private sector companies have a list of broad category procedures. The benefit of choosing a PSU health insurance plan would be that if a particular day care treatment is not listed at the time of purchasing the policy, you can still check the possibility of coverage with your third-party administrators, before the treatment is initiated.
The point is fairly clear: a technological advancement may significantly reduce the time taken for a procedure. In case they weren't listed as a day care procedure when you bought the policy, you could still check with your PSU insurer.
Please note that some outpatient department (OPD) and dental procedures are covered in a different category, and not by all insurance companies. OPDs are not considered day care procedures.
The author is the Director – Health, Life & Strategic Initiatives, Coverfox.com