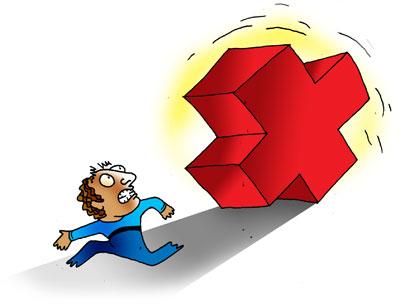 Many of us commit these generic mistakes which can turn our insurance buying decision futile, says Shikha Verma
Illustration: Dominic Xavier/Rediff.com
Buying insurance is an important financial decision. It is a decisive decision and should be done with utmost prudence and carefulness.
Getting the right insurance cover with the right insurance plan will give you the financial comfort in the event of a claim.
1. Buying same coverage as your peers/relatives
Many times we tend to buy the same sum assured for a life insurance or health insurance policy which our close friend, relative or peer has recently purchased or suggested.
Without even wondering that 'analysing the right sum assured' is the most important step before you make a final buy.
Now, for example the life insurance coverage or sum assured depends on various factors like your income, your lifestyle, your debts, your liabilities, your financial goals, your dependants, etc. Assuming your life insurance coverage to be same as your peer is a remote chance as the factors relevant for a sum assured determination might vary from person to person.
So, it is important to assess the right amount of sum assured for your life insurance policy based on the factors associated.
The thumb rule says one must buy sum assured equivalent to 10 to 15 times of his/her current annual income. But, it is important to analyse other factors like liabilities, dependants, existing life insurance policies, financial goals, etc.
Impact: Inadequate insurance coverage will be insufficient to mitigate the financial loss.
2. Mixing insurance with investment
Life insurance policies are long-term contracts. The life insurance policy offers financial protection for the family of the deceased due to an insured event during the policy term, and if the insured survives the policy term, nothing is payable.
It is and should be the fundamental basis of buying a life insurance policy which primarily aims to provide a robust safety net for your family in your absence. But people usually mix insurance with investment and end up buying expensive life insurance plans offering little sum assured with nominal returns.
The typical life insurance policy is a pure term plan which provides high sum assured at an affordable premium cost. Since the insurance company has nothing to pay you in case you survive the policy term, the premiums are priced on the lower side.
The premium includes only the cost of providing the death benefit known as mortality charge (based on your age, policy term and sum assured) along with the expenses associated with the plan (like commissions, policy issuance, etc).
In the hope of getting something in return as the maturity value from the life insurance policy will take an individual neither towards buying an audacious sum assured nor getting the maximum returns for the invested amount.
Impact: Neither will you be able to purchase an adequate insurance cover, nor the returns on investment will be optimised.
3. Buying blindfolded what your agent proposes
Insurers are still majorly dependant on the traditional distribution model of agency and so are many of us buying from our age-old neighbourhood agent.
Agents get the highest commission (which is a specified percentage of your annual premium) in the first year of the policy issuance, and the trailing commissions are comparatively lower.
Higher the ticket size of the premium, higher will be their commission. The commissions for the agent are his bread and butter.
Some agents might pitch you the fancier propositions which will earn them the maximum commissions.
It is important not to blindly follow what they propose you on the platter which could be a misfit insurance plan for you and a lucrative one for the agent (offering him/her the maximum commission. It is imperative to do some research at your end too. Opt for buying an online insurance policy (after undergoing comparison) which could be your best buy.
Also, it is imperative to read the policy brochure, policy wordings, proposal form, terms & conditions, exclusions, policy coverage, etc. before getting into an insurance contract. It is prudent to read the fine print thoroughly to avoid surprises at the claims stage.
Impact: Might lose on the best-suited insurance plan for you and your family
4. Buying the plan solely on the basis of premium
Making premium the sole parameter for buying an insurance policy may not be a prudent approach. It is important to assess and evaluate the overall plan.
The insurance plan with lower premium cost might have restricted policy coverage, limited inbuilt features, lower policy term, limited or no guaranteed benefits, etc. However, it does not mean that the plans offering lower premium are not good insurance plans.
But with additional cost comes additional advantages. Thus, it is important to assess the overall policy framework and evaluate what your requirement is.
There is no doubt that the premium cost is a major factor, but it should not be the only factor in finalising your valuable financial proposition.
It is important to compare the key policy features, policy benefits, exclusions, claim settlement ratio, the brand value of the insurer along with the premium cost to make a right buying decision. With online comparison portals, comparing the insurance products have become easy and convenient.
Impact: Buying decision based solely on premium cost may result in losing some important key features, benefits, add-ons to your coverage.
Shikha Verma is a seasoned insurance professional currently working as Content Lead with Comparepolicy.com, an IRDAI approved insurance web aggregator. She has also authored four books on insurance for Pondicherry University, Puducherry and Narsee Monjee Institute of Management Studies, Mumbai.