'Could you please suggest some good MFs so that I can repay the loan early?'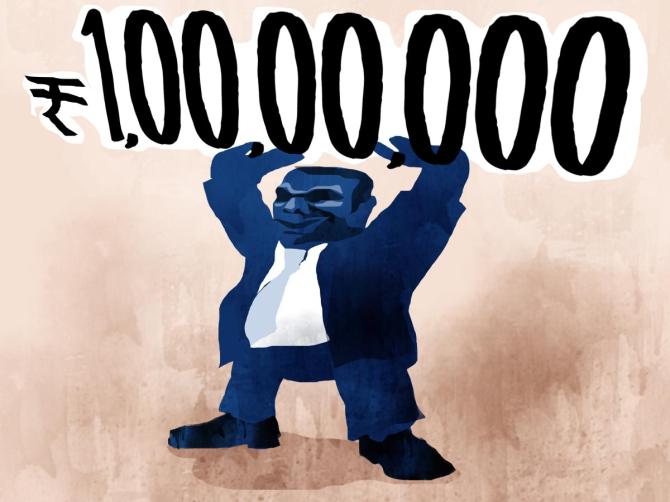 Omkeshwar Singh, head, Rank MF, (external link) a mutual fund investment platform, answers your queries:
---
Sathyan TM: Sir, I have the following investments.
These are the current nav.
Apart from this I have
SIP OF 15000/
I am 54 yr old and will be retiring from service by 2022 November.
I want to fix a swp of 50000/pm then onwrds.
Whether this investment will suffice for that.
Moreover do u think any chnge is needed in sip.
Omkeshwar Singh: 10% SWP of corpus will deplete the corpus, 7% to 7.5% is fine provided the corpus is invested in a hybrid basket and SWP is done from that basket.
Pranab Samanta: I am 45 years old and am going to take a 40 Lakh home loan for 20 years.
I want to invest in MF through SIP @ 20000 per month.
Could you please suggest some good MFs so that I can repay the loan early.
Omkeshwar Singh:
The schemes that may be considered
Sathya Rajan: I am 58, I wish to get good returns (around 50%) in 4 years.
I can invest lump sum of 30 lakh.
Wish to invest 3 lakh in 10 funds or 5 lakh in 6 funds.
Do advice the best options.
Omkeshwar Singh: Considering the risk and return requirement hybrid funds seems better option.
You may consider the below basket
Venugopal Velidanda: I intend to invest 2 lacs in MFs for long term.
I want to choose between ICICI Value Discovery Fund and Mirae Large & Midcap Fund.
Please advise.
Omkeshwar Singh: Second one seems to be a better option
Suresh Kumar: I am 34 years old and working in a private organisation.
With a view of accumulating a corpus of 5 crore in next 20 years including child education (2 child), and retirement corpus.
I have been investigating in mutual funds for the past 6 months an amount of 24K.
I am also doing top ups of around 5K in the below mentioned MF's every month.
Please suggest whether I can continue with these funds or switch to another MFs.
Please suggest is this portfolio ok for long term investment.
Omkeshwar Singh: Portfolio is fine, please continue
Amogh Datar: Hope you are doing well.
I read your article regarding mutual funds and wanted to check if I continue to invest in them and replace any/few of those.
I am planning to invest for 10-15 years.
I am currently having monthly SIP (51K total) from a year and half for following funds.
I am also having hybrid funds in HDFC Hybrid Equity Fund - Growth.
Your review and feedback will be very appreciable.
Thank you for your time and have a nice day.
Omkeshwar Singh: 3, 5, 7, 9, 11 and 12 are good funds
Ravi Shyam: I need your guidance if I am going in the right direction.
I have invested sum of 15 lakh total in Edelweiss small cap, PGIM small cap, Mirae asset midcap, Mirae asset banking and financial services, BOI Axa small cap, Kotak Mahindra small cap, quant small cap, icici prudential technology funds, Canara rebecco small cap, Motila Oswal Nasdaq 100 FOF and kotak Mahindra FOF.
My holding time for these will be 10yrs.
Will my corpus be 45 lakh after 10 years?
Omkeshwar Singh: Too many small caps, however, if you have the risk appetite then no issues.
Yes, Rs 15 lakh can become Rs 45 lakh in 10 years, however there will be high volatility as majority of your investment is in small caps.
Yogendra Singh: My current mutual fund portfolio is:
I am investing in above mentioned schemes since last 4 years and current portfolio valuation of 23 lakh turns 40 lakh, since markets are at all-time high.
Should I go for redemption or keep investing in above schemes and please do suggest some good schemes for next 15 years' time horizon?
Omkeshwar Singh: Please continue; no need to book profits.
The schemes that you may consider
Biraj Patel: I am a newbie and read your articles regarding mf investments and also great fan of yours.
I would like to make 1Cr. in next 15 years.
I am 43 years old started making SIP in following funds.
Kindly correct me in case of switch to required better funds.
Omkeshwar Singh: You would need SIP of Rs 18K to achieve the required target in 15 years.
The funds that may be considered are:
Bandu Halageri: I am 57 years old.
I have 25 lakh of rupees with me which I want to invest in Mutual fund on SWP plan.
Please suggest me some good safety mutual funds.
Omkeshwar Singh:
Jasmine Mathew: I am 40 year old software developer.
I currently have the below monthly SIPs
I am looking for wealth creation, and plan to remain invested for 15 to 20 years.
Are they good to continue?
Please suggest alternatives.
I have plans to increase the amount by 2000- 5000 each year.
Also, I have a lump sum of 5 lakh which I want to invest for the next 5 years.
What is an option with good returns?
Omkeshwar Singh: These are good funds, please continue and annual step up / top ups is good strategy.
Lump sum investment can be made in below funds
Other than liquid funds is there any option for a rainy day fund of 2 to 3 lakh, to be instantly accessible?
Omkeshwar Singh: Most Debt funds are settled in T+1 days i.e. the money will be in bank account next day (working), hoverer only few AMCs provide insta-redemption facility, wherein up to Rs. 50000 can be redeemed for insta-credit to your bank account.
---
If you want Mr Singh's advice on your mutual fund investments, please mail your questions to getahead@rediff.co.in with the subject line, 'Ask MF Guru', along with your name, and he will offer his unbiased views.
Disclaimer: This article is meant for information purposes only. This article and information do not constitute a distribution, an endorsement, an investment advice, an offer to buy or sell or the solicitation of an offer to buy or sell any securities/schemes or any other financial products/investment products mentioned in this QnA or an attempt to influence the opinion or behaviour of the investors/recipients.
Any use of the information/any investment and investment related decisions of the investors/recipients are at their sole discretion and risk. Any advice herein is made on a general basis and does not take into account the specific investment objectives of the specific person or group of persons. Opinions expressed herein are subject to change without notice.
Feature Presentation: Ashish Narsale/Rediff.com