ice, beans and burritos.
Healthy food, right? Wrong!
A meal of rice, beans and burritos at your favorite Mexican restaurant sometimes has enough calories to feed three people for two days.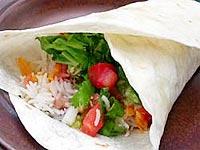 Okay, we may be exaggerating a little bit here.
But contrary to popular thinking, Mexican food is not always healthier than regular fast food.
Why? Because it is easy to make the wrong choices.
A Chicken Burrito can have 1,200 calories and 75 percent of the recommended daily intake of saturated fat.
Add a side order of guacamole (mashed avocado and tomato) and sour cream, and you have exceeded your daily caloric requirement.
Bring on the chips, cheese and a drink, and there is enough for two people.
If you ate those 'sides' and nothing else, no tacos or enchiladas or burritos or chimichangas, you could end up with almost two-thirds of a day's total fat, and three-quarters of a day's saturated fat and sodium.
Mexican food can actually fit quite well into a healthy diet plan. Since it mostly comprises grains, vegetables and seafood, the traditional Mexican diet is relatively low in fat and cholesterol.
This may not be the case, however, with most Mexican restaurant offerings.
The liberal use of chips, cheese, sour cream, guacamole and/or deep fat frying can make any meal unhealthy by adding high amounts of saturated fat.
American Mexican food is available at most restaurants as Mexican food.
This can be of two types: Tex-Mex and Cal-Mex.
Tex-Mex, or Texan Mexican, is what you would want to avoid. It contains high-fat barbecued or fried meats.
Cal-Mex, or Californian Mexican, is, on the other hand, healthier, as it places a greater focus on vegetables and tends to be lighter in fat and calories.
We do not mean to scare you off Mexican food altogether.
After all, variety is the spice of life. If you love Mexican food, here are some tips on how to make healthy choices:
1. Steer clear of complimentary starters, like deep-fried corn tortilla chips.
A basket of these can contain as much fat as the rest of your meal put together.
If the main order is taking a long time and you just can't resist the starters placed before you, ask for a plain tortilla that you can dip in the salsa sauce.
2. Salsa wins hands down over guacamole as a dip as well as a spread.
Two tablespoons of tomato salsa contain five calories, compared to 50 calories in the same amount of guacamole.
3. Soups are a great choice.
Gazpacho, black bean and other vegetable soups are filling, low in fat and nutritious, too.
4. Choose entrees in which the tortillas are steamed or baked rather than fried.
This means more of fajitas, burritos, quesadillas, and soft tacos.
It also means less of enchiladas, chimichangas and crispy tacos.
5. Ask for sour cream, guacamole and extra cheese on the side instead of inside your entree.
This allows you to choose how much you actually want. If the entree is loaded with cheese, scrape it off.
6. If you eat the fried taco shell that comes with the taco salad, you take in 850 calories, half of which come from fat.
A salad is fine, but leave the fried taco out of it.
7. Fajitas might be a great choice.
Traditionally, fajitas have grilled beef, chicken or fish and green pepper and onion in them.
You can add lettuce, tomato, salsa, and other stuff, all of which are served on the side.
This way, you control what goes into it. Skip the sour cream and guacamole for a low-fat meal.
The key to eating Mexican food:
Fewer meat and more chicken dishes
Guacamole, cheese and sour cream on the side
Lots of rice and beans
Plenty of vegetables
A nice selection of salads with a dash of low-fat dressing.
DON'T MISS!
Dr Roopa Nishi Viswanathan has an MBBS from KEM Hospital, Mumbai, with a Masters in Nutrition from the University of Texas at Austin. She also writes for chillibreeze.com and outsource2india.com