The faster you accept it, the faster you start running and the sooner you will reach your destination -- your next role, recommends Ankkush Puri.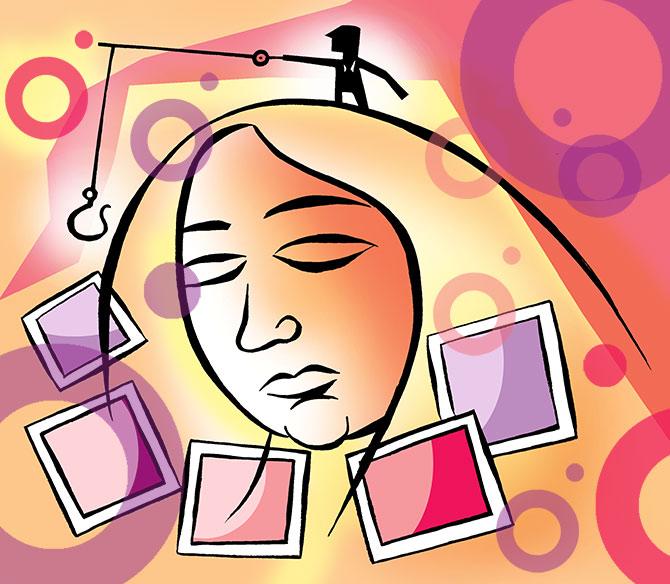 Will I lose my job anytime soon?
Do I need to be worried?
This is possibly a question that haunts us. Or if we are the lucky ones, then maybe a close friend or a family member who isn't that lucky.
The uncertainty is all around us.
My experience of interacting with innumerable professionals, who would have faced this situation some time in their life, has helped me learn and gain some insights that can only alleviate the pain and grind that one faces during this critical juncture.
I am attempting to put across some logical yet simple steps to make it easy to recollect for all professionals.
Whether you have already lost your job or you're worried you may lose it anytime soon, remember the M5 rule.
1. Mindset
I am sure, you may have observed how some people -- irrespective of the demographic, social, financial factors -- seem so full of life and some others, seem to be aggrieved by life.
The grief could be a temporary phase with a few, but it's visible in their eyes.
Something tells us that the spark is missing.
This, in my opinion, is the your start point.
Do not let the spark go.
You have to spend time and speak to people who make you feel good, who appreciate you and who see value in you.
What you need is affirmations. So get as many as you can.
Do not beat yourself because your employer was coerced into a tough decision by tough circumstances.
You are NOT responsible.
This is a time to collect all positive energy around you.
Blaming your employer or holding others responsible will not solve anything.
The faster you accept it, the faster you start running and the sooner you will reach your destination -- your next role.
2. Mapping
Before you start your interactions with people, it is critical that you have a clear map of your career, how it shaped up, why did it shape up the way it did?
What were your best phases?
What in your opinion were the competencies, situations, cultural aspects or values that played well for you?
See if you can identify a pattern.
Similarly, trace patterns across the 'not so good' phases.
What you now have is guidelines for choosing your next organisation.
The next bit of mapping is the external environment -- clarity around your inherent and acquired skill set could help you see a set of roles that match with them.
Start off with listing down the roles and then move on to industries that demand such roles.
After you have mapped out the industries, start listing down organisations in each of those sectors using filters that could be important for you -- geography, size, turnover, etc.
This will help you create a complete target list.
The next priority is to create a Go To strategy for each organisation you intend to apply to.
Against each target organisation, attempt to get a name of an individual who may have a connect there.
It could be a 1st level connect, 2nd level or a 3rd level.
You could leverage on social media, trace relationships until you are able to find your start point.
An experienced professional could be of help in this process.
Sometimes you would realise that you may see your skills fitting in beautifully for an organisation or a sector that was never part of your consideration set.
You may also need support to evaluate entrepreneurial options or any benefits accruing out of reskilling/upskilling.
3. Messaging
Once you have mapped out your relationship start point and end point for each organisation in the target list, it's time for your branding and messaging.
You need to have a well-rehearsed introduction and response ready to explain why are you in search for a job opportunity and what exactly are you looking out for.
Seek some support to rework all possible tools that will be handy going forward.
This could be a covering letter, your CV, your social media profiles.
Go back to a few known people in your professional network and seek feedback around your preparation.
Start activating your channels for each organisation.
It would be a good idea to start with those organisations that are not your 'most sought after' target.
So, in case your messaging does not go right, you haven't lost your best options and can always go back to the drawing board, work on your tools or your lines and start again.
4. Matching
The next logical stage in the process is your candidature being shortlisted and invited for an interview.
Before getting into this stage, you must be ready with your Maximum-Minimum calculations.
Maximum CTC, What will I ask for?
What will I settle for? Fixed versus variables? Taxable versus non-taxable, Best case versus worst case.
It is very natural to succumb to the temptation of securing a job as soon as possible. hence, generally everybody starts projecting themselves to match the employer's requirements.
My request would be to be your natural self, speak up, express yourself.
The more you do this, the more you are at ease with yourself and the more naturally confident you come across.
This increases your chances of having meaningful conversations and perhaps securing an opportunity if it is a good match.
Please do remember that a job match is not only about a skill match, but also a match of value system, beliefs, culture.
If it is not a perfect match, no point forcing yourself into it.
Even if you do get the opportunity, it may not last long and leave you more stressed and force upon another job change very soon.
Be yourself, understand the organisation, understand the culture, understand the role, understand the remuneration -- check for a match.
5. Managing
Once you have got your appointment letter or have joined into a new role, please do not forget what you went through to get this.
An optimist by nature, I would love to believe that all sectors should start seeing an upward business curve, Diwali onward.
However, you can't be caught unaware, once again.
So every single day, go about working on building your network, trying to reach closer to the organisations in your target list.
It can only help you build more options in the future.
---
Ankkush Puri is a Pune-based consultant who focusses on talent management and organisational development. He can be contacted at ga@rediff.co.in.