Teju Ravilochan thinks being unreasonable has so much potential that he named his company the Unreasonable Institute.
And he must be onto something, says Monali Sarkar.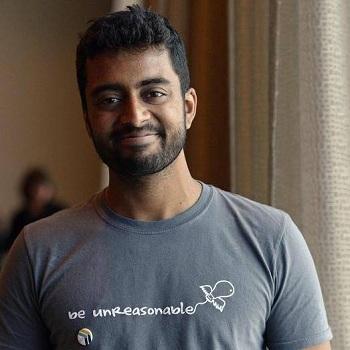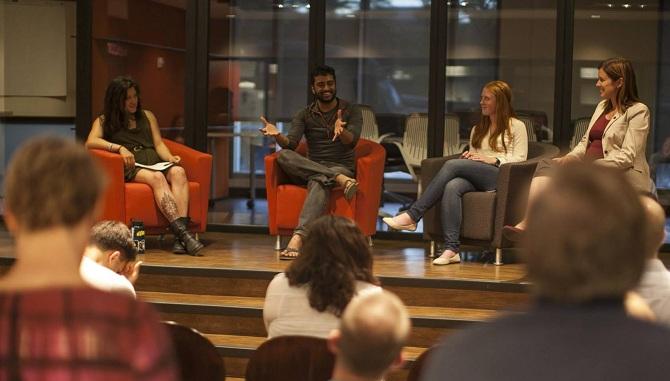 IMAGE: Teju Ravilochan, second from left, at the Boulder Startup Week. Photograph: Kind courtesy 23rdstudios via Unreasonable/Facebook.com
Teju Ravilochan is looking for the ureasonable person.
'Someone who is just a little bit crazy enough to think that they could actually make a difference in the world,' he tells Forbes magazine.
He is the founder of the Colorado-based Unreasonable Institute, which runs accelerators to empower entrepreneurs to solve the world's biggest problems, and the only Indian origin 'Featured Honoree' in the 2017 Forbes 30 Under 30 list.
His name led the Social Entrepreneur category.
Like many Indian-American social entrepreneurs, the seeds of Ravilochan's journey were also laid in the lack he saw in India.
'We would go back to India to visit relatives a lot,' the US-born and raised entrepreneur tells Forbes.
'Once, when I was about 10, I was with my dad in a market in Chennai and this little kid comes up to my dad and asks him for money. I ask my dad, "Why is this kid begging?" And my dad says, "The best answer I can give you is luck."'
His dad's advice to share the gift he had been given and the indifference of Indians to the poverty on the streets remained with him.
It led to the founding of the Unreasonable Institute, which draws its name from a George Bernard Shaw quote: 'All progress depends on the unreasonable man.'
'We unite entrepreneurs with the potential to address major problems at scale,' the company says.
'Problems like poverty, lack of education, and access to clean water. We then swarm them with hand-picked mentors, funders, and a global network to help grow their impact.'
The goal is to help each of these ventures scale up to meaningfully impact the lives of at least 1 million people each.
'We are sort of like what medical school is for doctors,' Ravilochan tells Forbes.
The Unreasonable Institute has more than 300 ventures in over 50 countries. These ventures have raised $161 million since the company was founded in 2009.
And the impact has been felt by 16 million lives across 87 countries.
Tap on for Ravilochan's life lessons for the young entrepreneur.
And DON'T MISS the MUST READ features in the RELATED LINKS below.