'I used to be constantly rejected....I am 5'9", it is just about right for modelling, but it is not tall.'
'Height makes a big difference but I feel, at times, I got rejected because of sheer bad luck.'
LFW model Anita Kumar tells us how she fought multiple rejections and came back stronger each time.
Mumbai-based model Anita Kumar has been modelling for more than six years now. She is surprised how much life has changed for her because modelling wasn't part of her plan.
Anita always wanted to be behind the camera. The simple reason being that she suffered from a major stage fright.
But destiny had other things in store for her.
In a candid conversation with Rediff.com's Anita Aikara, the beautiful model reveals how she was rejected multiple times but never gave up hope.
The journey
This is my 6th year in modelling. I started on a small-scale when I was in college.
I did a model hunt and won that.
I had a major stage fright and I was thinking about pursuing a career behind the camera like a graphic designer or stylist. But destiny has its own way and before I could find it, modelling found me.
I was not really thinking about modelling at that time.
It started with a model hunt and then I did a few college events, nothing professional.
When I finished my college I was casually shopping at a mall with my father and there was a fashion show happening there.
They were searching for new faces and they asked me whether I would like a makeover and be a part of the show.
So I agreed, but I didn't know how to walk the ramp.
I didn't have any experience. It was a big show and I ended up walking for it.
One of the people backstage asked me 'why don't you try modelling'. I said why not, but didn't know where to start.
So she suggested a few names, and I went met them and later went for a few castings and auditions.
I ended up getting a few projects and landed a L'Oréal five city tour including Paris.
I think it was every model's dream to walk at Paris and I was this 20-something and the experience was thrilling.
For someone who had no experience even walking in heels landed that opportunity and it was a great experience.
I walked at Paris inside the Louvre museum. We were a team of 20 people from India.
The Lakme experience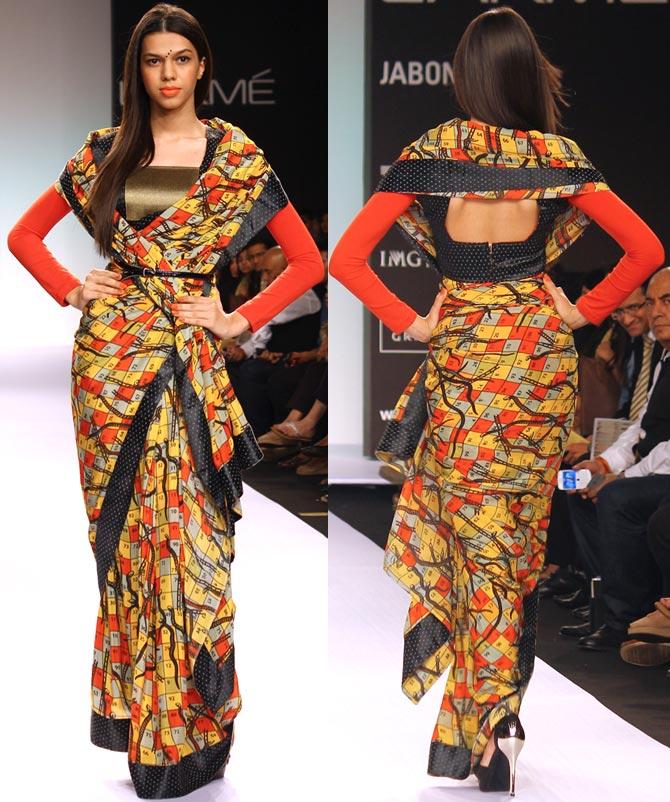 For Lakme Fashion Week I had to audition many, many times.
They really drilled me a lot. However, this is where I'm today. It is my 12th season at LFW and today we are all like a big family.
After the tour, I decided to give the Lakme auditions a shot. That was the first time I ever auditioned.
I auditioned six times for LFW and the main stage happened to me after me doing 3-4 seasons for the smaller stage (it was called Talent Box back then).
From there I picked up how to walk and carry a garment. I realised that it is not just a model carrying a garment.
One needs to feel the garment; feel what you are wearing, otherwise what is the point. Then you are just another model.
For the kind of competition that exists in the present-day, I feel that it is a big deal being associated with the brand for so long.
For two seasons, I was not part of the pool and was called for extra shows. However, I made sure that I was a part of every season of LFW. I have grown with them.
Facing rejection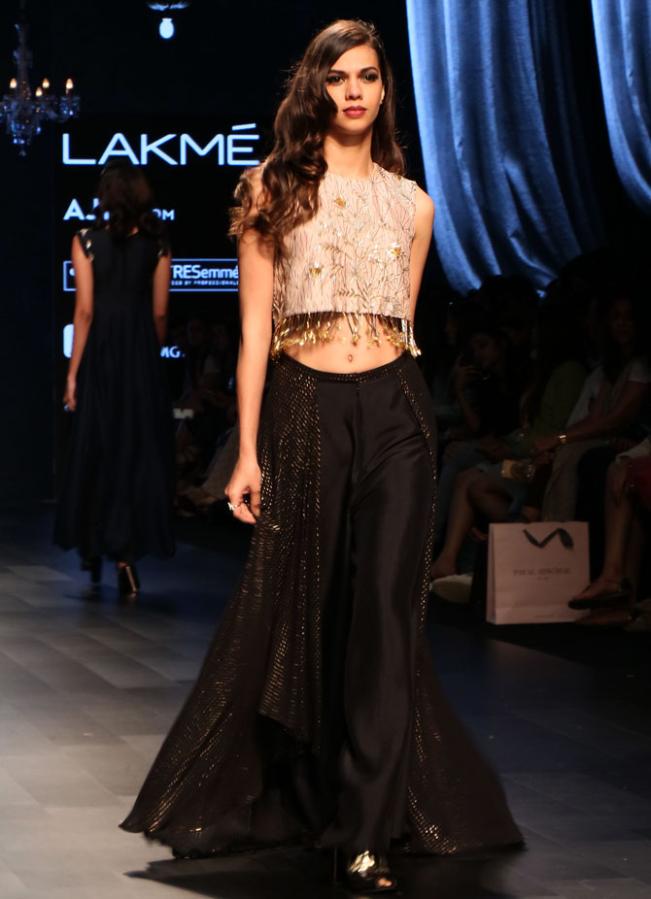 Auditions were a struggle as I used to be constantly rejected. I don't have a great height.
I am 5'9", it is just about right for modelling, but it is not tall.
Height makes a big difference but I feel, at times, I got rejected because of sheer bad luck.
I used to come back home and my parents would excitedly ask me if I got selected. And I'd always tell them that I got shortlisted but didn't make it.
I was not with an agency. I was on my own.
I was the only one promoting myself. It makes a difference being associated with an agency; having someone to push your talent.
Along with the rejection, came the praises too.
So while I'd feel bad after a rejection, I decided that I was going to give my best and make a mark for myself.
Rejections are extremely disheartening, and there was no one to put in a word for me.
I always told myself that today was a bad day, but tomorrow was going to be better.
There was always something for me to learn from every rejection.
You got to pick your self up, be confident and belief in yourself and thankfully for me, I had the support of my parents. Despite feeling bad about my rejections, more than I did, they really motivated me.
Having supportive parents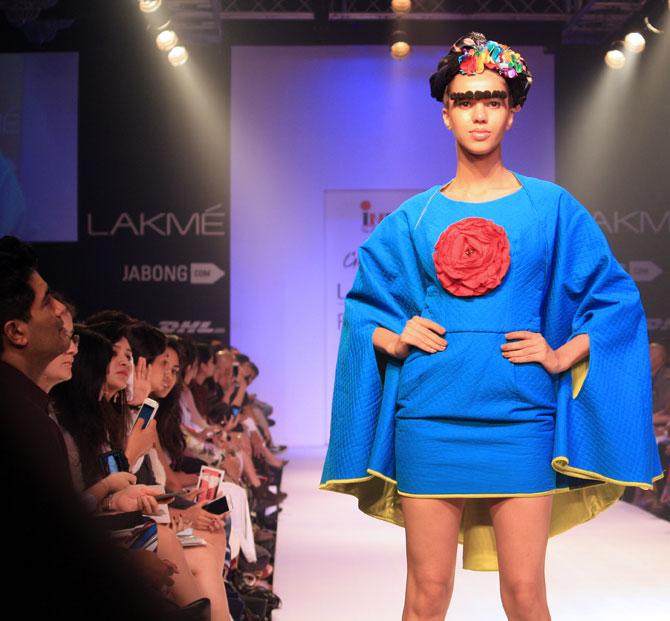 My parents are very simple. They are not from the fashion world.
My father works in a firm, and my mother is into paintings. They are very supportive.
My father still saves newspaper cuttings of me.
He has five years' worth of magazine and newspaper clippings.
He goes on YouTube and searches my ramp pictures and videos and shows it to me.
It is important to respect your parents and understand where they come from.
I would never do anything that would make me come back home and feel embarrassed.
I'm always consulting my parents and grandfather. I come home to them.
I would advice younger girls to not do anything against their parents, because they are your home and support system.
If you fail, they will pick you up. If someone rejects you, they will motivate you a put you back on track.
This field can get really lonely at times.
You can feel really lost and many people have lost their originality and innocence in the bargain.
I have made sure that I have stayed grounded and held on to my value system.
I have chosen not to get carried away and not lost track of the real me.
You may see a more glamorous version of me on-stage but I am the same person backstage too.

On-stage mantra
I personally feel models should figure out what are they wearing and decide how to play with it.
If you can add your own ada or touch to it, it makes a big difference. It is something a model learns with time.
Best part of modelling
I have shared some beautiful experiences with models.
There is always a good and a bad side to modelling, but it is left to you what you take in and what you choose to leave out.
I have been mocked a lot and faced rejection, but now when I look back I feel good.
There were times when people tried to pull me down, so that they could break me.
I chose to cry it out in the washroom and pepped myself. I took that negativity and converted it into something positive.
Being active on social media
I am not active on social media, but it is very important to have a presence online.
At this point, it is the only think that works.
Everything is on social media now, there are no personal interactions.
From dropping a text to sending across a picture, everything happens online. I feel it is a bit superficial, but that's how it works.
How the industry has changed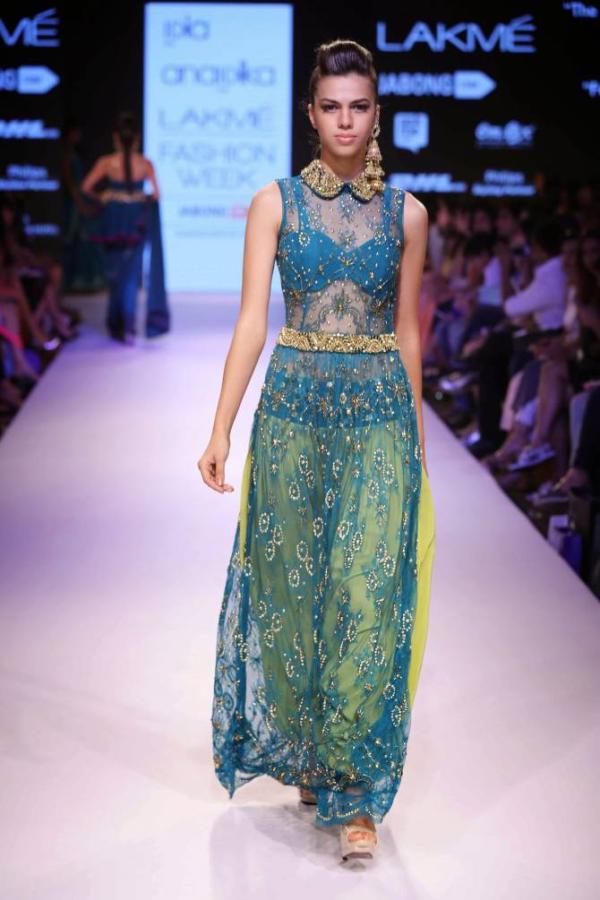 Modelling is getting more competitive.
When I used to audition there were several Mumbai girls, but now I see so many girls from smaller cities and towns. I don't find a lot of Mumbai girls anymore.
We are models and not what people think we are.
People have a different perception of models.
They think we are very spoilt, have bad habits and are not responsible, are easy going and basically not taken very seriously.
I am not like that and I can vouch for the other girls too. Models are responsible and at times more concerned about their safety than others.
People should stop judging us. With make up on, you might think I am very glamorous. But I am a normal person, just like everyone else.
Diet and workout regime
I workout a lot. Exercise is important for everyone.
It is good to see so many girls and working women taking care of their health.
I eat everything because I love food and don't have a diet.
I have ghar ka khana and at times, there is no option so I have outside food too.
I don't drink lots of water, but am taking the effort now. I like simplicity and I stick to it with my make up too.
Advice for aspiring models
Stay grounded and take your roots everywhere you go, even on-stage.
Be street smart, but don't lose yourself. Be yourself. Don't get lost in the process of trying to achieve something.
Keep your innocence and roots intact.
Respect your parents and if they are not convinced about your decision, try and convince them.
Prove yourself, achieve something for yourself. Be Indian, be simple and be original.
I would suggest younger models to not lose hope.
Why I am here today, even after so much rejection is because I never gave up.
I auditioned for six LFW seasons, and noticed that every season there was a new lot.
I saw the old faces until the second or third season and then everyone spread out. People gave up.
If you think there is something in you that can take you ahead, try. Don't give up.
Keep working hard and giving auditions. Make your foundation so strong that no one can judge you.
After many rejections, trust me you will have a beautiful journey to share.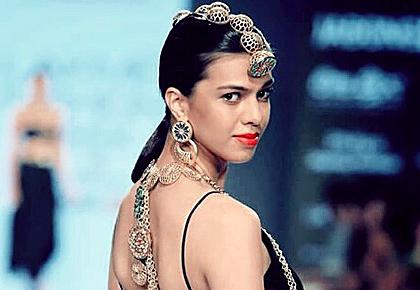 DON'T MISS: Full coverage of LAKME FASHION WEEK 2019 on Rediff.com!