Of the 200 to 250 students who enroll in a graduate language course at Doon University annually, nearly all are assured placement in a range of companies like Amazon (France), AXA Insurance, Oracle and Capgemini.
Anjuli Bhargava reports.
A year in Goa left a teenaged Lupita Navarro with a longing to return to India. Her dream came true in 2016.
The Mexican had been heading a school for 15 years in Guadalajara. But when she learned that the privately-run Heritage Institute of Languages (HIL) in Dehradun was looking for a Spanish teacher, she took the plunge.
She has been teaching Spanish at HIL, a small privately run and managed language school. And has also been a consultant at two local universities -- Dehradun Institute of Technology (DIT) and Graphic Era.
At HIL, functioning for over 10 years in the hill town, Navarro has over a dozen colleagues from Paraguay, Spain, Brazil and Germany -- all teaching languages to youngsters.
For Navarro, India is home. The only struggle she faces is the renewal of annual visa, a much dreaded ordeal for Navarro and her colleagues.
HIL was set up back in 2005.
When Hugo Cesar Alves, its Brazilian founder, moved to Dehradun to teach Spanish at a local school, he sensed an opportunity seeing the interest in learning foreign tongues.
From a handful of students, HIL now has a thriving student body and supports about 20 staffers that include 12 teachers (German, Spanish, Portuguese, English and Hindi). Many of the foreigners and teachers themselves are enrolled in Hindi classes.
Annea Sailly decided to give up her cushy government job in Lille, northern France, in 2016 and moved to join Doon University's growing languages department.
At 26, she wanted to contribute more to society than her assignment back home would allow for and she wanted to do so in a developing country.
Much to the horror of her parents, Sailly took a salary cut of almost 70 per cent and shifted to Uttarakhand's capital. She has now been teaching French for four years to students who struggle with English, but have "desire like I've never seen before."
Around 200-250 students enroll in a graduate language course in Doon University annually. Nearly all are assured placement in a range of companies such as Amazon (France), AXA Insurance, Oracle and Capgemini that have outsourced many of their back-end needs to India and are on constant lookout for those familiar with their native languages.
The students are offered starting salaries of Rs 500,000-Rs 600,000 per annum. Many local students including girls who don't wish to relocate also take up teaching assignments in the international schools dotting the city.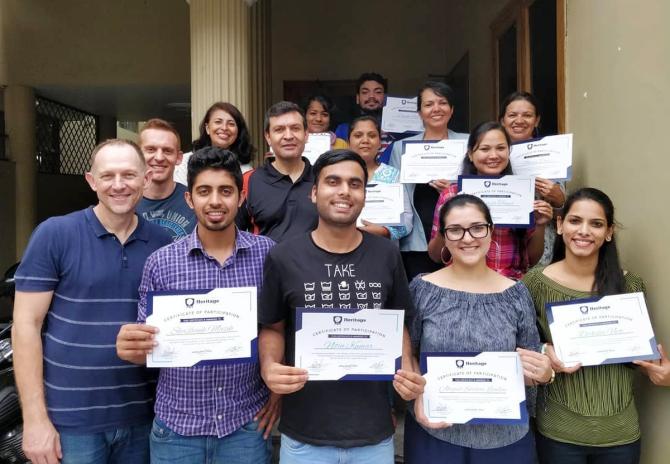 Every year, the School of Languages draws 30 to 40 postgraduate students, some of whom go on to work overseas in the field of translation.
The master's integrated course also sends students on exchange programmes. Many students opt for online sites such as Duolingo to get started or even to brush up accents.
Of late, there has been a drop in interest in Chinese, but Japanese and the European languages remain popular, says Varun Dev Sharma, 32, who has a PhD in French from Jawaharlal Nehru University, Delhi, and is the coordinator for Doon University's French department in its 10-year-old School of Languages.
For Abhinav Srivastava, a graduate degree in French has done wonders. He was weak in mathematics, and after school couldn't think of many viable career options.
For children in his social milieu, engineering and medicine are the only options considered worthy. But a cousin suggested languages and he enrolled in Doon University.
After graduating last year, Srivastava landed an Amazon.fr job in Hyderabad with an annual salary of over Rs 5 lakh.
Srivastava can't believe his luck -- a pay hike since joining, no salary cut during the lockdown, and the luxury of working from home in Bihar for now.
He says he has no work pressure or fear of getting laid off -- unlike many of his contemporaries. He may have stumbled upon French, but he's grown to love the language.
He says almost 30-40 of the university's alumni are employed with his company, and many others are similarly working with multinational companies.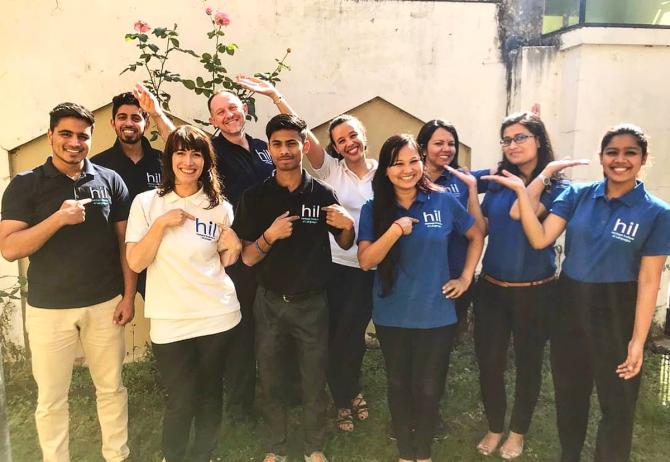 The popularity of languages and career avenues they throw open isn't confined to colleges. Schoolchildren, too, are eager to learn foreign languages.
Sunil Jogdeo, an HR professional who learned Japanese out of sheer interest, is teaching the language to schoolchildren in Aurangabad in Maharashtra.
Many children appear to want to learn for the "sake of learning" rather than vocational purposes. Jogdeo spends the better part of his morning teaching 125 children at a school, several of whom are now fluent speakers.
He says he has seen more enthusiasm during the lockdown than he did when schools were running in full swing.
Perhaps, he reasons, students are focusing more on their own interests with the usual pressure of academics missing since classroom learning was halted.
Sharma says that he grew up with a notion of Indians not having a flair for language. This seems to be changing fast, as many students around him speak better Spanish or French than they do English, he claims. Some even want to learn more than one European language.
In a flat world, foreign languages, it would seem, are increasingly less daunting for the young Indian.
Feature Presentation: Rajesh Alva/Rediff.com