Still too young to drive on Indian roads, 17-year-old Jehan Daruvala, a speedster from Mumbai, could become India's first Formula One sensation, says Ranjita Ganesan.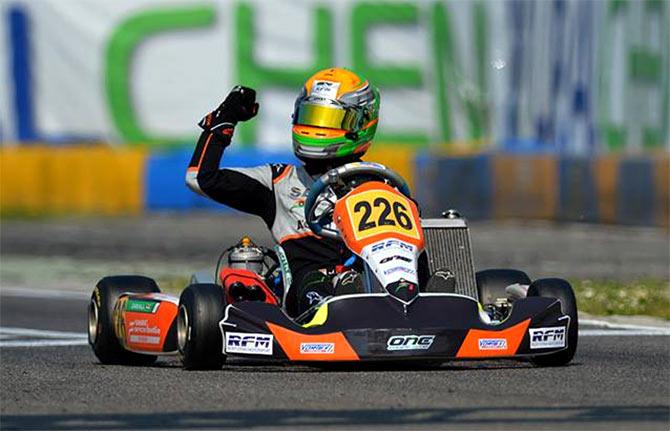 Photograph: Jehan Daruvala/Facebook
Jehan Daruvala doesn't like to lose, not even in Ludo. To maintain his body clock based on the hours in England, the 17 year old, who divides his time between London and Mumbai, stays up late playing the board game with his grandmother. Any time he loses, he calls for a re-match which sometimes goes on until 2 am.
This intense competitive streak has perhaps proved most useful in the world of motorsport, where Daruvala has become India's next Formula One (F1) hopeful.
As he trains with Sahara Force India F1 Team Academy and competes in European competitions of Formula Renault 2.0L, Daruvala's motorsport career is off to a strong start. He has a short answer for what drew him to racing cars: "Speed." In fact, most of Daruvala's answers are short, no longer than a line or two.
He is not shy or uncomfortable, just nonchalant and maybe slightly bored -- as is typical of teenage, some might say. In a fitting canary yellow T-shirt and denim jeans, he looks like he could be the fourth member of a pop boy band. He is at his Dadar (north-central Mumbai) home on a short break between races.
Decorated in hues of white and red, the fifth floor apartment seems cavernous. The living room, which it opens into, is airy and sunlit. In the quiet inside, it is easy to forget that this home is in one of the more crowded parts of the city.
The driving prodigy grew up watching F1 on television, he says, enthralled more than anything by the fast pace of the machines. Young Daruvala himself was swift too, with his feet and in his grasp. For instance, to everyone's surprise, he picked up cycling nearly instantly, at age two.
"He learnt it at the same time as his sister, Delna, who is two years older. I just ran a few steps with him, and at the end of the field when I let go of the cycle, he was able to do it," his father Khurshed recalls.
A few years on, a couple of outings to a Chembur (north Mumbai) racing track, where he drove a two-seat kart with his father, convinced him this was the sport for him.
India has had limited presence in motorsport so far, producing only two moderately successful F1 drivers: Narain Karthikeyan and Karun Chandhok. Daruvala has the early mover advantage, having raced karts since age nine and having moved to Europe when he was 13.
"His family has done well to give him all the right opportunities in karting and that has allowed him to develop," says Chandhok. "This is a big advantage that historically Indian drivers haven't had; neither Narain nor I did any karting races when we started up, and this was a disadvantage when compared to the likes of (Lewis) Hamilton or (Nico) Rosberg."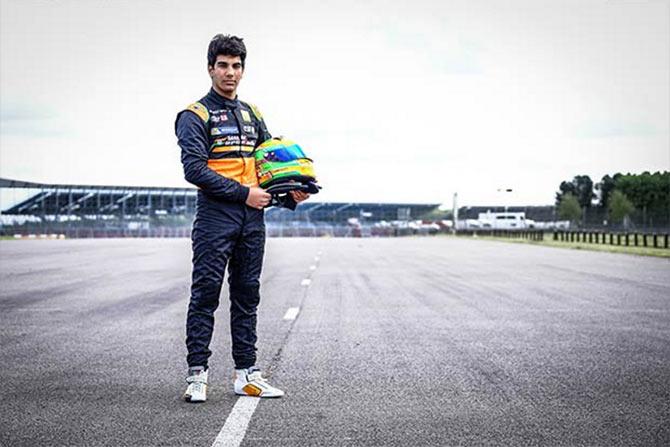 Photograph: Jehan Daruvala/Twitter
Luck has played a hand in Daruvala's journey until now. It began with his father's chance reading of Bombay Times, something he otherwise never looks at, which carried an ad for a go-karting workshop in Powai (north Mumbai) by Rayo Racing founder Rayomand Banajee.
When told about it, little Daruvala was adamant he would attend it even if he had limited experience, and to top it, an exam to take the next day. This was the first time his parents encountered Daruvala's determination. 'It is a question of my whole career,' he is said to have told them.
Banajee has since worked with children as young as five and seven, but at the time Daruvala approached him, few kids below the age of 12 signed up. The circuit he would conduct his courses at discouraged younger children due to height constraints. On a whim, moved by the nine year old's enthusiasm, Banajee gave him a chance. "Internationally, kids start very young and I knew this was the way to go. Daruvala seemed very keen and that was the most important thing."
Daruvala was impressive enough for Banajee to decide he would train him personally.
Another bit of luck came when Sahara Force India Academy announced a talent hunt in 2011, called One from a Billion, to find and groom three promising drivers between 14 and 17 years. Daruvala was still 13, but he was picked as one of two wild card entries, aided by a lead of "200ths of a second, which has played a big role" in his career so far.
He eventually finished among the top three. If it were not for this hunt, Daruvala's father says he might have figured out how to go about making him a professional "but we would have been two years too late."
The 2011 event became the sole edition of the talent hunt, which was initially planned to be held every alternate year. The winners participated in workshops, and got a foot in the door of Europe including the British championships.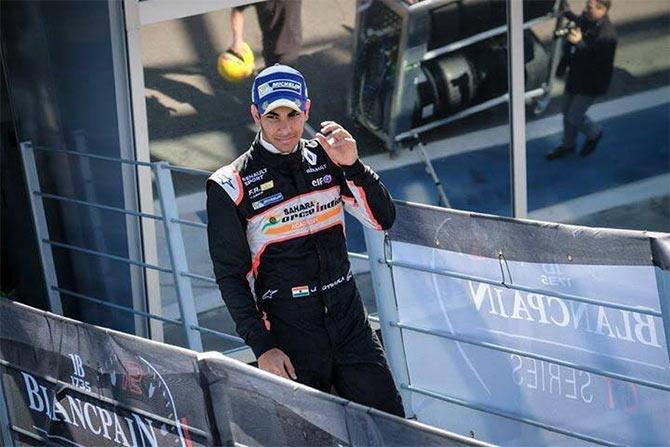 Photograph: Jehan Daruvala/Facebook
Daruvala likely inherited some of his competiveness and the interest in karting from his father. The senior Daruvala had racing ambitions in his youth too, and tinkered with motorsport for a year. But when a friend's car flipped over thrice while karting in Sholavaram, he was discouraged from continuing. He took forward the family business of generator manufacturing instead.
Both young Daruvala and his sister share a passion for sports, having never been told to focus solely on academics. "Studying is important but to an extent. They find their own calling at some point of time. Each person is different," observes his mother Kainaz.
His career dreams brought with them several sacrifices. The nearest fully-equipped track was in Kolhapur, 375 km south of Mumbai, so he had to wake up at 4 am each weekend and make a five hour trip there with Banajee.
A serious crack at becoming a professional would later mean moving away from home. At 13, he enrolled in a boarding school at Hartford in England, spending long months without seeing family and friends.
The routine of travelling in the wee hours for races continued in Europe too. He would study at airports, and sleep on the journey back to school. Like several fellow athletes, Daruvala is now pursuing his 12th standard board exams through distance learning. It gives him the freedom to take exams on demand in India and still have a chance at getting into colleges in the UK.
On the track, he steps into his single seat car, always from the left side and with the right foot first. Before taking hold of the wheel, he checks both gloves one after the other even if they were snugly secured just moments ago.
For four nights in the run up to a race, which usually takes place Friday through Sunday, he listens to a visualisation CD, recorded by his mind coach Don Macpherson, featuring affirmations and gentle music. It talks about how to keep calm, focus on the race, and what he needs to do to do the best job possible.
This has helped him address problems like double-peddling where he would subconsciously press the accelerator and brakes at the same time, and his trouble with starts. "Unlike many of his competitors, he realises the vital importance of mental training in motor racing, the head edge," says Macpherson, whose clients include five F1 champions.
He needs two hours in the gym, four or five times a week, to stay lightweight. One day in the week before a race, he uses a simulator to practise. "Winning doesn't come by luck. It comes by commitment and determination to work hard every single day to be better. Daruvala ticks all these boxes," says his driving coach, Pieter Belmans, in an e-mail.
Daruvala sends pictures of each meal to his personal trainer, who on race days prepares meals for the driver himself. His nutrition, adrenaline and body clock are consistently monitored. It is all very scientific -- and expensive. If Daruvala did not have serious ambitions, his parents maintain they would not have set aside the money for it.
He moved from karts to cars in 2015, and learnt, among other things, that the view from a single-seater is different. "You can only see the top of the trunk." Add to that the wet conditions in Europe, and you have a visibility nightmare. Often, Daruvala only sees the 50- or 100-metre marker and steers hoping no one in front of him has crashed.
Kainaz, his mother, prays every time he takes to the wheel, not for him to finish first, but to finish without incident.
Daruvala's youth shows in the manner in which he brushes off safety concerns. "You just have to know the track. Now the safety has increased and in experiments where cars hit a brick wall at speeds of 300 km/h, nothing happened to them."
His youth shows again when he says he likes cricket but watches "only T20 and one-day internationals, not Test matches."
The last few years in Europe have helped shape his race-craft, allowing for more aggression. The boys there, who race every weekend, are a lot more experienced. Even the top Asian could finish 20th or 30th in Europe, notes Khurshed, explaining the level of competition in both regions.
Daruvala won the British championship in his second attempt, beating rival Daniel Ticktum, a very aggressive young driver who is considered the best in rainy conditions. That is his favourite race memory, along with the recent Toyota Racing series in New Zealand, where he finished second.
As for his least memorable race, Daruvala says 70 per cent of motorsport is disappointments. Technical glitches often come in the way. But he handles those moments well, says his mother, with no small measure of pride. "Actually I think I get more upset than him."
Daruvala will have to steer through several challenges going forward. The level of competition in Europe has always been very strong. Motorsport is a tough, high-pressure business, says Chandhok.
According to him, choosing the right team and series at the right time is critical, and even once you have made those choices, you have to deliver. "Especially when you get to the GP2 level, you get one shot at getting to F1, so you have to get it right."
For Daruvala, a foray into F1 is three to four years away. For the moment, he plans on picking between Formula Three and GP3.
After his boarding school years, he has been able to return to his residence in Dadar's Parsi Colony every two months now, a welcome development for the homebody. As with every trip to the city, he makes time to visit the Parsi Gymkhana and Cafe 792, a hole-in-the-wall eatery in Dadar known for serving Parsi lunch and snacks.
Later in the day, when he heads to the airport following our interview, someone else will be at the wheel: Daruvala is still too young to drive on Indian roads.