We'd asked you, dear readers to share your love stories with us.
Dibyendu Karfa tells us how he got past cultural differences to marry the girl he loved.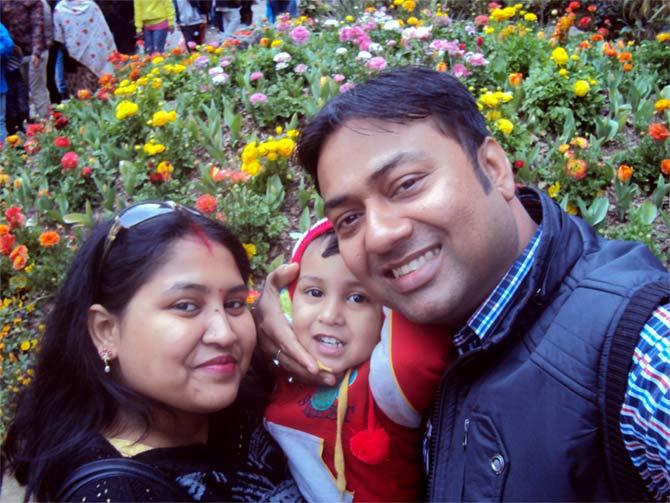 Priti (my wife now) and I are celebrating four years of a lovely, happily married life.
I had met Priti at her home, when I accompanied her elder brother -- who was also my colleague in a school -- to Jamshedpur.
I was 25 years old, and she was 20. She was in the final year of her graduation course.
I was, then, preparing for my MBA.
I was a science student and had to study accountancy and statistics for my MBA.
I spoke to her elder brother -- who was running a coaching centre specialised in teaching commerce -- about this, but I couldn't manage with the timings as I had a full-time job.
He told me that one of his sisters (not Priti, but her other sister) was ready to teach me the subjects at home.
I met Priti at the door and I found her attractive.
She came across as calm and polite.
I took classes from Priti's sister for nearly 15 to 18 days, until she got a job and couldn't take classes any further.
I returned home thinking where to go for classes next.
A day, the elder brother told me that the youngest sister, i.e Priti, would teach me as she was done with her exams.
I could not express my happiness that time and I agreed.
This was the turning point in my life.
Priti told me that she took up the classes as the brother insisted and her mother supported him.
She also mentioned later that she didn't like me as I was very straight forward.
But as days passed, she took things positively and responded maturely.
I had always been loving and caring since the beginning.
She became caring towards me too.
Meanwhile, I went to pursue my MBA in June 2007.
We were in touch over the phone and met during my vacation at Jamshedpur.
I completed my MBA and returned to Jamshedpur as a teacher.
We dated for three years. I used to go to her place frequently.
Later, I discussed our marriage with my family.
My parents intially refused.
I am from West Bengal, and her ancestors are from Bangladesh (East Bengal then) who had shifted to Kolkata much before partition.
Even though we both belonged to the same religion, there were problems with an East Bengal and West Bengal marriage.
My family felt that people from East Bengal cannot adopt our customs and are quarrelsome by nature.
I took time and acted maturely.
I explained to my parents and requested them to visit her home and have a conversation.
Somewhere, my parents were not convinced.
I was firm on getting married to her though.
Finally my parents agreed.
We got married on December 11, 2011, and our marriage was legally registered on February 14, 2012 (the date was planned).
Priti has supported me a lot in tough times and in making decisions.
She is my real life partner. We also have a two-year old child, Aahon.