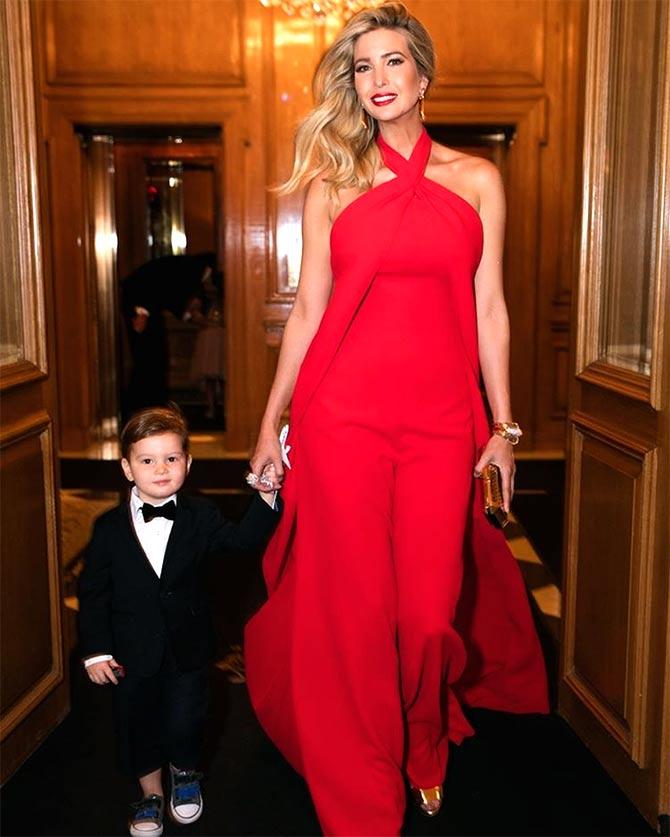 Without question, two of the most influential voices in a Trump White House will be Ivanka Trump, Donald's eldest daughter, and her husband Jared Kushner.
Ivanka is bright and beautiful, fashionable and forthright, says Anita Aikara.
Ivanka Trump is 35 and has three children. Who would know that when they meet her, always glamorous, always poised, with nay a strand of hair out of place.
Ivanka -- whose mum Ivana was a Czech champion skier and model -- graced her first magazine cover, Seventeen, back in 1997, when she was just 16.
She then walked the runway for Versace, Marc Bouwer and Thierry Mugler, and featured in ads for Tommy Hilfiger and Sasson Jeans.
Today, Ivanka runs a lifestyle Web site, Ivankatrump.com and also has a clothing and accessory line, the Ivanka Trump Collection.
With over 2 million followers on Twitter and 1.8 million on Instagram, Ivanka is as active on social media as her dad, doling out fashion advice to her followers.
During the election campaign, when The Donald, wildly strayed from script and his campaign staff ran amuck, Ivanka and her husband, billionaire realtor Jared Kushner, restored order and talked sense into the candidate.
After her parents' messy divorce, which her brothers Donald Jr and Eric took badly, Ivanka made it a point to reach out to her dad, spending time in his office after school.
Clearly, she is the favourite among Trump's five children from his three marriages.
A look at some of Ivanka's memorable fashion moments:
1. When she painted the Met Gala red with her FAVOURITE men in tow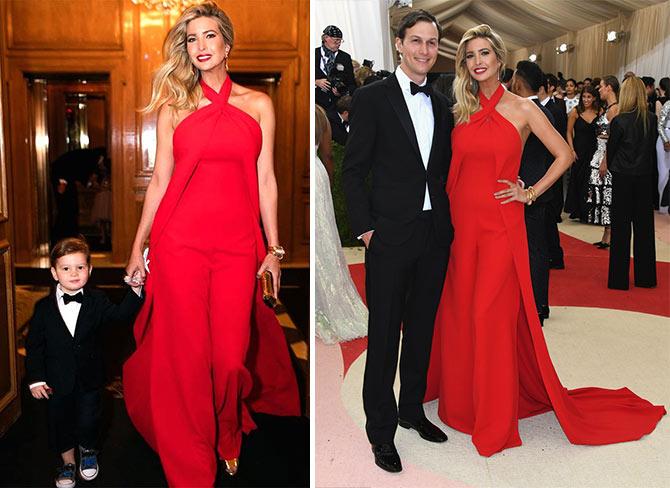 IMAGE: Ivanka wore a bold scarlet ensemble by Ralph Lauren to the 2016 Met Gala.
On the left, she shares a moment with her son Joseph, just before leaving home for the Gala where she was accompanied by husband Jared.
Photographs: Kind Courtesy Ivanka Trump/Instagram; Larry Busacca/Getty Images
2. She made pregnancy look glamorous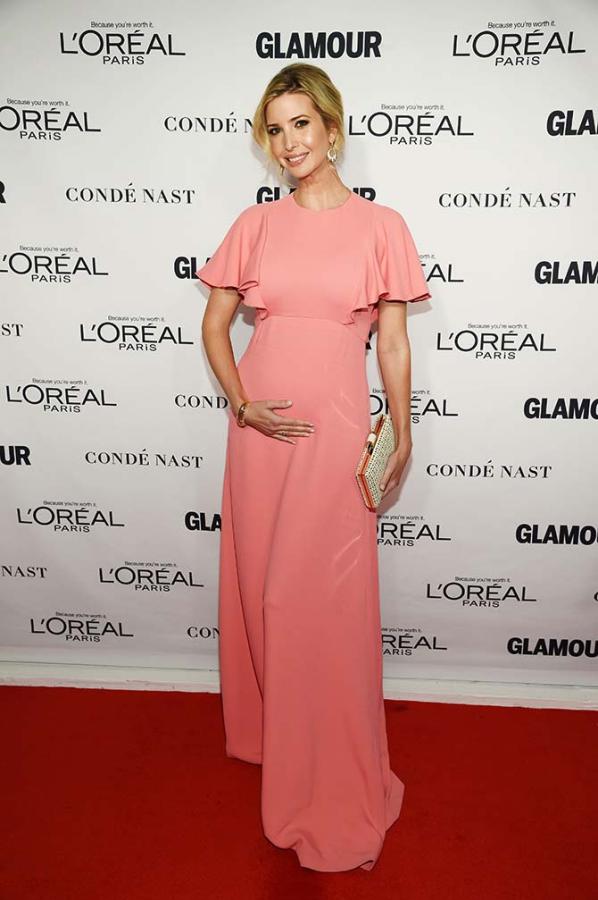 IMAGE: Ivanka looked pleased as punch in a peach gown at the 2015 Glamour Women Of The Year Awards.
And it wasn't just her floor-length gown that she was flaunting.
Photograph: Dimitrios Kambouris/Getty Images
Exhibit 2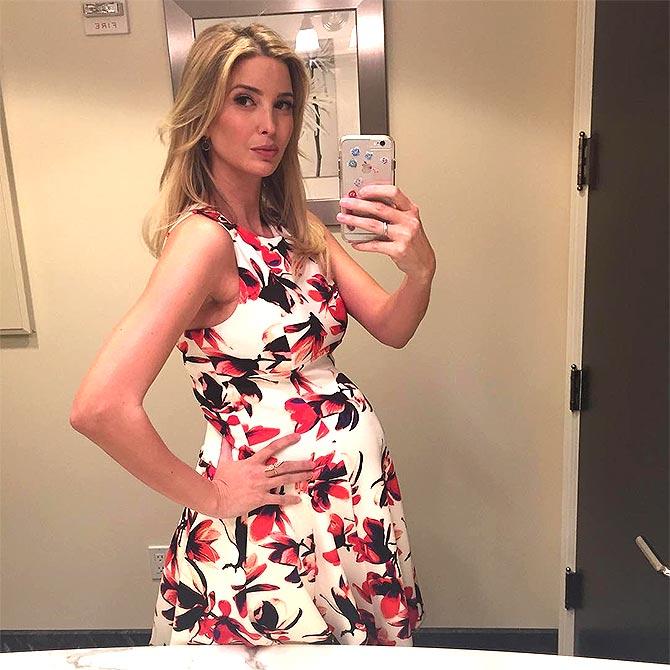 IMAGE: Yet again, Ivanka styles her baby bump.
She called this her 'favourite non-maternity maternity dress'.

3. Her Queen Elsa look was a super-hit :)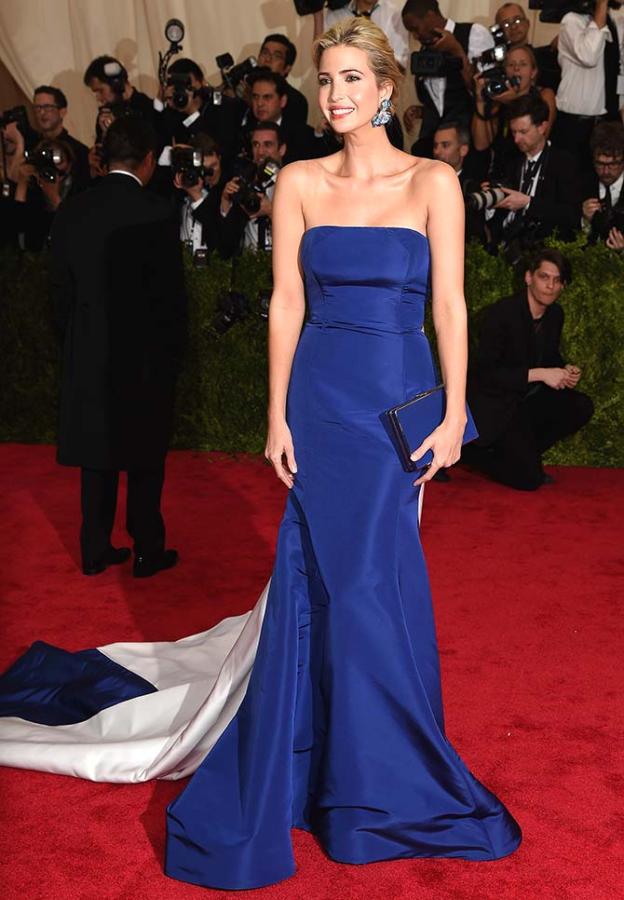 IMAGE: Ivanka wore this blue off-shoulder gown with a long train to the Met Gala in 2015.
Her daughter thought Ivanka looked like Queen Elsa and we couldn't agree more.
Photograph: Dimitrios Kambouris/Getty Images
4. She loves prints!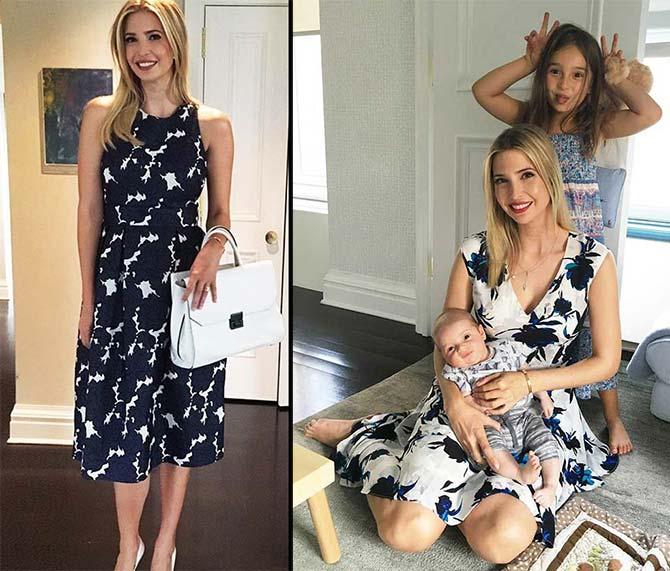 IMAGE: She looks good in prints too, but she looks happiest when having a good time with her children :)
Photographs: Kind Courtesy Ivanka Trump/Instagram
5. This is what her weekend dressing looks like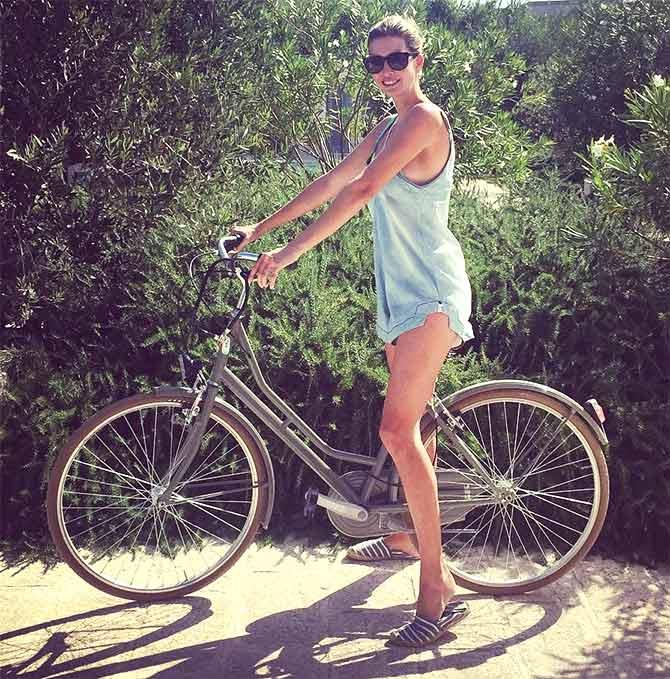 IMAGE: She can make a simple shirt dress look stylish.
This picture proves why many people feel she has the BEST LEGS in the business.
Photograph: Kind Courtesy Ivanka Trump/Instagram
6. That's what her Saturday Night Fever dressing looks like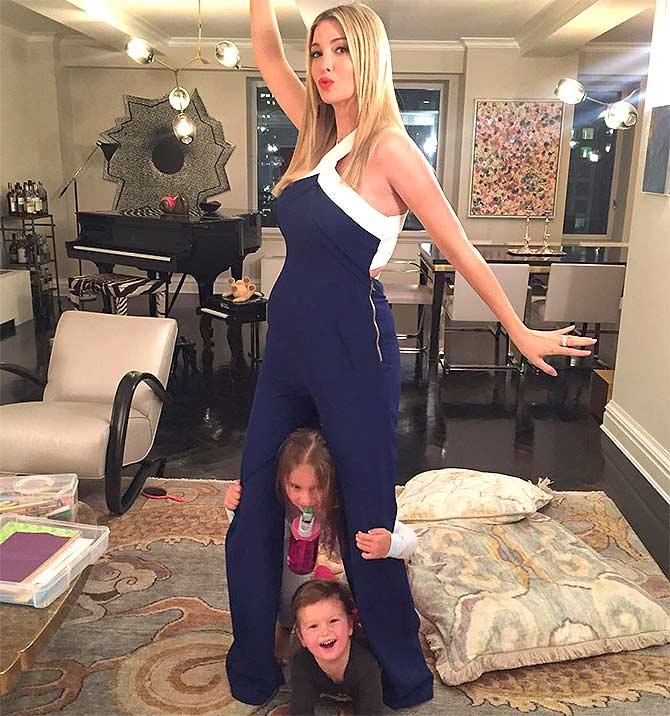 IMAGE: A hot, fun-loving mama, isn't she?
Photograph: Kind Courtesy Ivanka Trump/Instagram
7. She's got super powers!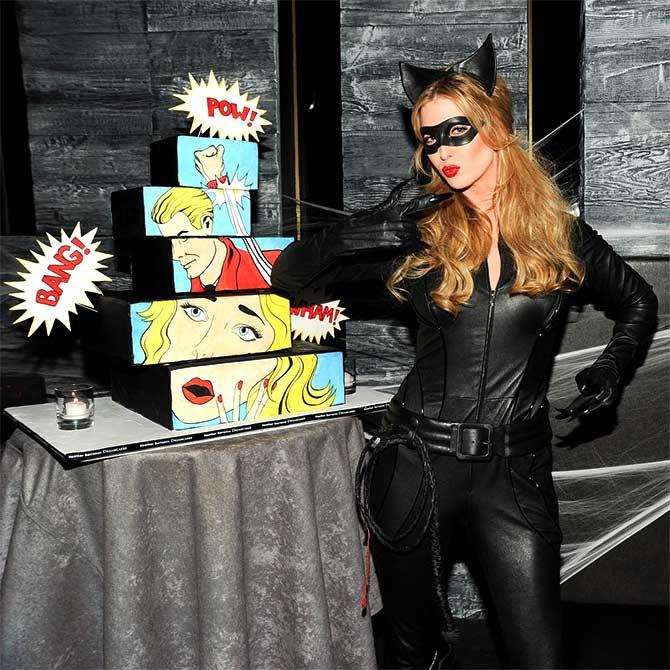 IMAGE: People have seen her formal dressing style as she stood by her dad's side at election rallies.
But there's a quirky side to Ivanka too!
Here she is, dressed in a Catwoman costume for Halloween.
Photograph: Kind Courtesy Ivanka Trump/Instagram
8. She prefers floral dresses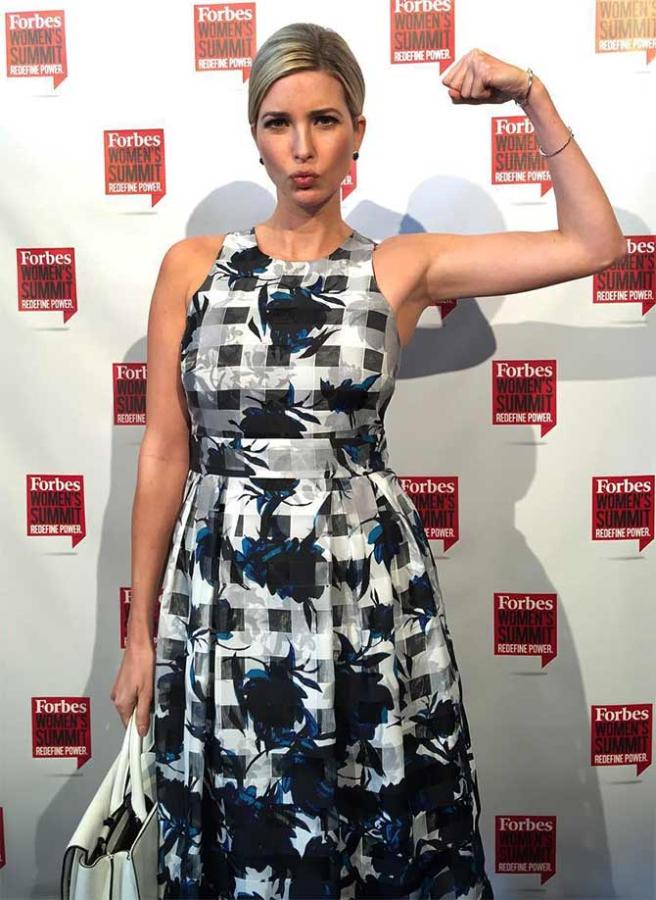 IMAGE: Ivanka flaunted her sporting side in a floral grey dress at the Forbes Women's Summit.
Elegant tailoring is more her style.
Photograph: Kind Courtesy Ivanka Trump/Instagram
9. She had an awesome dressing sense as a kid too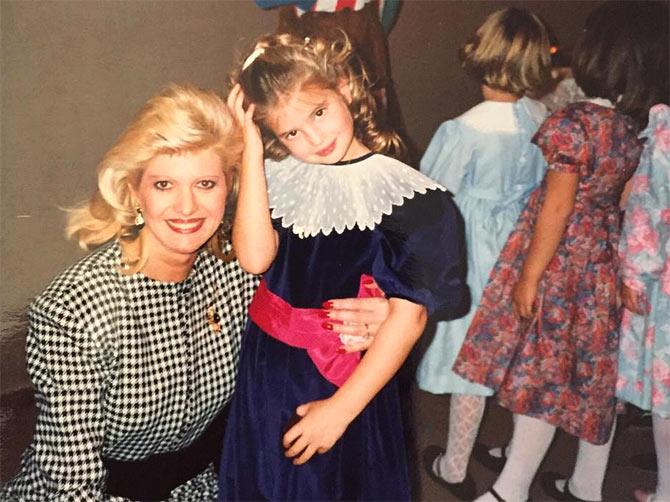 IMAGE: That's little Ivanka with her mum Ivana.
Style's in her genes.
Photograph: Kind Courtesy Ivanka Trump/Instagram
10. Here's her vacay look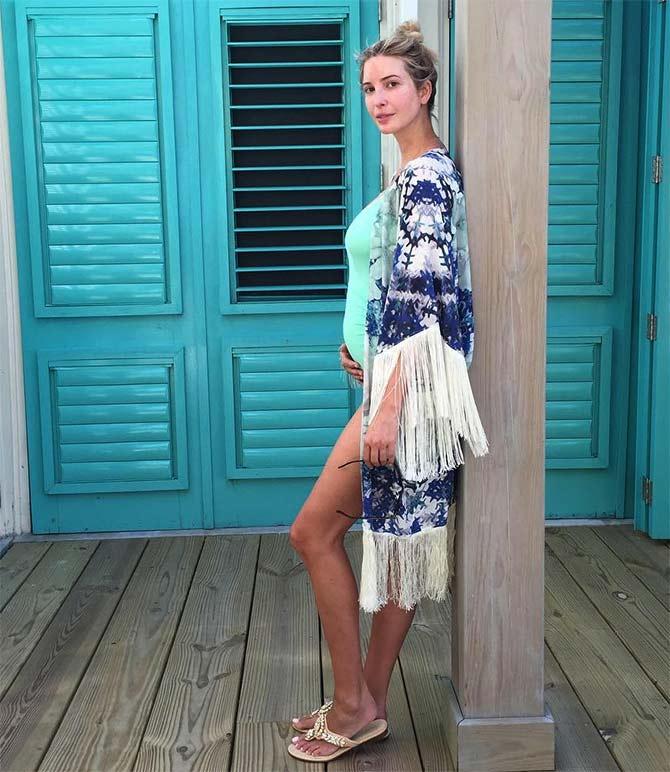 IMAGE: She paints a pretty blue picture holidaying in Belize.
Photograph: Kind Courtesy Ivanka Trump/Instagram