When she told me her story, I realised that one man's meat is another man's poison, says Geetanjali Krishna.
Illustration: Uttam Ghosh/Rediff.com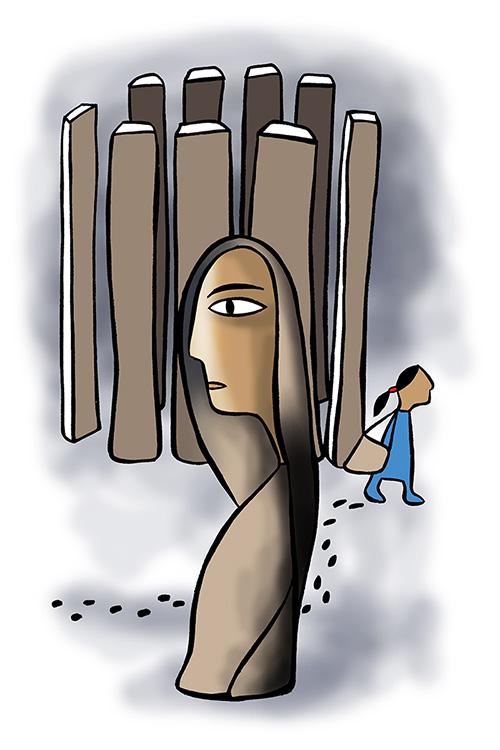 When I met Manju for the first time, I felt as if I'd never met a more timid woman in my life.
Dressed in a tired cotton sari, no red bindi on her forehead, her eyes seemed to be constantly on the brink of watering. I surmised, wrongly so, that she had been recently widowed.
When she told me her story, I realised that the old saw, one man's meat is another man's poison, still held true.
"It still seems like yesterday when I was a pampered wife and mother," she said dolefully. "My husband never allowed me to step out of the house on my own." Every day she said, he'd bring home groceries and vegetables on his way back from work. He even bought her clothes.
In fact, when their two elder children were to be married, her husband was the one who spoke to prospective families and arranged their matches. "He was a private sort of man, and didn't particularly want us to have any friendships with our neighbours," she said.
"So I'd stay at home, cooking, cleaning and keeping it exactly how he liked it, well-stocked with home-made pickles and namkeen (savoury snacks)."
Sometimes, she said, she did not leave the house for days on end.
He husband also decreed that their youngest daughter drop out of school after Class 5 as the senior school was at a distance from their house. "So she became my only company, except when we visited his family once in a while. While I enjoyed the outings, I liked coming back home more," she said.
It seemed like a life of unbearable captivity to me, but I listened as Manju continued with her story.
Her husband returned from his village with undiagnosed jaundice seven years ago. After being treated for low-grade fever and stomach ailments for months, his condition deteriorated.
"I realised he was critically ill and needed to be hospitalised, but I'd never hailed an auto! I stood at my doorstep and cried until neighbours came to my aid," she said. Her husband died and Manju returned two days later, a clueless widow.
"The first day that I had to buy vegetables, I got lost in the park next door. I stood with my heavy shopping bag and cried. Again, some good samaritans took me home," she narrated.
Soon, her savings dwindled. Some of her neighbours, with whom she struck friendships now that her husband wasn't around to forbid them, helped her find a job as a domestic help.
"My life changed. For the first time in my 46 years of existence, I was earning my own money," she said.
Her neighbours became her friends. They counselled her to send her daughter to school, taking a shortcut through the very park where she had got lost seven years ago. "Today, I've become so used to doing things on my own that I recently even travelled alone to our village in Bihar. Can you imagine that!" she said.
Manju had come a long way from being the house-bound wife and mother that she'd been when her husband had been alive, I commented. While she must miss her husband, was it not a nice feeling to buy her own clothes, have her own friends and run her own house?
Her eyes welled up yet again, tragedy queen-style. "While my husband was alive, I was happy, well-fed and well-looked after. Now I understand what a privilege it is for a woman to be able to stay at home and not have to go out into the world. I'd do anything to go back to my old life.'
For once, I was bursting with so much to say, that I said nothing at all.