Safe or not, the global taxi giant can now track you even after you have been dropped off.
Alnoor Peermohamed reports.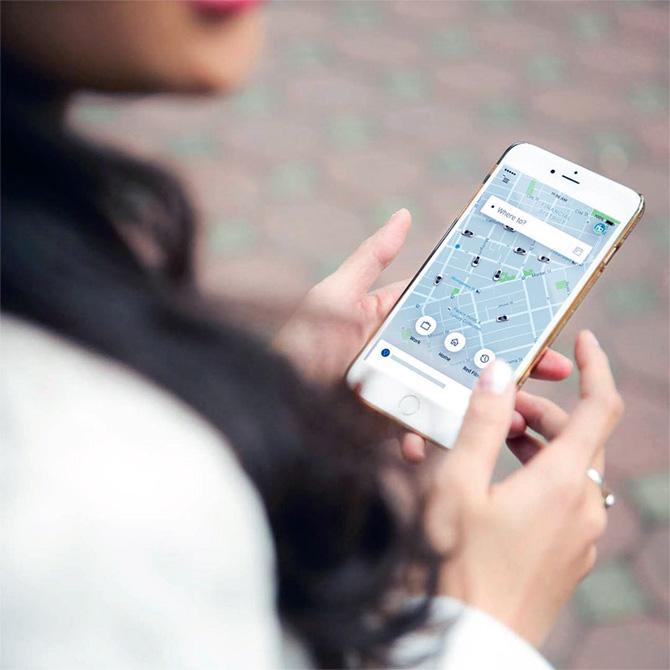 IMAGE: Uber collects your location data from the time of trip requests through five minutes after the trip ends to improve pickups, drop-offs, customer service and to enhance safety.
Photograph: Kind courtesy Uber/Instagram
App-based taxi aggregator Uber has said it wants to track riders for five minutes after they complete their trips, claiming it would help improve services and safety.
The proposal, however, has sparked concerns about the privacy of users being compromised.
An update on Uber's iPhone app now asks users for permission to track their journey for five minutes after they reach their destination.
The message reads: 'Uber collects your location data from the time of trip request through five minutes after the trip ends, including when the app is in the background. We do this to improve pickups, drop-offs, customer service and to enhance safety.'
Till now, Uber only tracked drivers on its devices.
"This (tracking a rider's location) not only helps with the services we provide," a spokesperson for the company said, "but it is also something the rider expects. The Uber experience is based on the simple question: Where to? Collecting trip-related information helps us enhance our services."
Experts are, however, worried that such a move by Uber might impact riders' privacy as there are no laws in the country protecting such data.
The US, Australia, UK and the European Union have privacy laws that regulate how an individual's information is collected, used, stored and disclosed.
It also gives an individual the right to control the information they provide to a private or government entity.
The EU also mandates what level of personal data of an individual cannot be exported outside the continent.
In India, Uber's move could set a "worrying precedent", said Apar Gupta, a lawyer who advocates for better privacy laws in the country. He fears information collected like this could be misused by companies.
"There is no examination of the privacy risk. There is no way to know whether there it is detrimental to users of Uber or Uber itself," said Gupta.
"Even though Uber may use good information-security practices," he added, "the absence of a credible and trusted government institution to regulate data would undermine public confidence."
Gupta said the government in India -- irrespective of which party was in power -- had always obstructed stronger privacy laws.
"We need a much deeper and pervasive law. It can't be dealt with in a Uber-specific way. We need to strike a balance where a user has the ultimate control over their data, while at the same time, address concerns of businesses," he said.
Uber has committed billions of dollars to capture the India market.
It is essential for the company after losing out to local player Didi Chuxing in China. The company is facing strong completion from Ola, in which Didi has invested.