'The civil services are one of the many means of serving society. Anyone who is disqualified must not give up easily.'
'During the interview, it is important to have balanced views. One cannot sound like an extremist or too wise.'
'If you want to succeed, be sincere and listen to the advice of elders. They speak from experience, which the youth tend to dismiss.'
UPSC toppers -- Ira Singhal, Nidhi Gupta, Vandana Rao and Suharsha Bhagat -- tell Rediff.com how they cracked the tough national exam.
Interviews: Upasna Pandey.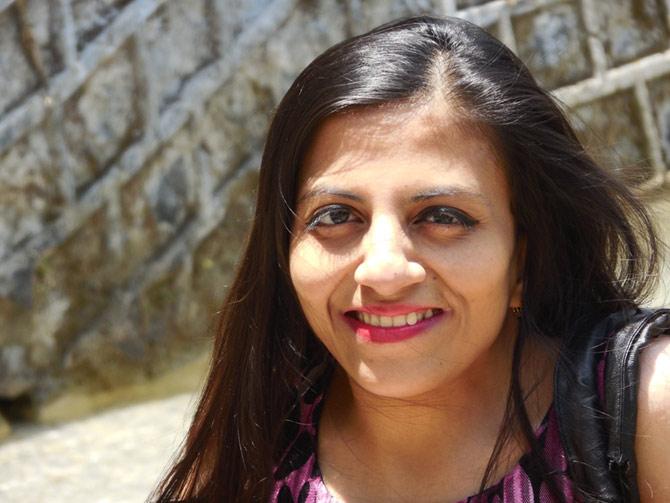 It has been three days since the Union Public Service Commission examination results were announced and Ira Singhal confesses that she has not had the time to read the newspapers or check the news on television.
She has been busy talking to the media all day!
"I don't know if I am famous, but people seem to recognise me," says the UPSC topper, adding "they stop to compliment and bless me. It is touching and humbling."
Ira, above, is also the first differently abled person to achieve this feat.
"Everyone is differently abled," she says, "one needs to have faith in one's abilities. Decide your goal, be sincere and honest, and it will pay off."
Ira has dreamt of becoming an IAS officer for a long time. "I am enraged each time I know about any incident of injustice or crime against women or children. I don't believe in sitting on the sidelines and commenting on society, but taking up responsibility for changing things."
Not one to give up easily on her goals, Ira topped the UPSC ranks after appearing four times in the national exam.
Currently an Indian Revenue Service officer, she is currently posted as an assistant commissioner in the customs and excise department, Hyderabad.
Suffering from a spine-related disorder, Ira was refused a posting because of her disability, after she cleared the UPSC in 2010.
She petitioned the Central Administrative Tribunal, won her case and was inducted in the civil services last year.
"My friends and family have been a huge support," she says. "My friends would wake me when I went off to sleep studying. They would get me material or books which I needed from across the city since mobility is an issue for me."
A huge FC Barcelona fan, she has a BE in computer engineering from the Netaji Subhas Institute of Technology and an MBA from Delhi University's Faculty of Management Studies.
"I don't enjoy studying all the time. Preparing for the civil services exam is tough. There is no set pattern and there is so much to study. One has to become almost an encyclopeadia and develop analytical ability which is crucial for the civil services."
"Be respectful, polite, confident, be yourself and candid during the civil service interview because the panel can see through a person's lies and pretentions," she adds.
The national topper is all praise for Indian policy and planning structures, but points out that "there is need to improve implementation" of programmes and plans.
As a bureaucrat, she hopes to "do her best to create a positive impression in public."
"The civil services are only one of the many means of serving society," she insists. "Anyone who is disqualified must not give up easily. Don't be too hard on yourself, there are many other ways to work for society."
Ira lights up when she speaks about football. She is an avid reader and her favourite author is Victoria Holt.
"I enjoy travelling and if I had my way, I would live out of a suitcase," she adds.
Her love for chocolates is one reason she was happy working at Cadbury as a strategy manager some years ago.
"Everyone is differently abled," asserts this inspirational young woman. "We need to have faith in our abilities, set a goal and put in sincere efforts. It will surely pay off."
She urges young women across the country not to "listen to what people have to say about how and what we should do and who we can be."
"Every girl must have a goal and must resolve to work towards it," she says.
Ira is looking forward to celebrate her success with family and her friends. "I hope there will be some celebrations soon!"
Her friends, she reveals, run into "three digits"! "I think I connect easily with people," she says.
For those disheartened by failure, Ira has some advice: "Life is too short to be defined by one exam. It is important to take on as many opportunities as one can."
---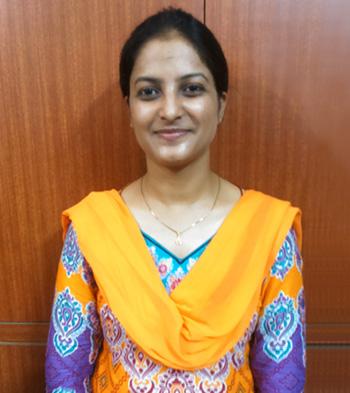 "I was working with Adobe as an engineer when I realised that I could only contribute to society in a limited way and decided to prepare for the civil services," says Nidhi Gupta, who stood third in the UPSC exam this year.
Nidhi took the UPSC exam earlier, and believes thorough preparation and discussions with colleagues and friends as well as her family's support played a role in her success.
A resident of Delhi, Nidhi, a software engineer from the Netaji Subhas Institute of Technology, is, like Ira Singhal, an Indian Revenue Service officer and currently serves as an assistant commissioner, central excise.
"I improved on my mistakes from earlier attempts, but the rank has been a surprise," she says.
Many aspirants, she feels, lose hope when they don't clear the UPSC exam at the first attempt or secure the desired rank due to many factors including lack of financial and emotional support.
"I want to understand the system and make the link between the government and its people more transparent and create participatory structures so that the public plays a role in the successful implementation of government plans and programmes," Nidhi says, outlining her future role in the Indian Administrative Service.
Government programmes and initiatives, she feels, need to be in tune with the ground realities to deliver results.
Indian women, Nidhi adds, "know their potential and need to stay focussed, come forward and show their capability."
It is critical to "acknowledge one's limitations and find solutions to overcome them," she says. "There are no common solutions to suit all."
---
Her father is an assistant sub inspector in the Delhi police, her eldest brother, a teacher. These two men, says Vandana Rao, ranked fourth in this year's UPSC exam, are her inspiration and support.
"I was always encouraged by my father and brother to realise my potential," says the graduate from Kurukshetra University. "My brother always supported me and got me all the material and books I needed."
Vandana advises UPSC aspirants to opt for self study and refer to study material available online.
"Preparations for the civil services exam can be done without enrolling for coaching," she says. "Coaching is highly priced and sometimes even misleading. There are no shortcuts for clearing the exam. One can utilise the Internet for everything."
It takes about one year of thorough preparation, says Vandana. There is "a lot of hard work, but one should not lose hope if one is disqualified at the mains or interview level."
"One must persistently aim for success," she adds.
"During the interview, it is important to have balanced views on various issues," she advises future UPSC aspirants. "One cannot sound like an extremist or too wise. Remain calm and be realistic in your response."
"Anyone who is curious and sensitive towards society and willing to learn and adapt should opt for the civil services," she feels.
Her dream is to "work towards eliminating poverty in India as it holds people back from realising their potential."
Vandana salutes Indian women for "showing that we can excel in every field. We need to ignore anyone who tells us otherwise or tries to discourage us."
"There is no alternative to hard work if you want to succeed. Be sincere and listen to the advice of elders around you because they speak from experience, which the youth tend to dismiss," she says.
"My dad and brother's dreams have come true," she says with a smile. "All I want to do for them right away is take them out for dinner."
---
Suharsha Bhagat is the only young man in the UPSC Top 5 this year.
An alumnus of the Indian Institute of Technology-Bombay, the native of Samastipur, Bihar, cleared the UPSC exam in his first attempt, was assigned the Indian Audit and Accounts Service, but chose to quit in four months and reappear for the civil services test.
"I told my superior that I wanted to quit and appear for the UPSC exam again. He spent a lot of time trying to convince me that I should continue in the IAAS, but I argued that the IAS was my only goal."
Suharsha, who took the UPSC exam four more times, believes aspirants need to "remain candid and honest and avoid being arrogant and casual" to succeed in the personal interview round.
"I want to do my best in whatever job, whichever capacity, wherever I am posted across the country, with the highest integrity and sincerity," he says.
Asked about the fact that young women bagged the top four positions this year, Suharsa says, "it is a matter of hard work, perseverance and patience. Gender does not matter."
REDIFF RECOMMENDS