In the second part of a series on India's regional rock musicians, Amit Kilam, drummer of band Indian Ocean speaks to Chandrima Pal about the explosion in vernacular contemporary music.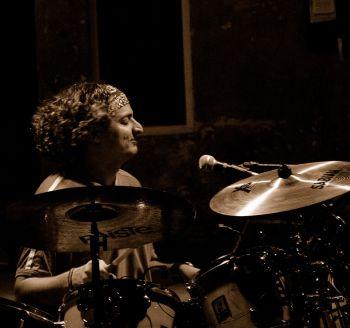 This was bound to happen. India is not just one language, and it was only a matter of time before people wanted to express their music in their local language. I have been feeling that rock music or bands -- doing any kind of music in our country -- have been 'following' the West too blindly, as a result the music they were producing was not very original.
Rock music is actually very rooted to the social context/ issues and that relevance was missing here. I think we have now taken a step in the right direction. Even the bands in 1970s Calcutta, which were singing Bengali songs set to English tunes, are now more relevant, doing great work. All over the country, you see bands and artistes singing and touching upon social issues relevant to us Indians -- and that is a very positive thing.
While there is still a void when it comes to non-Bollywood and non-classical music, people, especially young people, want to listen to something nice and new and 'your own'. When we travel and perform in the United States, we see this passion and this emotional connect with our kind of music, which is very inspiring.
Bollywood has changed. New guys are experimenting with their filmmaking craft and music. There is still traditional Bollywood, and they would obviously not come to people like us. Bollywood's reach and scope is unbeatable. And it can help bands and independent music survive and thrive. When the Black Friday album was released, even before the film was released, it did better than any of our own albums. It helped us reach out to an audience that was new, untapped and far-flung. It got us shows at places we had never been to.
Take the case of Kailash Kher. After his Bollywood success he formed Kailasa, which does reasonably well. He is a good example of how you can reap the benefits of a successful Bollywood career to do something that is niche. I think, if more people rode on the Bollywood wave to popularise and help people access independent music, it will be a win-win situation.
Music companies are guilty of not thinking out of the box with the new artistes and bands. Had they planned and strategised well and concentrated on building some brands outside of Bollywood 10-15 years back, they would have something to fall back on.
Agreed, the other end of Bollywood is so small it makes no difference, but you could still be able to create marketable and saleable proposition, had you matched up to the talent that has been evolving. The way things are going, film music will soon be available to the end user directly through newer and better modes of distribution, eliminating the role of music labels altogether. What will they do then?
Speaking of us, we plan on having an album out by the end of this year. We are also doing three songs for Aamir Khan Productions and an album for a film by cinematographer Aveek Mukhopadhyay, called Bhoomi. We also toured the US between August 28 and October 18.
Are you a musician too? Are you part of a band? Share videos of your performances with us.
Simply mail us the following:
Name of band/musician:
Based in:
Genre:
Highlights of career:
Contact:

Upload your video on iShare, email the link to getahead@rediff.co.in and if it's interesting enough, we'll feature it right here!