Rescued from slavery at age 7 by Kailash Satyarthi's Bachpan Bachao Andolan, Om Prakash Gurjar is today one of the world's 7 top influential youngsters.
"Not just me. We all did it together," emphasises Om Prakash Gurjar, 22, every time you talk about his individual achievements.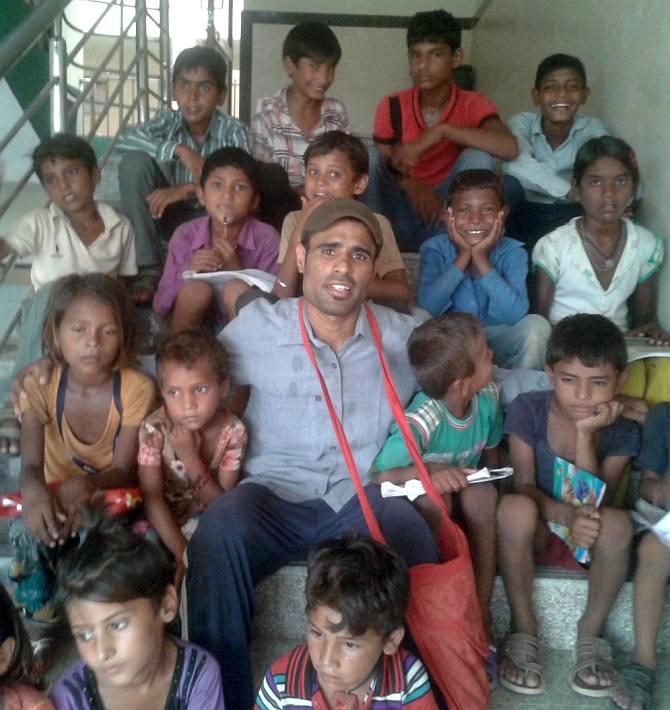 Image: Om Prakash Gurjar, centre, with the children of migrant labourers for whom he runs a school.
Photograph: Kind cCourtesy, Om Prakash Gurjar
Gurjar -- a child slave rescued by Nobel Laureate Kailash Satyarthi's Bachpan Bachao Andolan, when he was seven in 1999, from a landlord's farm in Rajasthan's Alwar district -- was honoured by KidsRights Foundation, The Netherlands, in November, for being one of the top seven influential youngsters in the world, which included Nobel Peace Prize winner Malala Yousufzai, among others.
Though Malala could not attend the event in The Netherlands because of her exams -- she had three papers to write -- Gurjar and five other awardees spoke to her on Skype and congratulated her for winning the Nobel along with 'Bhaisahab', as everybody at the BBA fondly call Satyarthi.
Gurjar, a resident of Dwarapur, a small village close to the Sariska wildlife sanctuary, was just five when he began working at the landlord's farm to help pay the debt his father had taken from the former in 1985.
"My father borrowed Rs 15,000 from this landlord and since he could not repay it, the landlord asked my father to get me to work at his farm," recalls Gurjar about his dark days when he was made to work from dawn to dusk since he was five.
Mostly, he would tend the cattle, cut grass, feed them, sprinkle pesticides, or help his father do any odd jobs that came his way.
At times, especially during the winter, he would not even accompany his father back home for days together because of the work load at the farm. In 1999, BBA activists, with the help of district officials, rescued him and scores of other child labourers. The children were taken to the BBA's Jaipur centre for a six-month rehabilitation programme.
Om Prakash's life has changed completely. With the help of Satyarthi's BBA, he has rescued child labourers in Rajasthan, helped poor children learn for free in schools in Rajasthan, fought alcoholism in villages and battled for equal rights for girls for which he was honoured in 2006 with the International Children Peace Prize and more recently in November as one of the top seven influential youngsters.
He also runs a school for children of migrant labourers on the campus of Poornima University where he is studying for a degree in computer applications.
Prasanna D Zore/Rediff.com spoke to Om Prakash Gurjar to find out how he is following in the footsteps of his illustrious mentor, Nobel Laureate Kailash Satyarthi.
First meeting with Kailash Satyarthi...
On April 15, 1999, when I was rescued and taken to the BBA centre for a six-month rehabilitation programme, I saw Bhaisahab for the first time. He was wearing a white kurta-pyjama, sporting a black beard.
He was teaching us inspirational slogans like har bachche ka hai adhikaar, roti, khel, padhai aur pyaar (Food, sports, school and love are every child's right).
There were small kids, just like me, from different states, speaking in different dialects that made me feel awkward. I wondered if I had come to the right place. It was an entirely different world for me.
On my first day there, I was given new clothes, a proper meal. I played football with the other children there. That helped me feel comfortable.
Bhaisahab was there, on that day, for all of us. He freely mingled with us, played with us, and taught us slogans like the one above and gali, gali main phool ho, har bachcha school ho (let a thousand flowers blossom in every alley, and let every child be in a school).
When did you first get to speak with Mr Satyarthi?
Bhaisahab would come to our centre mostly on Saturdays from Delhi. During every visit, he would enquire about new entrants to the centre and ask them to raise their hands. He would then ask us about our interests.
I told him I liked to sing Rajasthani folk songs and dance to those tunes. He was very friendly. He would never scold us.
On every visit he would bring sweets for all the children.
Unke saath raho to bus yeh samjho ke aapko mauj masti karma hai (In his company, one was always assured of a great time).
What happened after your six-month period at the Virat Nagar rehabilitation centre in Jaipur ended?
As a rule, all children after completing the rehabilitation programme are sent back to their parents. BBA activists take them home, get these children admitted to schools in their villages, and support their parents with all the help needed to continue with their education.
When my turn came to go back to Dwarapur (his village), I refused and insisted on staying back at the centre.
Looking at my determination not to return home, the centre officials consulted Bhabhiji (Satyarthi's wife Sumedha Kailash) and Bhaisahab and a decision was taken to allow me to stay back.
What work have you done at the BBA?
Whatever I have achieved is not an individual's feat.
All my brothers and sisters, my friends at the Bal Ashram, every single person who works in the field of saving childhoods, equally deserve the honour.
It was not just me. We all did it together. I just led from the front for whatever reasons. Whatever I have done for the welfare of children, my friends have done more.
After I became part of the BBA, when I was taken there at 7, we realised we were very fortunate to be there. There were thousands of other children who were not so fortunate. They were still working in farms, factories, hotels, etc. They too deserved a life like ours.
Inspired by what we learnt at the BBA, we would set out in neighbouring villages, tehsils, districts and help create awareness about child labour, its harmful effects, how children deserved a better childhood.
Because of our collective efforts we made more than 300 villages in and around the Bal Ashram in Jaipur free of child slavery.
We would help parents apply for and get their children's birth certificates and other documents of identity like passports, etc, that would help them later in their lives to avail of various government schemes and benefits.
We would rescue child labourers with the help of the police if their masters refused to let them go.
Today, with the help of Poornima University, I have started a small school for children of migrant labourers who stay near the Bal Ashram. Around 45 children currently study in this school and will continue to do so till the time their parents don't migrate to other cities or villages in search of livelihood.
You had been to The Netherlands along with Kailash Satyarthi to receive the honour for being one of the top seven influential youngsters in the world. How did you get a chance to speak with Malala Yousufzai?
On the tenth anniversary of the International Children's Peace Prize (an initiative of KidsRights which began in 2005), the day when we were to be honoured, Malala had three exams. She did not attend the ceremony. However, we spoke with Malala on Skype.
I congratulated Malala for her Nobel Peace Prize and told her that the problems that India and Pakistan share are almost identical when it comes to child labour and the problems faced by women, in the two countries, especially in India's north.
Both countries are still patriarchal in their treatment of the girl child.
Malala told me that we were fighting to achieve the same goal and so we should work with each other in achieving our objectives. These are our shared problems and an outsider cannot solve our shared problems.
She expressed her regret for not being with us for the ceremony because of her exams. We told her we would have done the same had we been in her place.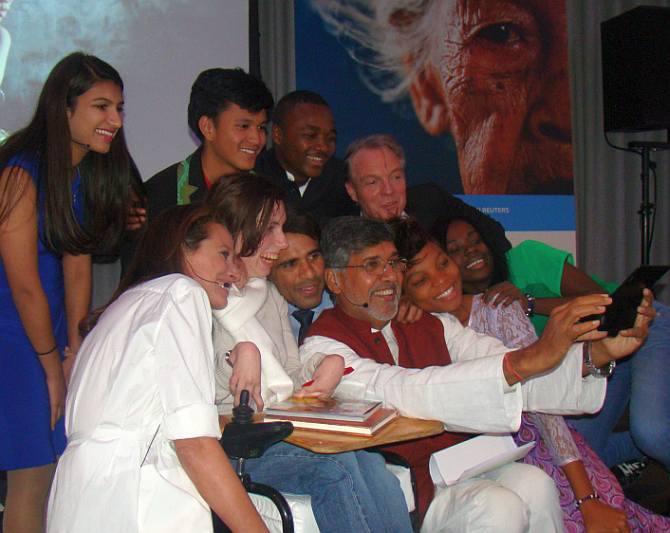 Image: Om Prakash Gurjar, centre, with the five other youngsters who were honoured by the KidsRights Foundation, The Netherlands, in November along with Nobel Peace Prize winner Kailash Satyarthi and officials of the Foundation.
Photograph: Kind courtesy, Om Prakash Gurjar
After speaking with Malala I felt she has some kind of huge hidden energy. She has an aura around her. She is so forceful and impressive. When she speaks, she makes us feel that all those women who are suppressed or suffering injustice are speaking through her voice.
She was very friendly with all of us. We never felt we were speaking with an internationally acclaimed Nobel Prize winner. She made us feel that if we unite we can be the force that can uproot most evils from this world, including attacks like the one on the school children in Peshawar, and end child slavery.
When did you hear that Kailash Satyarthi had won the Nobel Peace Prize?
I was in a Jaipur hospital recuperating from dengue. One of my friends from the Bal Ashram broke the news at around 2 pm that day. I got congratulatory messages right till midnight from all the people we have worked with and worked for and who wanted to share their joy.
I was so happy that I felt we were all nominated for the Nobel. I felt we were the winners of the Nobel. It was a wonderful feeling to know that Bhaisahab had won the Nobel Peace Prize.
You had been in close contact with Kailash Satyarthi since 1999. What did you learn from him?
Whatever work I have done till now, whatever life I have lived till now, I owe my name, fame and existence to the Bachpan Bachao Andolan and Bhaisahab.
At BBA we take take great efforts to follow in his footsteps.
I have seen so many people who don't eat because the food is not to their taste. Whatever food you put before Bhaisahab, he will never utter a word about the quality of food. He is always happy to eat whatever food is served to him. He will never find fault with the food placed on his plate.
Whenever he comes to our ashram, he makes it a point to join us in a match of volleyball. As in any game, one team would win and the other would lose. Bhaisahab would never blame others for defeat. He would always teach us to find our own mistakes, learn from them and encourage us not to repeat them.
He never discriminates between people based on their age, gender or social status. Whoever comes to meet him is always welcomed happily. He always speaks politely with everybody.
Even small kids who meet him never get disappointed. He has no airs about his international recognition. He is just like one of us leading a simple life.
He always makes it a point to address any gathering, irrespective of whoever is sitting beside him on the dais, with mere pyare bachcho (my dear children), then he pays his respects to the other dignitaries. This shows his immense faith and love for children.
Whatever his physical condition or mental state, once amid children, he becomes just like them, sings with them, plays with them, enjoys life just like them.
Amid children he becomes a small child. That would often inspire us to double our efforts of making this world a better place for children.
How did he react when you congratulated him for winning the Nobel Prize?
When we called him on the phone, he told all of us that we all have won the Nobel. Yeh sab tumhara hi hai. Yeh Hindustan ke bachcho ka Nobel hai. Yeh sari duniya ke bachcho ke liye hai (This Nobel belongs to the children of India; this Nobel belongs to the children of this world).
When I met him in Delhi later, I was emotional, I began to cry. It was a natural expression of my happiness for the person who made me, made me see a world I would have never seen had I not been rescued from that farm in Dwarapur.
He made me sit next to him and gave me two glasses of water (laughs).
What were the challenges you faced and still face in your efforts to help end child slavery?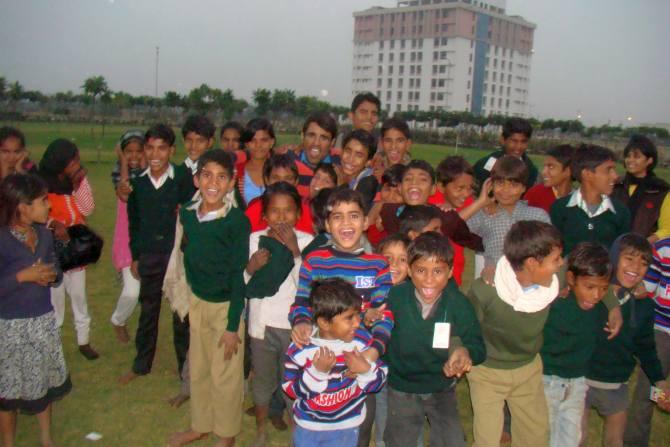 Image: Om Prakash Gurjar plays with the children of migrant labourers for whom he runs a school on the campus of Poornima University
Photograph: Kind courtesy, Om Prakash Gurjar
Those people who work on the ground face a lot of discouragement from government officials. An apathetic bureaucracy is our bane. We often face abuses and rejection when we seek the help of government machinery to curb incidents of child labour or want to help children get a birth certificate done or a passport done.
That is not to say that there are no good people out there. What we have managed to do is also because of those good people in the government.
Still, tackling the bureaucracy and sensitising them to the problems faced by children is a huge task.
The other big challenge is fighting with rowdy elements, who make use of force to stop us from saving child labourers. But that is part of the mission. We are all prepared to face whatever hurdles come our way.