He keeps a Ganesha idol in his room.
His next book will have eight chapters set in Mumbai.
He loves India; it's his biggest market.
Yet there is one thing that Jeffrey Archer detests -- it actually drives him nuts! -- about this country.
The Baron of Bestsellers speaks to Savera R Someshwar/Rediff.com in his most fascinating interview yet!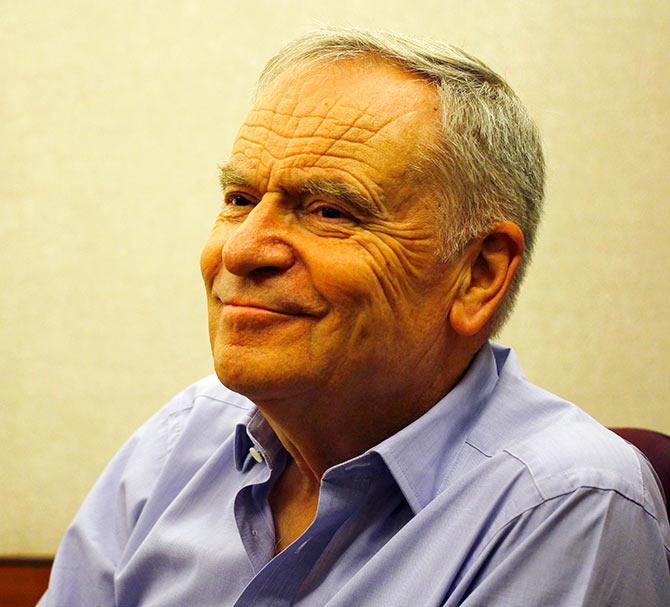 Image: Jeffrey Archer in Mumbai. Photograph: Hitesh Harisinghani/Rediff.com
You'll have to speak up because I'm slightly deaf."
Saying these words is a man with white hair, dressed in a crisp blue shirt, with deep lines that chequer his large forehead and enough bestsellers to his name to make the finickiest of publishers happy.
In fact, if Jeffrey Archer were a book, he would have been a bestseller.
If he were a Bollywood movie, he would have been a blockbuster, giving that Rs 100 crore king Rohit Shetty a tough run for his money.
"Bollywood," he harrumphs. "Those loaded people who steal my books.. them you mean!"
Lord Archer believes this bustling, money spinning industry has stolen at least two of his books (if not more!), made money off them and not shared a penny.
Why this riles -- besides the money, of course; Archer, of course, would never do anything so despicable! -- is that Kane And Abel (which 'inspired' the Jeetendra-Shatrughan Sinha starrer, Khudgarz) is his first super-seller and laid the foundation for Brand Archer.
Not A Penny More, Not A Penny Less, on the other hand, was the first book he wrote and he believes that's what inspired Ladies Vs Ricky Bahl.
Erm.. yes... we'd like to ask about Bollywood if we may...
"Right. What do you want to know about Bollywood?" he asks crisply.
Well, since Bollywood's already stolen his books, does he also think it would steal his life and make a movie out of it?
After all, Archer has led a rather masaaledaar existence, replete with love, sex and dhoka -- exactly what you need for a Bollywood blockbuster.
He was born poor, has survived a near-bankruptcy that led to his resignation as member of Parliament and his first book, been accused of numerous sexual escapades, one of which led to perjury and a stint in prison, and survived prostate cancer which made him impotent.
Today, barely a month shy of his 75th birthday, he's published 21 novels, seven collections of short stories, three non-fiction titles (based on his life in prison) and three plays.
This has made him one the richest, most-read and most-loved authors in the world, not to mention India, where he contributes a healthy number to the bottom line of his publishers and to the stores that sell his books.
"It's clear," he deadpans, "that Brad Pitt and Tom Cruise are fighting to play Jeffrey Archer. They are battling everyday. The phone never stops."
Then, he gets serious. "No, I don't want that facile world. I write books and want to be read; I don't want to be a Bollywood superstar."
There's a lot more he says, as you will find when you watch the video below.
Before you can ask -- and even if you were not planning to ask -- there isn't an autobiography in the offing.
There is, he says, a lot of him in his books.
In the Clifton Chronicles, for example (a seven-part marathon, the first of which was published in 2011), he sees himself in Harry Clifton, much of his wife in Harry's efficient and talented wife, Emma, and many of his friends in Harry's best friend, Giles Barrington.
Emma, incidentally, is Giles's sister. Have we heard that before? Two best friends, one falls in love with and marries the sister of the other...
Hmmm.
We arrest that thought right there and return to the man in the sky-blue shirt, who is saying, "Harry is born in the backstreets of Bristol. He is the son of a docker who fights his way to Bristol Grammar School and to Oxford. He fights his way to becoming a bestselling author."
Yep, much like Archer, who was a student at Brasenose College, under the Oxford University Department for Continuing Education.
"I am very aware that I have been very privileged and very lucky," says the master weaver of yarns. "God gave a simple gift -- to tell a story. And I work hard. I work very hard indeed. I do long hours and I slog and I slave and I want to be the best but I have been lucky in being given this talent to be able tell a story."
The luck, and the talent, has brought him fans by the millions, fans who shower him with love, and with gifts. One of these gifts has pride of place in his writing room. Do click on the video below to find out how it reached him.
It has also helped him set many records, the latest of which is that the 100th edition of Kane And Abel will hit the bookshelves in June this year, 36 years after it was first published in 1979.
Archer's team is trying to find out if there are other authors who have completed a hundred editions of their book in their lifetime. "It will be very interesting to see who they are. We are fairly sure about Harper Lee, because To Kill A Mockingbird has sold 40 million copies. Kane And Abel has sold 37,700,000 copies."
But To Kill A Mockingbird (fact: 55 years later, in July this year, Lee's second book, Go Set A Watchman, will be released) and Kane And Abel have, between them, sold less than 50 Shades Of Grey, a fact that Archer himself points out.
So has Archer picked up a copy of 50 Shades Of Grey?
"No."
Does he plan to read it?
"No."
Isn't politics -- his Conservative party banned him after his stint in prison -- his first love?
"If I had to choose, I would have been a writer because you last as a writer, you survive as a writer.
"I believe that if Kane And Abel has done a 100 editions, why wouldn't it do 200? It's not going to stop tomorrow morning.
"There's a whole new generation of Indians who are now reading Kane And Abel. If I had been a politician, I would have probably been minister of transport, forgotten in 10 minutes."
"So, no, writing is far more important."
So much so that he has a house in Mallorca, Spain, where he does a fair bit of his writing, that is called -- what else? -- Writer's Block.
Why?
Because he thought it was "amusing".
Does he suffer from writer's block?
"Never!" he says emphatically.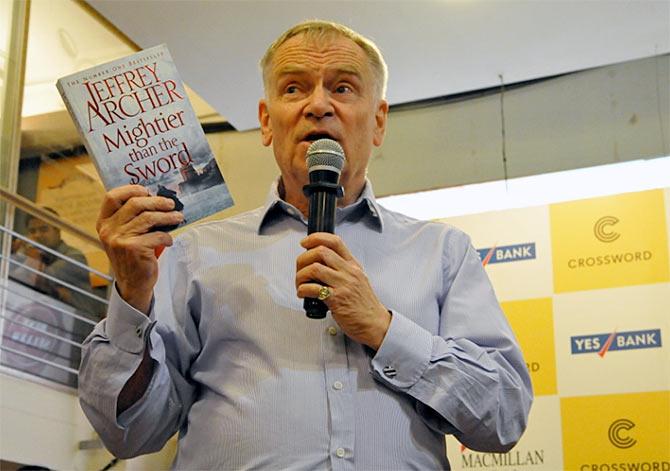 Photograph: Courtesy Crossword
Which is why, in the midst of crafting Book Six of the Clifton Chronicles, here's what Archer is considering.
"There have been suggestions that we should take William Warwick (the detective created by Harry Clifton) out of the book and have detective stories featuring him. But that hasn't progressed yet. We are thinking about it," he says.
There's something else that's got him thinking as well -- we asked him what he'd gift Jeffrey Archer.
And the man who is rarely at a loss for words is stumped.
Watch what he had to say -- it's generous and astonishing, and it's for India.
Coming back to the movies -- since this in India, we can't really escape it, can we? -- we ask him about George Clooney, a man he told Rediff.com last year he'd like to be if he were not a writer.
"Clooney is a lucky man," says Archer. "And he's good looking. And he's a good actor. If he wasn't, he wouldn't have made it. You can't do it on just good looks. Maybe you can in Bollywood, I don't know. I don't know Bollywood well enough. Can you do it on just good looks in Bollywood?"
He talks about a good-looking Bollywood actor he met "the other day," the son of one of his "dearest friends."
Clearly, he's quite impressed with Saif Ali Khan.
"The Nawab of Pataudi and I were at Oxford together. I loved him because of my love for cricket. Such a nice man. I met his son who's an actor and he's a very good-looking guy. I gave him a lot of stick. I stuck the knife in and twisted it again and again. And he was good. He came fighting back."
He's also met Tiger Pataudi's youngest daughter, the actress Soha, a couple of years ago when he conducted a charity auction for the Pataudi Hospital in London. "A very pretty girl. She went to Balliol College, Oxford. Bright lady. But it's not just enough to be the son and daughter of the Nawab of Pataudi. You could be stupid. They're not. They are very able. In the end, You. Have. Got. To. Be. Able. To. Deliver. Particularly in a modern India where the demands are very high."
But Archer is not really in India to explore Bollywood, though he won't mind an official association or two that might convert his books into movies.
He has had had a 'good' breakfast with Ronnie Screwvala, the founder of UTV and now a philanthropist, and someone who holds considerable heft in the entertainment industry.
"Great man. Very impressed by him. Liked him. And the work he is doing for charity."
It's just not Bollywood where he'd like to see official collaborations. He's looking at Hollywood too, and possibly some more television collaborations as well.
Before that, though, duty calls. With the fifth Clifton chronicle on the shelves -- he added two volumes to the planned five because he didn't want to kill the character of Harry Clifton when he had just crossed 50 -- it's time to promote, promote, promote Mightier Than The Sword. Which is why he was in India on a whirlwind six-day, six-city tour.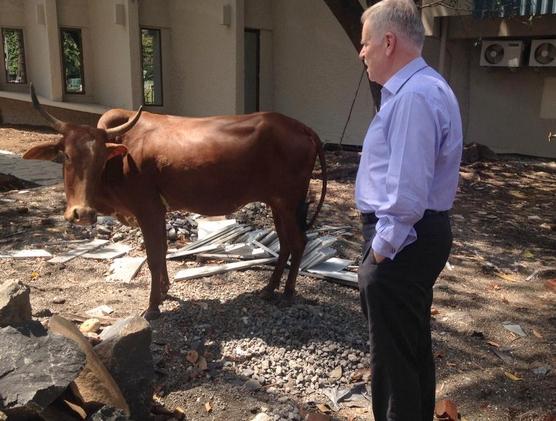 Photograph: Courtesy Jeffrey Archer/Twitter
"I love India and I love coming back but the truth is I don't relax when I am here," he says. It's the country where he sells the most number of books and it finds a mention in many of his interviews.
This time too, each of his appearances attracted a frenzy of fans. "You should see what it was like," he says, talking of his appearance a few days ago at a Crossword bookstore in Mumbai. "You couldn't get into the building. It's just amazing. And that happens all over India, and it's wonderful."
Doffing his top hat to his Indian fans, he has set eight chapters of his next book in Mumbai. "Sebastian (Harry Clifton's son) falls in love with a very beautiful Indian girl," he says.
According to the plot -- that may still go into a rewrite once Archer has it checked by a few Indian friends; his books can see upto 14 rewrites before they end up with the publisher -- they meet at during a cricket match at Lords; soon, after she is forcibly taken back to Mumbai, which is how the Clifton Chronicles reaches Indian shores.
Archer has set short stories in India (one, notably, on the Nawab of Pataudi in A Quiver Full of Arrows and Caste-Off in And Thereby Hangs A Tale) before.
But we are still thinking of poor Harry. Will he die in Book Seven? Hmmm... weren't we asking that very same question some years ago, about another protagonist named Harry, the hero of another seven-volume bestselling series, by an author who was also from Britain?
"I am not telling you what's in the last book," says Archer fiercely, looking at you as if you have asked him for the keys to the Bank of England.
"One, because I'm not going to tell you and, two, because I don't know," he sighs helplessly. "I never know more than a few pages ahead. I'm working on book number six now and I haven't got a clue what's going to happen to Harry, Emma or Giles. It has to be something fairly dramatic to end the seventh book on but I don't know."
Joanne Rowling, at least, admitted she had the plot for the seven books in her head!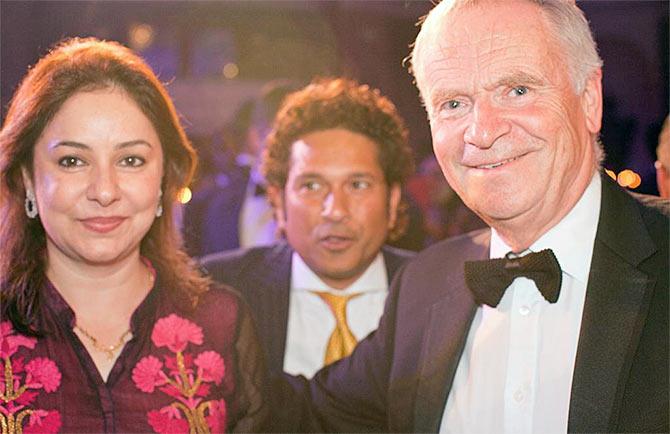 Image: Jeffrey Archer's famous photograph with an 'unknown' cricketer.
Photograph: Courtesy Jeffrey Archer/Twitter
But Archer, the ladies's man, is always ready to talk about women (Incidentally, many of the women in his novels are strong-minded achievers, inspired no doubt by his mother and his tolerant wife, Mary).
So if you have a Florentyna Kane in Kane And Abel, you have Emma Clifton nee Barrington in the Clifton Chronicles and Harry's mother Maisie, who works hard to ensure her son has a good education (much like Lola, Jeffrey Archer's mother).
And then, there are the others. Like 'the wicked' Lady Virginia (Giles's scheming ex-wife who wants to ruin her former husband), a character Archer says he simply 'loves'.
Does she reflect the 'wicked streak' in Archer as well?
"I hope so," he says.
"Virginia is a clever lady. She's not just beautiful and sexy; she's very clever and very devious. I've always said to my people that Virginia will be the most important piece of casting we do in the television series because every man has got to fall in love with her and every man has got to be frightened of her."
There's another thing Archer's passionate about -- cricket. There were whispers that he didn't want to be disturbed on Sunday, the day he arrived in India, because he was busy watching the England versus Sri Lanka game.
And, at every stop in India, he cracked jokes about the English team which has broken his heart this World Cup.
"Of course, we are going to win the World Cup... we only have to win five matches in a row and we will win the World Cup. I'm sure you've worked that out. We are the best team in the tournament by far. We've got the better bowlers, the better fielders and the better batsmen and we are... why are you laughing?"
"We are rubbish. And we are not doing very well," he says mournfully before he makes his World Cup predictions.
"I think New Zealand might win it. I think they look good, they look strong."
"They are very determined and they've got a great captain."
It depresses him that England might not make it to the semi-finals. But there's something that depresses him even more. This time it's related to India. Please click on the video to find out.
And, oh yes, about the alleged deafness.
"It's the women I can't hear. Men, I'm fine with. And, sometimes, the Indian accent. It's very hard to..."
Videos: Hitesh Harisinghani/Rediff.com