With pollution reaching alarming levels post Diwali, Dhruv Munjal finds out what is the best way to cope.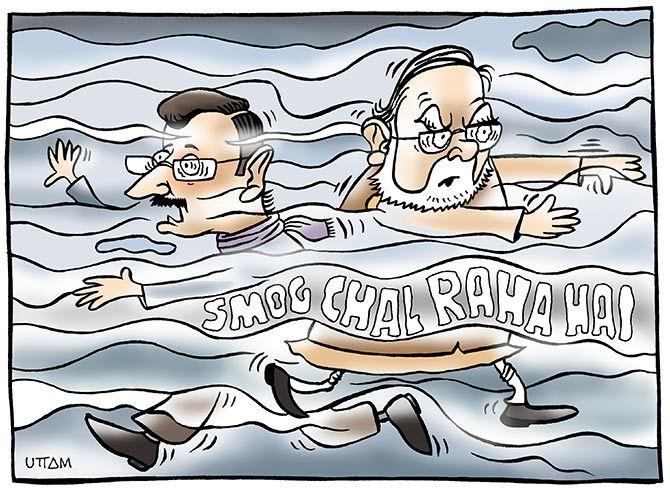 Earlier this week, at around 7 in the evening, Megha Sachdev decided to step out of her office in Delhi's Connaught Place. The visit was brisk before she hopped back in -- her hankering for a cup of tea was diffused by the smog that had instantly smothered her.
When she eventually ventured out to make her way home, Sachdev was left breathless by the time she reached the parking lot. Driving back wasn't pleasant, either.
The Delhi sky, at 10 in the night, was a mix of toxic air and wintry mist -- the visibility hovered around 20 metres.
"I've been living in the city for more than 25 years and never has the air quality been this bad," says Sachdev, who works as a digital marketer at an advertisement agency.
"In the past, the deteriorating air has always not been visible. But this time, we can see how terrible it is with our own eyes."
Sachdev is not alone. The pollution caused by Diwali crackers and the fog that accompanies the onset of winter has left many in the city battling various illnesses.
Forty-six-year-old Akshay Maheshwari has been returning home for the past two days with a throbbing headache. The noxious air, he says, is triggering his migraine.
When not popping pills for his headaches, Maheshwari spends a hefty amount of time nursing his dry eyes, sometimes pouring eye drops as many as five times a day.
Others in the capital have been complaining of a sore throat and nausea.
The smog, according to experts, is the worst Delhi has seen in 17 years.
Even as governments and legislative bodies grapple to find lasting solutions to the city's air pollution, doctors and health specialists are working overtime, helping people cope with the deadly levels of pollution.
Delhi-based pulmonologist Ashish Thakur's clinic has been swamped by patients in the last week.
"Around Diwali, more people drop in. But this year, it has been crazy. Almost 20 people come to me every day with some breathing problem," he says.
His advice to Delhiites is simple: Stay indoors as much as you can and avoid taxing physical activity.
Most doctors also suggest that people facing trouble breathing must consider wearing masks.
"It is not common to see people in Delhi wearing masks, but it's something that people should look at. It's basic and really helps," says Dr Thakur.
The masks available in the market include the simple surgical one, the N95 particulate respirator and the slightly more sophisticated N95 aura particulate respirator, which is a three-panel disposable flat-fold mask with a 'cool flow' valve.
A surgical mask costs around Rs 4 to Rs 5, while the N95 variants are available for around Rs 75 to Rs 150.
More than just protection, doctors say that the constituents of your daily diet go a long way in improving your health during such occurrences.
Nutritionist Shikha Sharma, for example, emphasises on the need to drink large quantities of water.
"Hydration is the most important in such situations. The dust particles get collected in your nostrils and lungs. And only water can flush them out," she says.
Sharma also recommends the consumption of milk thistle, an ayurvedic herb -- also available in tablet form -- which has numerous anti-oxidant and anti-inflammatory properties, and is mainly used to detoxify the body.
"This is also a good time to start eating chyawanprash, since it acts as an excellent immunity booster during the winter," adds Sharma.
She also warns against the consumption of ordinary bread, which comes laced with preservatives and toxins. "Due to its high chemical content, bread isn't ideal at this time. Instead, you can try stuffed bread or daliya."
Along with masks, the last few days have also seen an uptick in the sale of air purifiers. For Barun Aggarwal, the CEO of Breathe Easy, a company that provides air purifying solutions, the period that has followed Diwali has been frantic.
"It's like people have suddenly woken up. They all want to breathe fresh air. Demand for air purifiers has dramatically shot up," he says.
All air purifiers available in the market, however, may not provide suitable answers to your air quality woes. Aggarwal says you must consider a slew of factors before zeroing in on a purifier.
The important components include a HEPA filter, to clear out small particulate matter (PM2.5, for example), a good carbon filter, a proper pre-filter, which helps in destroying the larger particulate matter, and a high CADR (Clean Air Delivery Rate).
For those stuffing their bedrooms and living rooms with plants, Aggarwal says that plants need not necessarily improve the quality of air.
"Plants also release harmful gases. They can work, but are mostly ineffective when it comes to purifying the air."
"The best air to breathe is the one that is filtered before it comes into your home. Air purifiers are the second-best option available," he adds.
Stay healthy
Drink at least a couple of litres of water every day. It helps flush out the pollutants from your nostrils and lungs.
If suffering from regular headaches, constant breathlessness, nausea, a sore throat or dry eyes, consultant a physician immediately.
Stay indoors as much as possible and wear a mask while stepping out.
Avoid strenuous outdoor physical activity.
Children must be dissuaded from leaving home in the evening, and made to wear masks at all times.
Stay away from machines with ultra-violet lights, negative ions and photo catalytic oxidation -- they all release ozone.
To protect the lungs and the liver, have aloe vera juice and triphala powder.
Consumption of chyawanprash can help boost immunity.
Avoid keeping plants inside your home. Use air purifiers instead.
Illustration: Uttam Ghosh