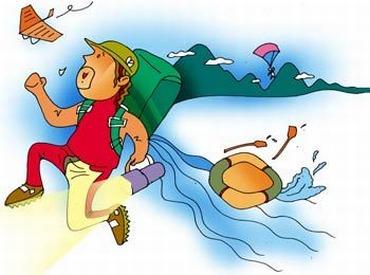 If you are a frequent traveller, then you should opt for a multi-trip travel plan because it works out to be cheaper, says Tinesh Bhasin.
Illustration: Dominic Xavier/Rediff.com
As fears of terrorist strikes at major tourist destinations grow, buying a travel insurance policy has become imperative.
For frequent travellers or those who holiday with family abroad two-three times a year, opting for an annual multi-trip (AMT) travel insurance makes more sense instead of buying a policy every time you travel.
"The multi-trip policy comes out to be cheaper if the individual travels abroad two-three times a year," says Anurag Rastogi, chief actuary and head-retail underwriting and claims, HDFC ERGO General Insurance Company.
The features offered in AMT travel insurance are the same as those provided in a one-time travel insurance plan.
"The premium varies depending on the number of days a traveller stays abroad," says Sasikumar Adidamu, chief technical officer-Non Motor, Bajaj Allianz General Insurance.
For example, if someone in the age group of 41 to 60 years takes a cover of $500,000 (around Rs 3.2 crore), the premium is Rs 4,700 for a plan that limits the stay to 30 days each trip and Rs 5,100 for the plan that has 45 days' limit for each trip, from Bajaj Allianz.
In comparison, the cost will be Rs 3,215 for a 50 year old for a single trip, with cover of $100,000 (around Rs 64.25 lakh).
If you are only focused on health insurance, then insurers such as Religare Health Insurance and Max Bupa have plans that let individuals get treatment abroad.
The sum insured for such policies can go up to Rs 6 crore.
But having travel insurance, along with these health insurance covers, makes more sense because they provide for situations such as trip cancellation, loss and delay of baggage, loss of passport and so on.
"Even if an individual has this policy, s/he should still go for travel insurance as there are many additional essential benefits it offers," says Anuj Gulati, managing director and CEO, Religare Health Insurance.
However, remember that all policies have exclusions.
For example, travel insurance provides covers for individuals for medical exigencies, but it doesn't offer coverage for pre-existing illnesses.
If a traveller has a heart condition and gets a heart attack abroad, such conditions would not be covered.
Most don't cover illnesses pertaining to pre-existing conditions.
If a person has hypertension and gets a stroke, most insurers would not cover the treatment.
"Insurers would also not cover if a doctor has advised the insured against travelling," says M Ravichandran, president-insurance, Tata AIG General Insurance.
Individuals, Ravichandran adds, should correctly declare all pre-existing conditions when taking the policy to avoid hassles later.
Some do cover pre-existing diseases if it becomes life-threatening.
Insurers also don't reimburse claims if you cancel trips because there's a terrorist attack at the destination.
Also, ensure that the country you are travelling to isn't excluded from the insurer's coverage.
Travel to countries such as Syria, North Korea, Congo and so on are not covered by insurers.
There's a list of countries available in the terms and conditions.
Have a look at it before you buy. Many insurers also have specific policies for different regions such as North America, Asia and the Schengen region.
The prices vary depending on the medical costs in each country.
If you are taking a multi-destination trip, ensure that you take a policy that provides coverage in all the countries you are travelling to.