If bank and service provider are not compliant, pay manually, or give standing instruction linked to bank a/c, suggests Bindisha Sarang.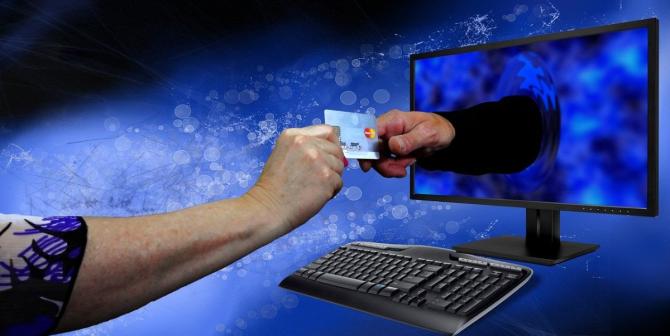 The Reserve Bank of India-mandated changes to auto-debit rules have come into effect from October 1.
There is a possibility that many of your recurring auto-debit payments may not go through.
Adhil Shetty, CEO, BankBazaar, says, "The RBI has mandated the digital payments ecosystem to build and integrate into a common bill payment system, with a view to make cards-not-present transactions safer. The new rules apply to recurring payments via debit and credit cards, Unified Payments Interface (UPI), and prepaid cards."
Recurring payments may not go through
Two things will happen.
Anand Kumar Bajaj, founder, MD and CEO, PayNearby, says, "Now your bank will not approve any standing instruction (e-mandate for processing recurring payments) given at a merchant Web site or application (app), on your card or UPI, unless it is according to the RBI-compliant process."
Suppose you have permitted services such as Netflix, Amazon Prime, Spotify, Google, Gaana, telecommunications company (postpaid), insurer, etc to auto-charge your card regularly.
If the card-issuing bank and the merchant are both not compliant with the RBI's new process, then such recurrent payments will be declined.
These new rules apply to international news sites as well.
Your loan equated monthly payments should go through.
Raghu Bhargava, chief technology officer and product head, InCred Finance, says, "Loan EMIs go from savings accounts, not cards, and hence, will go through."
EMIs paid from current accounts will also not be affected.
Mutual fund systematic investment plans are unlikely to see material impact.
Jimmy Patel, MD and CEO, Quantum Asset Management Company, says, "Very few SIPs are via debit cards. Most are through the electronic national automated clearing house (eNACH) route and hence, won't be affected significantly."
Payment of insurance premiums, too, won't be affected if they are via the eNACH route, though card payments will be affected.
Authenticate payments above Rs 5,000
If the monthly subscription amount for any service exceeds Rs 5,000, then additional factor authentication (AFA) will now be mandatory.
Mandar Agashe, founder and MD, Sarvatra Technologies, says, "For automated debits, your card issuer or bank will now need to send a notification at least 24 hours in advance."
This notification will contain all the information regarding the upcoming debit payment.
The link given therein will allow you to provide the AFA.
What you should do
Some banks have already enabled larger merchants for standing instructions (e-mandate for processing of recurring payments) on their cards.
Things will be easy for customers of those banks.
If you are the customer of a bank that is not yet ready, pay manually.
Option 1: Check your bank's Web site for the list of service providers and merchants that have enabled the new common RBI-compliant platform.
Register afresh for each such compliant service.
Also check with the merchants or service providers with whom you have registered standing instructions earlier.
If they are compliant, they will allow re-registration.
Kayzad Hiramanek, chief-operations and customer experience, Bajaj Allianz Life Insurance, says, "Customers who haven't updated their standing instructions can reach out to us, leave a request, and they will be updated immediately."
Option 2: The second option, if the service provider or merchant is not compliant, is to make payment every month at its Web site or app.
"Make the payment manually every month with your credit or debit card and authenticate the transaction via one-time password," says Agashe.
Option 3: You can also use your netbanking portal to register a variety of billers (electricity, water, gas, postpaid mobile, insurance, etc) for auto payments.
In other words, make recurring payments from your savings or current account.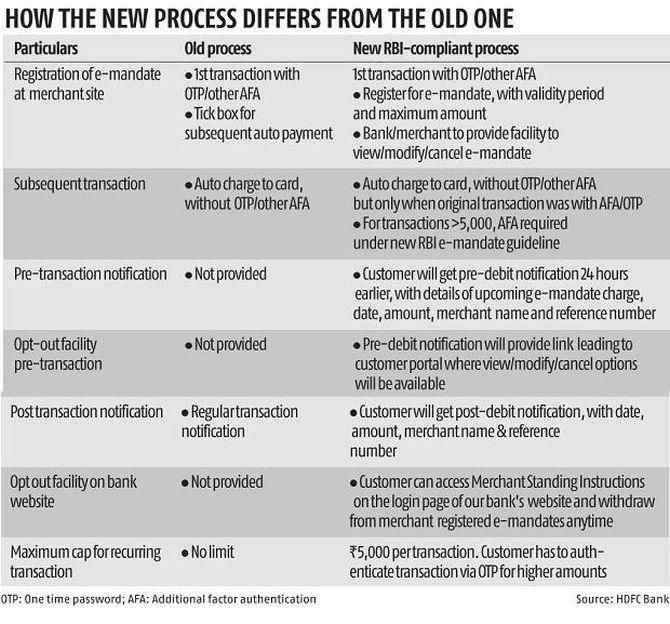 Feature Presentation: Aslam Hunani/Rediff.com