The harvest festival is incomplete without this humble and easy-to-make porridge from Divya Nair.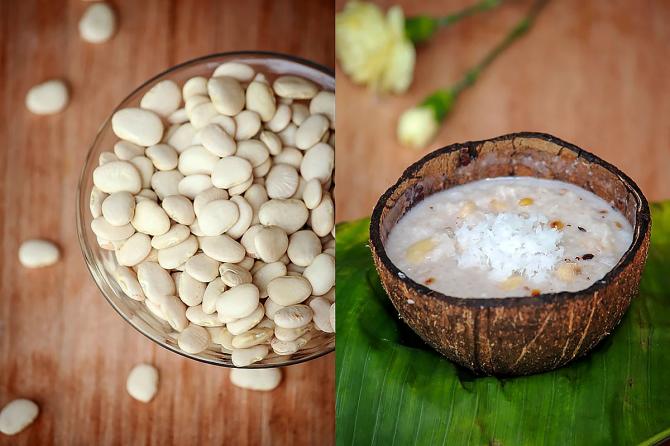 "For most Malayalis, Vishu is incomplete without the traditional Vishukani which is the decorative arrangement of harvested fruits and vegetables. And those bright yellow flowers or konna poovu(Cassia fistula).
"For my father, who was born and bought up in Kuzhalmannam in Palakkad district of Kerala, the harvest festival is incomplete without Vishu Kanji," says Divya.
"I have never had the opportunity to spend the festival in Kerala or taste this particular delicacy, which is a kind of porridge, made unusual by the inclusion of the special ingredient puliavarakka or mocha payaru (a type of bean which is white in colour).
"I asked my dad for the recipe, which is an important part of his childhood. Here it is, courtesy my father Ramanunni Nair, with a little help from my maternal grandmother Gowri Amma."
Vishu Kanji
Serves: 2
Ingredients
¼ cup puliavarakka or mocha payaru or a kind of white bean (please see picture above), soaked overnight
½ cup uncooked rice
¼ cup grated coconut
¼ cup jaggery, optional
Salt to taste
Method
In a large pot wash the puliavarakka repeatedly, changing the water every time, to remove the skin. Drain water and keep aside.
Similarly wash the rice, drain water and keep aside.
In a kadhai or heavy-bottomed frying pan, on low heat, dry roast the puliavarakka, without oil, to get rid of the raw smell.
Then grind the roasted puliavarakka in a mixer with a little water. Keep aside.
Boil in, a pressure cooker, on high heat, the puliavarakka with the rice, with 4 to 5 cups of water and 2-3 tsp salt.
Cook for 2-3 whistles. Take off heat and once the steam escapes, open the cooker.
Stir it to check for the consistency. If it is too thick, add some more water and simmer for a few minutes more.
Add the grated coconut, jaggery and mix well. Take off heat and transfer the kanji into a bowl. Serve hot with ghee, any chutney or pickle.
Note: Vishu Kanji is traditionally served in a vazha pola or a banana stem shaped like a bowl, with a spoon made of jackfruit leaves. You can also have it on a plantain leaf, in a coconut shell or a regular bowl.