Of the 23 companies, eight have raised funds after Shark Tank India.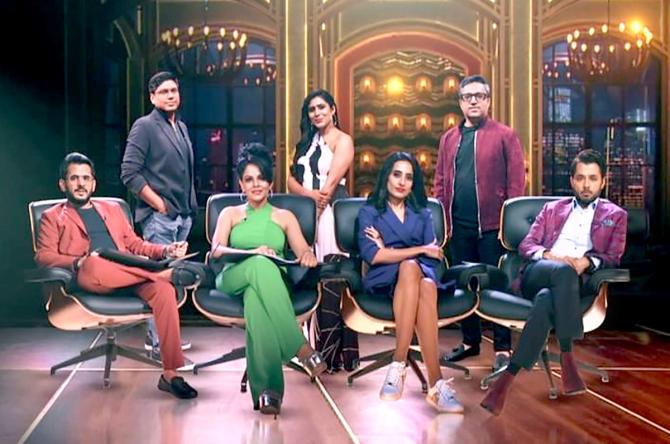 As Shark Tank India 2 continues its run on Sony Entertainment Television, a look at how contestants funded in the first season have fared gives an indication of the advantages and challenges presented by a reality television series meant to give wings to budding entrepreneurs.
According to data shared by market intelligence platform Tracxn, of the 65 companies that were funded by 'sharks' or judges at the show that ran from December 20, 2021, to February 4, 2022, 23 have raised money from other investors as well.
And of the 23 companies, eight have raised funds after Shark Tank India.
The data reveals that only one company, an energy drink start-up called NOCD, has raised Series B round funding -- incidentally, prior to featuring on the show.
It is also the only one that Tracxn identifies as a soonicorn. All the other companies have been engaged in seed funding so far.
One of them was also acquired last year. (Sky Gate Hospitality, the parent company of Biryani By Kilo, acquired a majority stake in ice cream start-up Get-A-Whey that had raised Rs 1 crore in Shark Tank India.)
Funding aside, how have companies gained from their primetime exposure?
When Ravi and Anuja Kabra made a pitch, they were just six stressful yet exciting months into their venture.
They founded Skippi Ice Pops in April 2021. And until Shark Tank India was telecast in December, they had to explain to retailers their product -- the good old popsicle peddled on the street but forever unbranded -- in addition to being the manufacturer and distributor.
Things changed after the Hyderabad couple became the first to win an 'All Shark' deal -- one where every judge or shark on the panel agrees to invest in an idea.
Says Ravi Kabra: "We became a part of dinner table conversations." It was a reversal from earlier, with distributors now knocking on the doors of Skippi Ice Pops.
In the first season of the series, seven tycoons or sharks -- out of whom any five were present in each episode -- committed funds worth Rs 41 crore (Rs 410 million) to the companies, 14 of which received Rs 1 crore (Rs 10 million) or more.
Skippi Ice Pops raised Rs 1 crore on the sets, after which Peyush Bansal, one of the sharks, got further involved and added funds to increase the figure to Rs 1.2 crore (Rs 12 milllion).
The Kabras have worked for several years in FMCG in India and Australia.
"We did a lot of things right, in terms of branding, packaging, product and timing. There was no competition in the category and the technology that we had got the sharks' attention. Getting all of them on board was very good PR," says Ravi Kabra, admitting that 15 minutes of primetime is marketing gold that an incipient company cannot dream of.
The challenge that followed was how a start-up that had been playing under the radar could suddenly scale up operational and manufacturing capabilities to meet demand.
"Fortunately, distributors paid us in advance and were willing to wait up to 25-30 days for the stock," says Ravi Kabra.
In four months of the Shark Tank episode, Skippi Ice Pops ramped up production from 2,500 to 12,000 litres a day, besides recruiting more people.
There was an online challenge, too.
"We were accustomed to getting 30-40 orders a day on Amazon or Flipkart, because ice popsicles weren't popular. But when Shark Tank was telecast, we had 400,000 hits on our Web site and it crashed," the co-founder says.
Its products are available in 130 cities across 22 states, primarily metro cities, with exports to a few countries as well.
From Rs 5 lakh, it has seen a massive revenue growth post-Shark Tank to touch Rs 2 crore a month.
Gurugram-based Proxgy Technologies, which received funds worth Rs 1 crore at Shark Tank India, has seen a tenfold increase in its valuation since.
Founder Pulkit Ahuja had sold a pitch based on an Internet of Things-enabled smart helmet -- a product to safeguard industrial workers.
"We have the premise of becoming an industrial IoT company, and we have been working on more products as well," he says.
Shark Tank helped Proxgy get a valuation of Rs 10 crore (Rs 100 million). Since then, it has had a bridge round and a pre-series A round of funding, besides growing its staff strength from five to 22.
The show also enabled Proxgy to pivot from business-to-consumer to business-to-business.
It was initially based on the idea that a retail customer could be at any place and book a human proxy, like booking an Uber ride.
"That's what we pitched, but with all the funding and the marketing dollars needed, the IoT devices had a strong demand in the B2B sector."
Proxgy is now serving big businesses like the Adani group as well as the government of India and Fortune 500 firms.
"All of that happened because these guys saw us on Shark Tank and the product that we were pitching would work for the B2B domain also," says Ahuja, a computer science engineer.
With the capex involved, the company doesn't expect profitability in the first year of operation since its pivot. It also plans to expand into the international market in 2023.
Asked about challenges, Ahuja says: "Once everyone sees you on the show accepting a deal at a particular valuation, it is very difficult to explain to them that it comes with its own benefits that are non-monetary, such as screen time worth millions. But when you are talking to other investors, they want to peg the same valuation. That's the only thing one should be cognisant about."
Agritech start-up Brainwired, which raised Rs 60 lakh (Rs 6 million) at Shark Tank India for its livestock health monitoring and tracking system called WeStock, also saw a deluge of demands from farmers.
Sreeshankar S Nair, CEO and co-founder of the Kochi-based company, says, "We were not expecting farmers to take notice but were proven wrong. We got 150,000-200,000 visits on our Web site within days of the episode."
Its device uses an IoT ear tag and a unique machine learning algorithm to identify sick and pregnant livestock and alert farmers.
The company was formally registered in 2020, and prior to Shark Tank it had raised roughly Rs 40 lakh (Rs 4 million) in funds. It has clocked revenues of around Rs 70 lakh (Rs 7 million) in the past year and aims to grow it to Rs 4 crore-Rs 5 crore (Rs 40 million to Rs 50 million) by 2023-2024.
It has also developed a sleeker variation of the WeStock product and is carrying out R&D to create such devices for camels, horses and pets.
"We got orders from all over India, so it became a daunting logistical task. Since our team manually implements the device, it makes it that much harder," says Nair, whose grandfather was a dairy farmer.
For now, Brainwired is focusing on select states and exporting to West Asia and Australia, besides exploring central government schemes to help reach out to farmers.
Being a hardware company, it is reliant on funding and hopes to make profits in another two to three years.
Neha Singh, co-founder of Tracxn, points out that Shark Tank India explained to everyone how investments take place and gave a limelight to a diverse set of companies.
"For several companies, it was very early as they were pitching and having an investor for the first time. So, they began their journey in terms of funding at Shark Tank India," she says, adding that it is early to judge the success of the companies thereafter.
"In start-ups the hit rate is anyway poor. But if there are breakout companies that scale up or become large, people would want to track them and that would show how successful they are."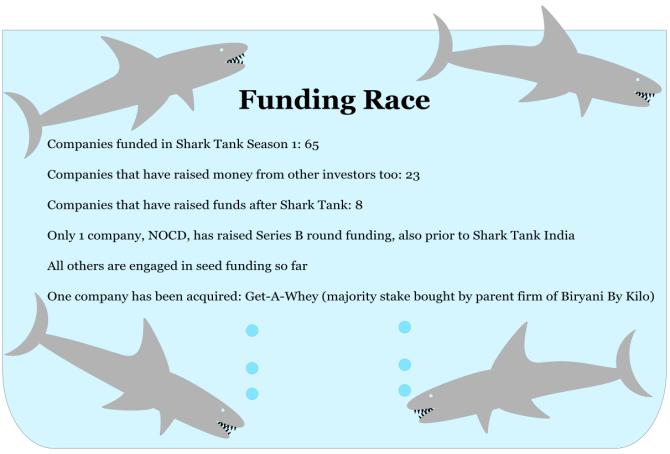 Source: Tracxn
Feature Presentation: Ashish Narsale/Rediff.com