The supermodel and marathoner discusses the Indian sensibilities of his athleisure line Deivee with Rediff.com's Jahnavi Patel.
Videos: Rajesh Karkera/Rediff.com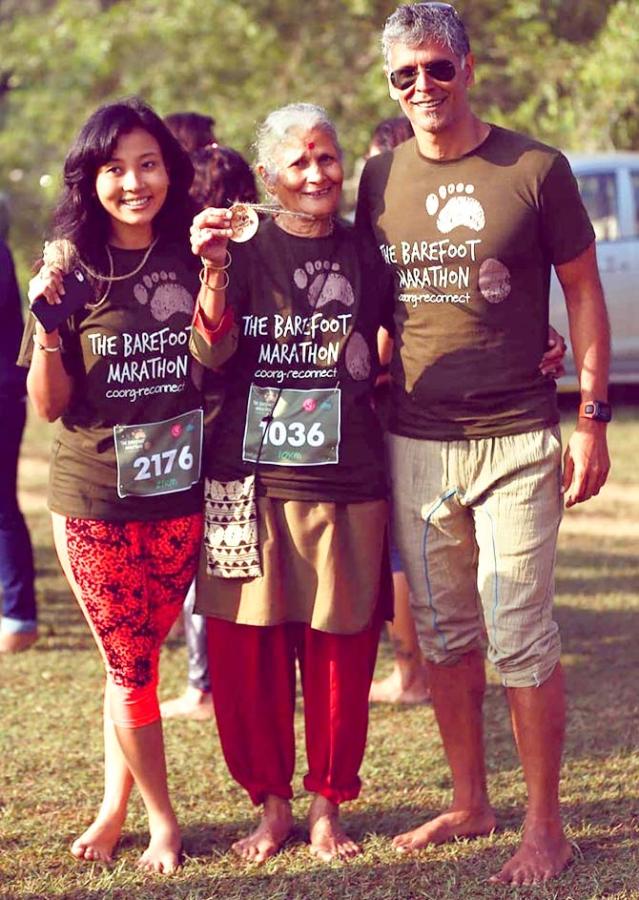 As the founder of Pinkathon, Milind Soman created a space for women from all walks of life to discover the joys of running.
And it wa also what made him realise that while there were many women who would run in a sari, burkha or their Indian wear of choice, there were many more who were not comfortable running in Indian wear or in the active wear available in the market.
So, he tells Rediff.com, he decided, "Let's make the Indian silhouette itself more conducive to running."
Soman joined hands with Darshan M to launch Deivee, a sustainable active wear brand for women.
The Deivee collection has the expected tank tops, tights and shorts, but more significantly, it includes T-shirts that are long and have roomier waistlines, a dry-fit kurta and even a running sari.
'We have long associated activewear with Western clothes. But what about the women who have spent their lives wearing traditional Indian attires?" Soman, who is also Deivee's brand ambassador, told Business Standard.
The running sari, which was shown at the Amazon India Fashion Week by 101-year-old athlete Man Kaur, was designed by Nida Mahmood, whose prime focus was allowing women to be comfortable in their own ways.
Soman added that the Deivee collection was categorised by different Indian body types: 'Most sports or "athleisure" wear for women are made for a particular size and shape. We wanted to make something convenient and stylish for the Indian silhouette.'
The collection is imbued with Soman's own relaxed and comfortable approach to style.
At 52, Soman is the poster boy of healthy living and is dedicated to encouraging women to do the same, starting with his mother, who not only runs but also pulls off a mean plank -- all in a sari.
And now that he and his venture partner, Darshan M, have gotten Deivee off the ground, the company is looking for a woman to replace Soman as brand ambassador.
Soman, meanwhile, is ready for his next challenge -- a Double Ironman triathlon.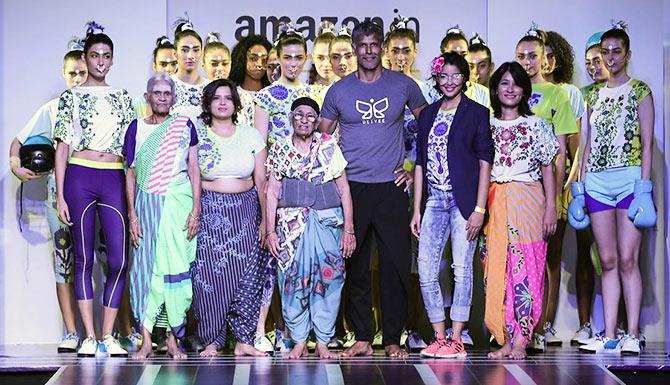 The Deivee collection at Amazon India Fashion Week.
Don't miss 101-year-old runner Man Kaur (centre left) sporting Deivee's running sari.
Photograph: @DeiveeOfficial/Instagram.