Apple has teamed up with the Malala Fund to support girls' education to extend funding programs to India and Latin America.
There is no better champion for girls' education than Malala Yousafzai, who survived a Taliban assassination attempt for championing the cause.
In recognition of that, Apple has announced that it will become the Malala Fund's first Laureate partner, 'enabling a significant expansion of Malala's effort to support girls' education and advocate for equal opportunity.'
Malala, who is now a student at Oxford University and a Nobel Laureate, established the Malala Fund in 2013, a year after she was shot, to champion every girl's right to free, safe, quality education.
The Malala Fund's Gulmakai Network currently supports programs in Afghanistan, Pakistan, Lebanon, Turkey and Nigeria.
With Apple's support, the statement announcing the collaboration said, 'Malala Fund expects to double the number of grants awarded by its Gulmakai Network and extend funding programs to India and Latin America with the initial goal of extending secondary education opportunities to more than 100,000 girls.
'Apple will help Malala Fund scale its organization by assisting with technology, curriculum and research into policy changes needed to help girls everywhere attend school and complete their education.'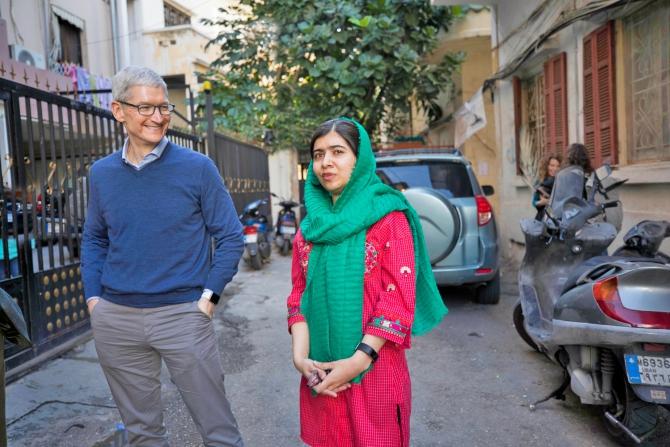 Apple CEO Tim Cook and Nobel Laureate Malala Yousafzai outside the home of a family with daughters attending school in Beirut, Lebanon supported by Malala Fund.
Photograph: Courtesy Apple.
Tim Cook, Apple's CEO, who will also join the Malala Fund leadership council, said, 'We believe that education is a great equalizing force, and we share Malala Fund's commitment to give every girl an opportunity to go to school. Malala is a courageous advocate for equality. She's one of the most inspiring figures of our time, and we are honored to help her extend the important work she is doing to empower girls around the world.'
Malala added, 'My dream is for every girl to choose her own future. Through both their innovations and philanthropy, Apple has helped educate and empower people around the world. I am grateful that Apple knows the value of investing in girls and is joining Malala Fund in the fight to ensure all girls can learn and lead without fear.'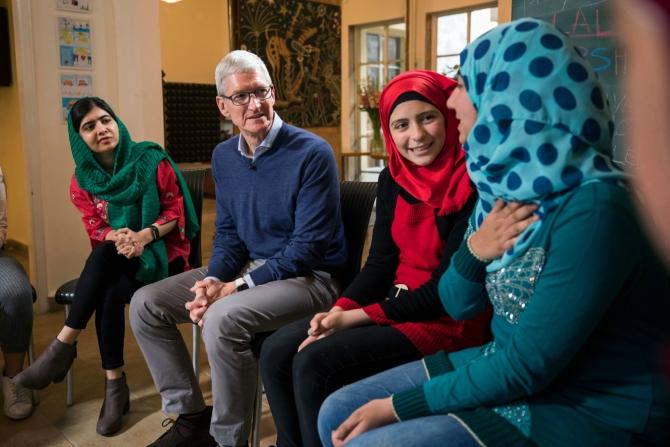 Tim Cook and Malala Yousafzai visit with Lebanese and Syrian students in Beirut, Lebanon.
Photograph: Courtesy Apple.
The partnership was born out of Cook's meeting with Malala in Oxford -- where she is studying philosophy, politics and economics -- in October last year.
Cook told the Independent,'I reached out to Malala just to meet her.
'We began to talk and it became so clear that she had such a bold vision. It really lined up with the boldness of Apple and that the core of it is an overriding belief in equality and that education is the great equaliser. And that has always been at the root of our company and my personal beliefs. And so it started, the fire was lit there. I instantly wanted to throw in on the vision that Malala had.'
Malala told the Independent, 'I was really happy that Tim was at Oxford, and excited to meet him. We asked each other questions and we had a conversation about girls' education and how technology can help us in getting more girls into schools and giving them the education that they want.
'I really wanted us to work together because Apple has expertise: they are expert in tech, they have resources and they have amazing and incredible people.'
Their shared vision, as the Apple statement noted, is the education of the 'estimated 130 million girls out of school.'