The current situation needs a human touch.
Two to five volunteers, with the support of the bank employees, could offer guidance and help to customers.
Gireesh Babu reports from Chennai.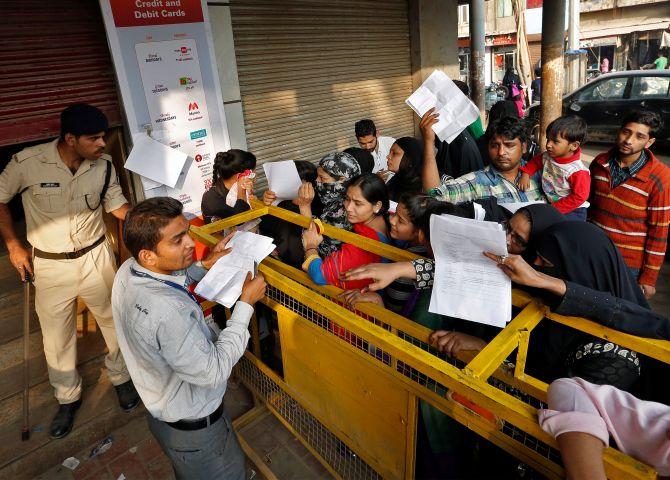 IMAGE: A bank employee hands out request slips for the exchange of old high denomination bank notes. Photograph: Cathal McNaughton/Reuters
Imagine you are a foreign tourist visiting Chennai for a week.
Prime Minister Narendra Modi's demonetisation move has caught you unawares and you have no cash to pay for your hotel bill, cab fare or meals.
You once withdrew money from somewhere showing your passport, but the next time you hit a bank branch, the fellow sitting in the cabin tells you that you need to produce an Indian identity proof -- Aadhaar or Voter ID -- to withdraw money.
This is where Chennai Tricolor, a non-profit forum driven completely by volunteers, play its role.
On Monday, November 21, it put out online forms in its Facebook account and other fora seeking volunteers to help customers and banks in the effort to ease the pains of demonetisation.
Two to five volunteers, with the support of the bank employees, would offer guidance and help to customers.
The issues are many, since most people are not aware of the nitty-gritties of the RBI notification.
For instance, the customer may stand in queue for hours thinking that he can deposit the amount in the branch, while the actual situation is that the deposit should be made only in the branch where s/he has the account.
Migrant workers also find it difficult to fill the challan for deposit or exchange, as the forms are either in English or Tamil, languages which are not known to people from Hindi-speaking states.
Vijay Anand, founder CEO of start-up accelerator, The Startup Centre, part of Chennai Tricolor and who co-ordinates the volunteers, says, "More than anything, it is a human touch that is required now."