'We are anticipating that the hiring trend will continue to see double-digit growth at least for the current financial year.'
Neha Alawadhi and Shivani Shinde report.
With high attrition and the struggle to fill the skills gap due to a surge in demand on account of digital transformation, the Indian IT services industry is heading back to campuses to hire engineers in thousands.
Though the salary level of the students being hired has remained Rs 300,000-Rs 350,000 for years, companies are ready to pay more for those who excel in coding and programme languages.
Industry players and HR experts Business Standard spoke to said when it came to generic hiring, the salaries remained at Rs 300,000-Rs 350,000.
But the industry pays a higher package if the student clears digital skill tests that firms conduct at campuses.
For instance, those who excel in coding or programme language skills get salary packages of Rs 650,000-Rs 800,000.
At the Vellore Institute of Technology, for instance, from the current batch, TCS hired 319 students in the digital profile category and the salary package of these students will be in the range of Rs 700,000.
Last year, the company had hired 1,400 students in the generic category with salaries in the region of Rs 300,000 to Rs 350,000 and 225 were selected under the digital profile.
Similarly, Wipro hired 419 under its Turbo hiring programme from the 2021 batch at VIT with a salary of Rs 650,000.
Similarly, Infosys hires students based on their strength in programming languages and coding, and the salary package goes up to Rs 800,000.
In the case of Cognizant and Capgemini, the entry-level salary for such students can be Rs 650,000.
"IT services companies, unlike product firms or US-based tech companies, have kept the salaries in the Rs 300,000 to Rs 350,000 range, but they hire in huge numbers. This year the numbers we have heard so far are frankly big, so entry-level salaries have remained at that level," says V Samuel Rajkumar, director, Career Development Centre, Vellore Institute of Technology.
"But over the last three years these companies have also started to focus on the coding and programming language skills and students who excel in these exams get paid more," he adds.
With the pandemic affecting courses, Rajkumar says several students used this opportunity to do certificate courses in AWS, Salesforce, etc. "They may get a slightly better salary package than the usual, but that will be decided only in interviews."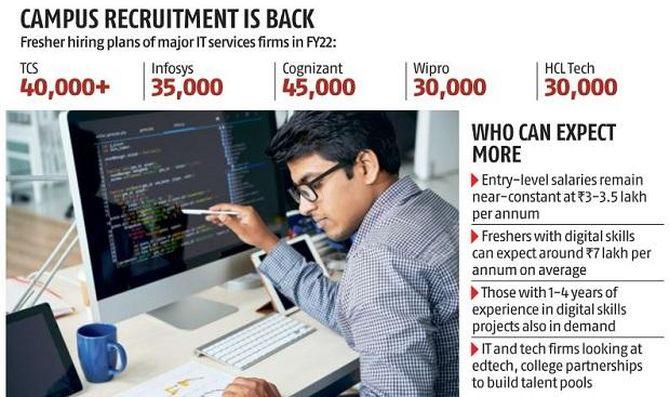 Sangeeta Gupta, senior vice-president and chief strategy officer, Nasscom, says, "Because the fresher intake by firms will take time to ramp up, people are hiring laterally more. There is likely a higher demand for freshers of the 2019 batch who have worked on a couple of digital projects and they are offered a better salary package because the hirer doesn't have to invest in their upskilling."
"These exceptionally high salaries are artificial in some ways," adds Gupta, because in the past 14-15 months, hiring has been low and now they want to hire in large numbers."
Tiger Tyagarajan, CEO, Genpact, said the problem of skills gaps had been there for over 20 years.
"For us, re-skilling is important, both internally and externally."
Genpact trains freshers in client technology, internal business processes, and sometimes in even basic technology skills.
Companies are making sure that the freshers are trained -- at the institutes themselves -- in some of the platforms and technologies the company wants.
"We want to increase our pool of colleges and have backward integration with them. Instead of students coming to us and spending another four-five months on training, we make sure that in the last few months of their education they are trained in the skills we require," says V V Apparao, chief human relations officer, HCL Technologies. At present HCL Tech has tie-ups with eight universities.
Take the case of Capgemini, where students are made to take or learn -- at the institutes -- the technologies the company needs.
"We have adapted our programmes in different ways. Before these students are onboard they are given access to curriculums/technologies we need," says Ashwin Yardi, CEO India, Capgemini.
Siva Prasad Nanduri, vice-president and business head (IT staffing), TeamLease Digital, says if companies required a digital skill, they hired people with four or five years of work experience and upskilled them before redeployment.
"Organisations are partnering edtech companies, universities, and other organisations to upskill. We saw a similar boom during the Y2K boom or the dotcom boom," says Nanduri.
"Also with the supercycle digitisation efforts that are being put across by customers," adds Nanduri, "we are anticipating that the hiring trend will continue to see double-digit growth at least for the current financial year."