Want a stress free vacation? Amar Pandit highlights the money tips you need to keep in mind.
Illustration: Dominic Xavier/Rediff.com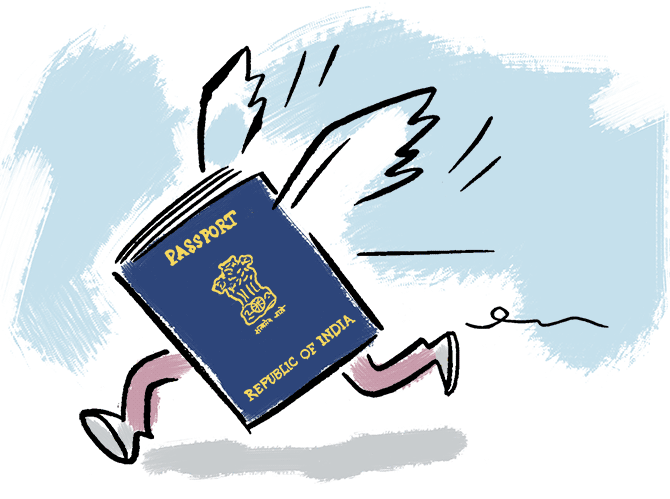 Are you travelling abroad for your annual vacation or for any other reason?
Here is a quick financial checklist that you must take care of before you take that flight.
1. Prepare a travel budget
It is very important to have a budget in place, especially when you are travelling to a foreign country.
You should estimate your expenses such as tickets, hotels, meals, shopping, entertainment, sightseeing and so on, in advance.
When you budget in advance, you can pre-plan and make reservations early to avail of good travel deals.
This will not only help you save a considerable amount of money, but will also help you avoid any last-minute stress.
2. Buy travel insurance
There are many unforeseen events that you may encounter while travelling, which could have a serious impact on your finances.
The most significant expense that could crop up is a medical emergency.
The cost of medical treatment, especially in Western countries, is exorbitant. Hence, it is important to have a comprehensive insurance policy with sufficient cover to protect you in a medical crisis.
There are other events that travel insurance covers like trip cancellation, trip interruption, loss or theft of baggage and so on.
These events may never occur but, if they do, one needs to be adequately prepared.
In such cases, a good travel insurance will protect you from financial damages.
3. Explore different modes of foreign currency
While travelling overseas, you must be aware of the currency exchange rate between your country and the country of travel.
Based on the travel budget, you must arrange to buy foreign exchange before the trip at a bank or other registered currency exchange centres.
This will save you from buying currency at expensive rates from exchange centres at airports and hotels.
Further, even though buying hard cash is the traditional way of carrying currency, it can be really risky.
Hence, one should consider alternate modes like debit/credit card, travel card, traveller's cheque, etc. However, in case of credit/debit cards, one must make sure that it is internationally accepted.
You should also be aware of the additional mark up costs, if any, that your local bank will charge you for using the card internationally.
4. Pay your bills in advance
When you are travelling with your friends and family, the last thing you want to worry about is your bills and late payment fees.
Instead of worrying about them, it is better to pay your bills in advance before you leave. This will also help avoid late payment charges.
5. Inform your bank about your travel plans
Many banks have monitoring systems that keep a check on unusual or fraudulent activities.
So, if you use your card in a foreign country and your bank is not aware that it is you, it may block your card suspecting fraud or unusual activity in a foreign location.
To avoid this, notify your bank about your travel plans.
Amar Pandit, CFA, is an engineer-turned-financial planner, and founder of HappynessFactory.in, a unique fintech company.