At 19, he quit everything to work in a tribal village for free.
Rahul Dubey was 19 when he left Delhi to work in a remote tribal village in Udaipur district for free.
At 24, he's building a school in the same village and inspiring youngsters to complete their education, to say no to early marriage and find employment.
What motivated him?
What did he gain out of the experience?
Rahul shares his dream with Rediff.com's Divya Nair.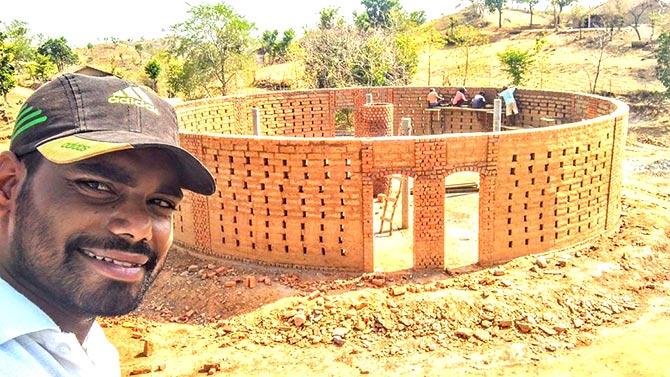 IMAGE: Rahul Dubey is proud of the school he's building with a team of workers in Kherwara village, Udaipur district, Rajasthan.
The school built with crowdsourced funds will open in July.
All photographs: Kind courtesy Rahul Dubey
Rahul's unpaid rural internship of three weeks in 2012 at Kherwara, a tribal village in Udaipur district in Rajasthan, changed his life.
"My parents and siblings never trusted in my abilities. They did not believe in my dreams too," says Rahul, who is now 24 years old.
"Two years ago, when the results of my master's degree were out, I wanted to share the news with my parents. I was returning to the village (Kherwara) and the bus was packed. There was no place to sit. I sat on the floor and called home. I told them I had topped the college and was a gold medallist in social work."
"My mother who'd first wanted me to become an engineer, later a professor, was happy. That day, I hope she realised what I was doing with my life in the last few years," says Rahul who has been living away from his family since he was 19.
In 2012, after graduating in mathematics, Rahul took a gap year to figure out what he wanted to do with his life.
With no money in his pocket or a fixed goal to pursue, he set out on a rural internship in Kherwara for three weeks.
What he saw there made him stay on and be the change for this village. He never returned to Delhi.
His work in this village and the neighbouring communities in the last five years is inspiring.
'I believed in living in the present'
"I was good at studies, but never spent hours locked up (with my) books."
"My parents doubted if I would score well in my board examination."
"Without any coaching, I scored 91 per cent each in Class 10 and 12 and topped Class 12 at Army the Public School, Jhansi."
Given his good grades, Rahul's parents -- his father is a retired army officer; mother a homemaker -- also wanted him to pursue engineering.
But Rahul, the youngest in the family, had other plans.
"Why should I put my parents' money in a course that I don't enjoy and then take a job I won't like for the rest of my life," he asks.
He completed his bachelor's in mathematics from Ramjas College, Delhi. His parents wanted him to pursue his master's and become a professor.
"While graduating I realised that science and mathematics was not meant for me. I was interested in travelling, meeting people and contributing to society selflessly. I believed in living in the present."
In 2012, much against his parents' will, Rahul took a gap year and signed up with Pravah, a Delhi-based organisation that connects young people with social initiatives.
Through the Alfa Education Society, an NGO based in Udaipur, he travelled to Kherwara, to study more about life in a village.
Life at Kherwara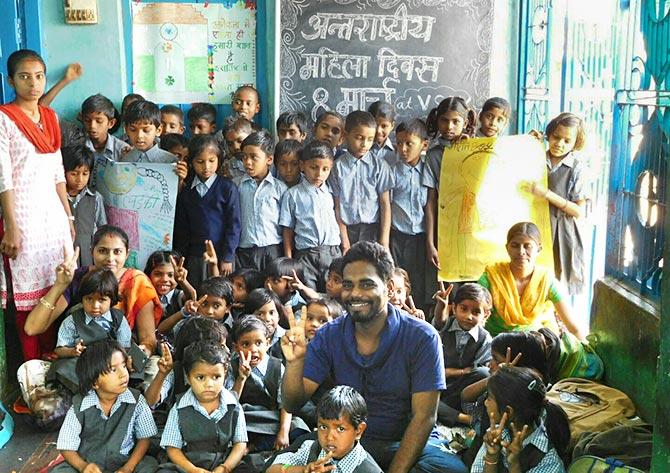 IMAGE: Quality education, gender equality, justice and employment of youngsters are some of the goals Rahul is currently working on.
"The three weeks I spent there changed my life. The schools were dilapidated. The people who lived there had mostly never travelled outside the village. The boys would study up to maybe Class 10 or 12 and take up a daily wage job in Ahmedabad."
"The girls did not study beyond the primary level and would be married off early or stayed back home to cook and do household work."
"When I told the villagers that I was from Delhi, one of them asked me which country was Delhi in. That was the level of ignorance in the village."
There was a lot the village needed and Rahul and Lokesh, the local representative from the village and Pravah's co-ordinator, had to start from scratch.
"I was an outsider and initially they were hesitant to work with or talk to me. The locals did not understand Hindi or English. I had to first train myself in the local language."
"The next year, my goal was to live like a local and understand their life, so I could solve their problems better."
Rahul stayed at the community centre, worked on the farm, visited the temple, helped the locals and built trust among the young villagers.
In 2013, he found a translator who understood Hindi and English and helped him connect with the youngsters.
The AES allotted him a room, which became the meeting point for discussions, training and workshops.
"Within a year, 70 people between the ages 17 to 35 years became a part of this youth club. I would counsel them about the importance of quality education, gender equality, need to create employment and nurture global citizens in the village."
"When Mohan, a villager from the club, completed his post graduation, he became an example for the others."
From a village that had just a few bachelor and master's degree holders in 2012, Rahul and his team inspired a new batch of youngsters to pursue BEd, nursing, engineering and other vocations by 2016.
The youth club currently has over 250 members and operates in three villages -- Ghati, Bambala and Kherwara.
Studying, funding and inspiring social change
IMAGE: Rahul believes that engaging the youth in debates and discussions will train them to become better and responsible global citizens.
Since Rahul left Delhi in 2012, he has not met his family or friends.
"I could not convince my parents that I knew what I wanted. They felt I was wasting my time in a village."
"Whenever they called, I would be travelling so I could not answer their calls. They wouldn't believe that I was doing my master's. I told them this is what I enjoyed doing. Eventually I stopped calling them."
In 2013, he signed up for his master's in social work from Udaipur School of Social Work, but continued to engage with the locals and empower them.
"Four years ago, the road connectivity was poor. I would wake up at 5 am, take the only taxi service that was available between 5.30 am and 5.45 am to reach Udaipur. It would take three hours or more to reach the city. I attended college for a few hours, skipped a few lectures. I had already communicated my situation to the college principal and luckily, he cooperated."
"By 3 pm, I'd hitch a ride in a jeep or tempo so I could reach the village by 6 or 7 pm. A jeep ride would cost Rs 10. A bus would be cheaper, but there would hardly be any place to sit. After 6 pm, it would be difficult to travel; there was no transport. Now there are three buses."
In the evenings, Rahul would spend time with the villagers. "I would go to the tea stall or temple, talk to a few youngsters, help them with some writing or guide them and head back home later. Sometimes they'd offer me food."
Rahul did not receive any money when he worked as a volunteer with Alfa for the first three years. His parents funded his first year of college.
As he entered second year, he saved up money doing odd jobs like reporting, surveying and translation services with multiple NGOs and repaid the money.
"I did not want them to believe they were wasting money on me. I always liked to be independent. I'd earn about Rs 300 a day. AES took care of my accommodation in the village. The villagers would help me with food, so I spent only on transport and college fees."
In 2016, acknowledging his efforts, he was promoted to vice-president at AES at a salary of Rs 10,000.
He also had a team of volunteers reporting to him, including teachers who would earn between Rs 6,000 and Rs 8,000 depending on the tasks and projects assigned to them.
Travelling to Bhutan, Nepal and Sri Lanka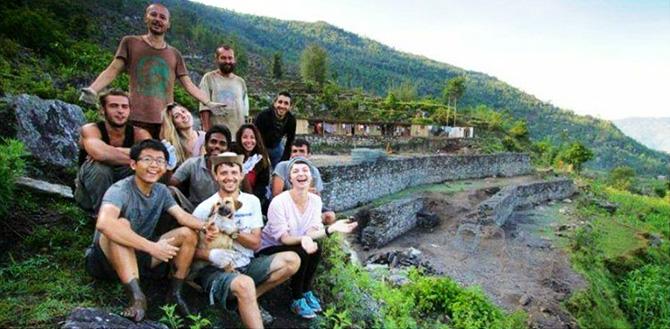 IMAGE: Rahul, centre, with a team of volunteers who built the Himalayan Spirit Academy in Nepal in 2014.
In 2014, Rahul heard about a team of volunteers planning to build a community school in Nepal. He took a break from Kherwara to participate in this project.
He did not have money to travel, so he hitched rides and ended up reaching the country after four days.
"Building the Himalayan Spirit Academy, a school for village kids, with a bunch of dedicated youngsters was inspiring," says Rahul who has also travelled to Bhutan and Sri Lanka as a youth ambassador to share his experiences of living, learning and empowering locals.
"I must have spent Rs 800 to travel to Nepal and Rs 1,000 to go to Bhutan," shares the avid traveller who feels that "meeting new people and sharing ideas inspires social change."
Building a model school in the village
In 2016, Rahul and his team felt the need to focus on education and start a school in Kherwara.
"The government school wasn't doing well. The teachers weren't interested at all. They'd beat the kids if they did not obey, which I felt was not student friendly.:
"Children went to school to play or dropped out because of fear and lack of interest."
Those who could afford it admitted their childredn to a private school about two km away from the village.
The teachers in the private school, says Rahul, were no good either. They had minimal education -- Class 12 pass -- and would communicate with the children in the local language. They were employed at salaries as low as Rs 2,000.
In July 2016, the team convinced a landlord in the village to rent his two-room house to start a school.
The school was called Village Spirit Academy, inspired from the Himalayan Spirit Academy, which Rahul had helped build in Nepal.
The new school had 105 students and five teachers. But soon, the small space fell short.
"The room couldn't hold that many students. When I visited the place, I realised that some students were sitting outside with their books with no roof above them."
'There was no place to even keep their bags, forget conduct any games or activities. It was hot and I could not stand there for more than five minutes."
Between November 2016 and February 2017, Rahul rang up all his connections, including volunteers, heads of NGOs and contacts in Norway and US for their suggestions.
"I sent them pictures and told them that I wanted to build a model institution, an environment friendly, sustainable school."
"I put up a request on (the crowdfunding site) Ketto and raised Rs 4 lakhs. But it wasn't enough. I put in all my savings and borrowed some money from friends and collected about Rs 8 lakhs for the school."
Rahul's friend and AES volunteer Lokesh parted with his land to build the school which will open in July.
It is designed by an architect from Chennai and Rahul is proud to share the details.
"We built it using mud and red soil, mixing it with rice and wheat husk. We hired workers from Chennai to help us, but villagers also contributed so that the building could be finished on time, before the monsoon begins. The building is almost finished except for some final touches."
The school has five rooms and has received 200 plus applications for the forthcoming year.
The average monthly fee will be Rs 150, which will be used to provide stationery, uniform and fund salaries of teachers and non-teaching staff.
"We have also allotted 25 per cent scholarship seats for students from underprivileged sections who cannot afford to pay the fees," Rahul adds.
In the last five years since he left Delhi, Rahul, once an avid movie buff, hasn't visited a theatre.
He doesn't have too many friends and believes that humanity and kindness are his greatest earnings.
"I am running on zero bank balance," says the 24 year old whose next dream is to take this empowerment model to other villages in India.
"I want to build schools in India's remotest villages. The curriculum would inspire students to think out of their textbooks and train teachers in building future citizens."
"I aim to engage international organisations and volunteers to visit these schools and expose the students to diverse cultures."