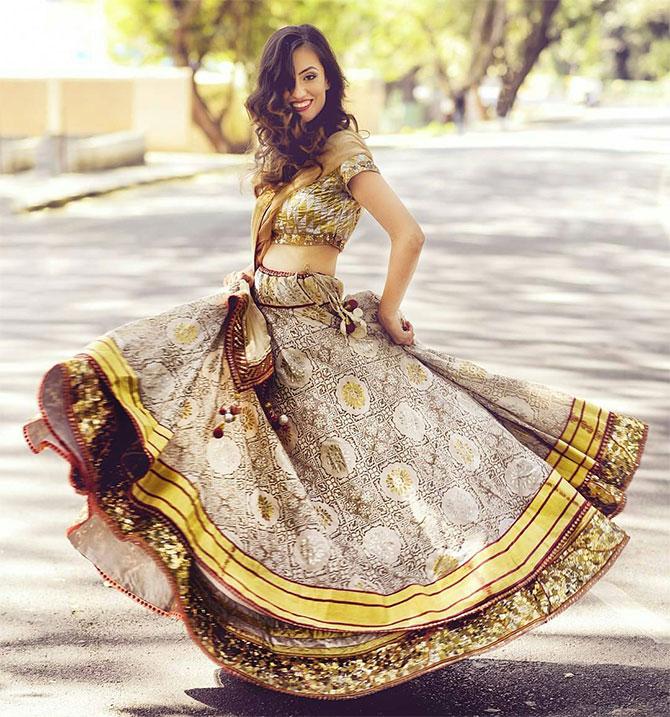 Ladies, your wish has been granted.
Now you can wear outfits from your favourite designer and high-street labels at a fraction of their retail prices.
All you need to do is rent them from fashion rental portals. Avantika Bhuyan tells you how.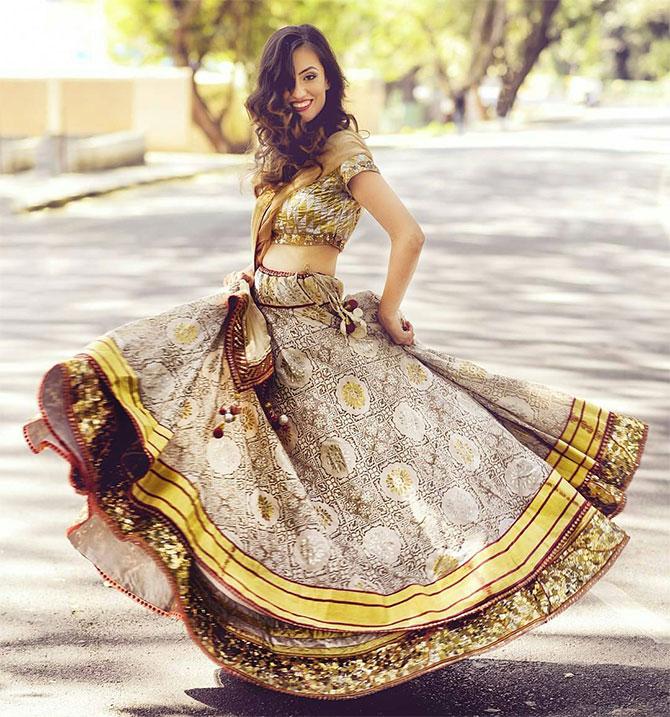 IMAGE: A model twirls in joy as she dons a designer lehenga available on the rental portal Blinge. Photograph: Kind Courtesy Blinge Fashion/Instagram
In 2009, Jennifer Hyman and Jennifer Fleiss changed the way people perceived luxury by offering labels such as Carolina Herrera, Oscar de la Renta and Alexander Wang on rent through their portal, Rent The Runway.
'I realised the social media had actually made us all into celebrities with a lot of pressure to have newness in our wardrobes every single day and for every special occasion,' said Hyman in a recent interview. 'So I had this idea around the question -- Can we rent dresses for all the occasions in our lives?'
Starting with a mere 28 labels, Rent The Runway today boasts of 375-plus brands, catering to over 5 million users (2015 figures).
Its success story has served as an inspiration to the founders of Blinge and Stage3 (fashion rental platforms in India), which offer luxury designer wear on rent in India. Both the on-rent fashion portals are positioning themselves as the perfect solutions for your festive and occasion wear needs.
While Stage3, co-founded by Delhi-based Sabena Puri, has on board brands like Manish Malhotra and Sabyasachi Mukherjee, Blinge offers both Western and ethnic wear by Anita Dongre, Zara and DKNY.
"There are numerous occasions and festivals in India when you want to look good and feel confident. But it doesn't make sense to spend thousands and lakhs of rupees on an outfit that you may never repeat again," says Shashwat Gopal, one of the three co-founders of Blinge. One can simply rent an outfit for a fraction of the original price.
While rentals for Western wear start at Rs 350, the ones for ethnic wear begin at Rs 2,000 and can go up to Rs 30,000.
"The rent is usually 10 to 15 per cent of the original price. We looked at similar models by companies such as Rent The Runway and this is at par with them," says Gopal.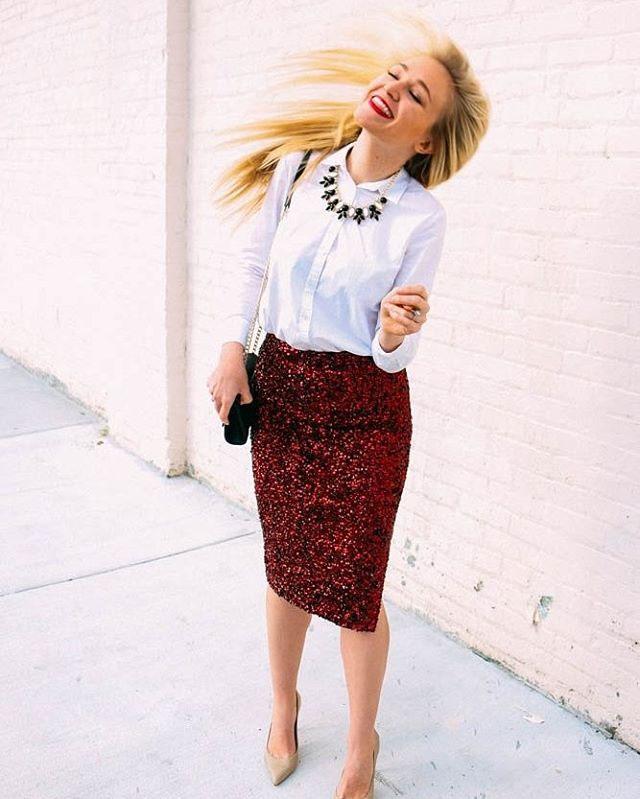 IMAGE: Have a party to attend? Wear a white collared shirt over a burgundy cascade skirt with sequins from New York brand Parker. The skirt is available on the fashion rental platform 'Rent The Runway'. Photograph: Kind Courtesy Rent The Runway/Instagram
It has only been eight months since Blinge went live and the team has already got 1,400 orders and is growing at 30 per cent. The Western wear category is available only within Mumbai while the traditional wear is on offer to customers from the four metros.
"We are putting in an insurance policy to take care of major damages to outfits. We also have an in-house tailoring unit to take care of the minor ones," says Gopal, who might be adding brands such as Gucci and Christian Dior in the next phase of expansion.
However, if renting doesn't solve your craving for luxury, then how about buying a pre-owned Louis Vuitton, Miu Miu or Jimmy Choo accessory at a much lower price than the original?
Confidential Couture -- which in 2014 became the first online space for buying and selling high-end designer accessories -- offers 40 labels such as Bvlgari, Emilio Pucci, Givenchy, Gucci, Alexander McQueen and Hermes, and is in the process of adding six new labels.
"When I started, people either said, 'Wow, this was the need of the hour. India is so ready for something like this', or 'Who will buy second-hand stuff?'," says Anvita Mehra, founder and CEO, Confidential Couture.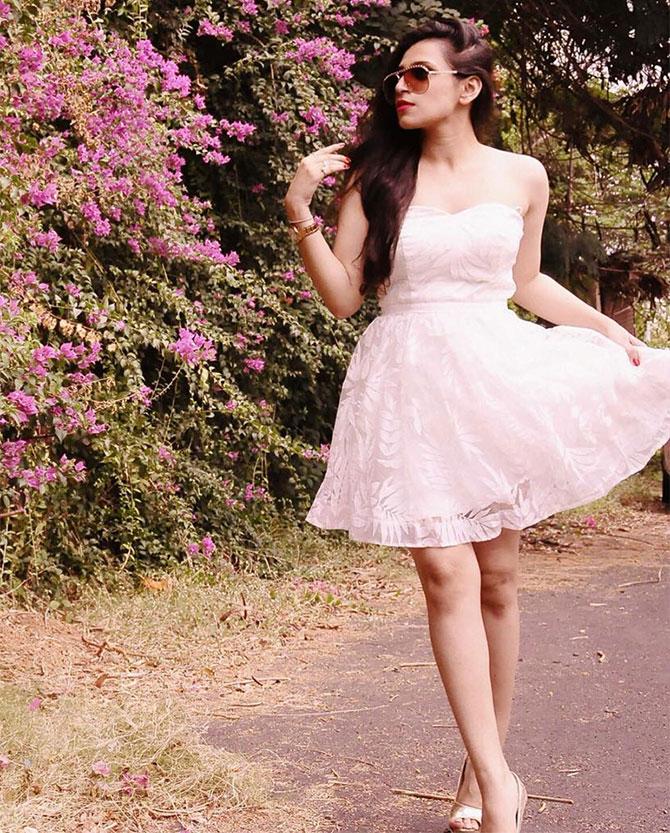 IMAGE: See how an Indian fashion blogger redefines elegance in a Guess mini rented from Blinge Fashion. Photograph: Kind Courtesy Blinge Fashion/Instagram
Today, she has two million visitors to the websites, with 10,000 new ones -- buyers and sellers -- coming in every day. The payment options are flexible.
"I named the company because the buyers and sellers don't know each other. It's a curated marketplace," says Mehra. She admits that sellers do try to pass on a lot of fakes, and that's why she has two levels of rigorous authentication in place.
"First, we do an in-house authentication. We have a checklist to make sure the brands are original. For instance, a Louis Vuitton bag needs to have five stitches in a certain place," says Mehra.
The second level involves consulting the authenticating partners in the US. The products are valued according to their year of make and condition.
"We have three categories: Never been used, gently used and fairly used. The first one is valued at anywhere at 60 to 80 per cent of the original price, the second at 40 to 60 per cent and the fairly used is usually valued at 15 to 30 per cent," she says.