Meet Yasmin Karachiwala, celebrity trainer and Pilates master trainer. She was one of the first people to introduce Pilates in India.
Today she is training A-list celebrity clients including Katrina Kaif, Alia Bhatt, Deepika Padukone, Bipasha Basu and Sophie Choudry, to name a few.
In an email interview with Anita Aikara/Rediff.com she spills the beans on training the stars.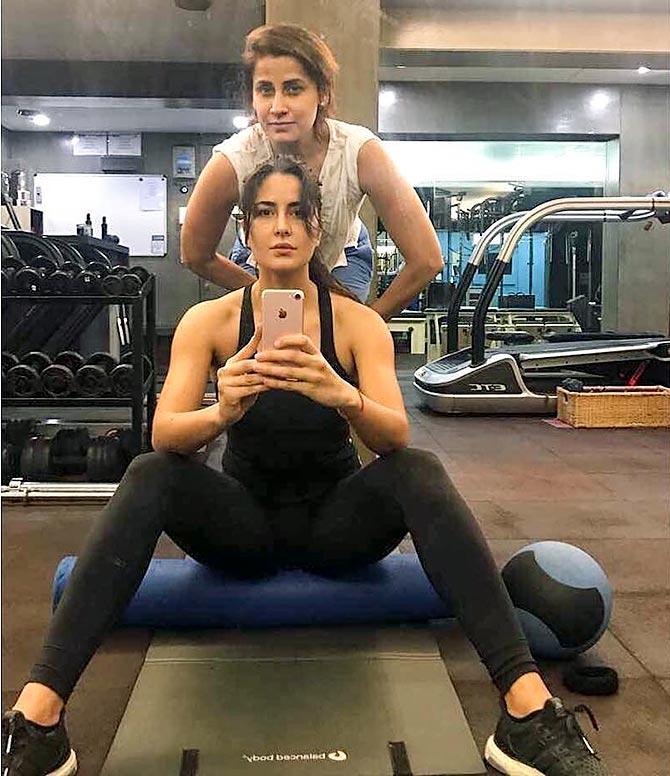 Yasmin captioned this pic: '

Be it 11 am or 11 pm, she will not miss her workout!!! This is what makes

#Superstars.'
All photographs: Courtesy Yasmin Karachiwala/Instagram
When did you start your career?
I started my career in 1991 after earning my certification as a group fitness trainer from the American Council on Exercise (ACE) teaching step classes.
In 2000, I completed my certification as a personal trainer and I started my personal training studio in Bandra, Mumbai in 2001.
Kareena Kapoor was my first celebrity client. She had heard about me from her friend.
As time passed, seeing Kareena achieve her desired fitness (goals), other celebrities started to sign up to train with me.
In 2006, I went to the US and completed my Pilates training and became India's first BASI (Body Arts and Science Institute) Pilates instructor.
In 2014, I was India's first Pilates master trainer with a degree from Balanced Body.
I now hold the trainers' courses in my studio.
My popularity grew tenfold after I started my Pilates studio called Yasmin's Body Image in Mumbai.
How has the journey been?
It has been amazing to learn and experience the things I have.
When people come and tell me how they love to workout or how fit they have become because of my workout and programmes, it makes me feel awesome.
You were one of the first people to introduce Pilates in India. Could you throw some light on why it's become such a popular workout for people?
Pilates helps strengthen the core and works the body from the inside out.
It works on balance, coordination, strength, control, stretch and length.
It's a full body movement that works your body from inside out, hence it helps prevent injuries.
Pilates can be done along with any other exercise. It enhances your performance in every other field.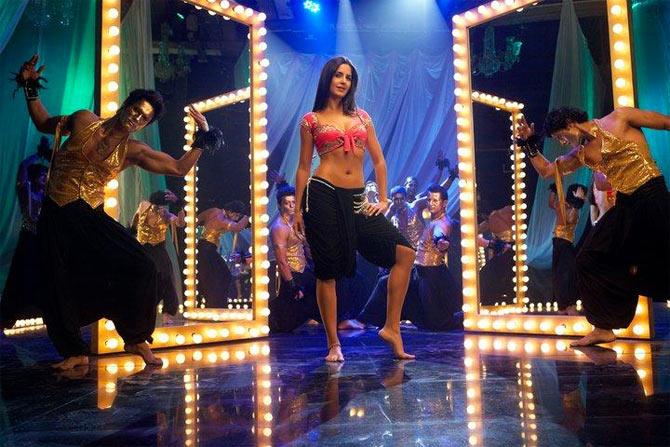 The credit for Katrina Kaif's Sheila ki jawaani look goes to Yasmin.
What do you consider your greatest achievement so far?
The time I worked with Katrina Kaif to achieve her Sheila ki jawaani look.
That look totally transformed her image in the industry and we've strived to get better with each movie.
I also got Alia Bhatt ready for her bikini scene in Shandaar and trained Deepika Padukone for Cocktail.
How do you make sure that each client's training plan is truly personalised?
I work on a clients' training schedule according to their goals and what role/character they are playing.
Every role demands a different look and I work around that.
I then look at their body composition and work to either reduce body fat or build muscle according to their needs.
Every body is different and so I always do a full body analysis before I make their plan.
What are some of the most common goals you have set for your celebrity clients?
Most of us and even celebs want a toned body.
So a combination of strength and Pilates is what I tell most people to do.
A good body composition for a woman would be between 20-24 per cent if you want a really toned and lean body, so we try to work towards that goal.
When they are working for something specific then the body composition can change, like for Dhoom, Katrina Kaif had only 16 per cent body fat to achieve the look.
On an average how many hours of workout does one need to put in on a daily basis to achieve those killer legs?
Each workout depends on your body composition, but at least an hour everyday and cardio is what I would suggest.
Yasmin also got Alia Bhatt ready for her bikini scene in Shandaar.

The biggest factor why some people's workouts are never a success?
I think people tend to compare themselves to someone else rather than improving their own fitness.
Apart from working out, sleep and food also play an important role in fitness.
If you do not have a proper food plan and do not get enough sleep, it creates a boomerang effect.
What about the mind's role in getting into shape?
The mind is the most important.
Once you make up your mind no one can stop you.
You need to have consistency and dedication (when working) towards your fitness journey to get the desired results.
What's tougher, getting into shape or maintaining it?
I think maintaining is much harder once you have achieved your goal.
Keep in mind that fitness is not a destination, it's a journey.
Your fitness idol
My fitness icon was Sensi Pervez Mistry, who was hailed as the Father of Karate in India.
He shaped my journey and has been a driving force for me to strive to succeed.
How important is dieting?
I don't like the word diet.
I think we all are smart and to make smart food choices is a lifestyle change.
I only educate my clients on what food is good -- we all know that fried, sweet food and alcohol is bad, so we should avoid them.
I don't recommend any diet.
Instead I encourage everyone to eat wholesome foods, vegetables, good fat and protein in every meal.
Also definitely avoid processed foods.
Avoid processed foods, sugar, things labelled 'low fat' or 'diet'.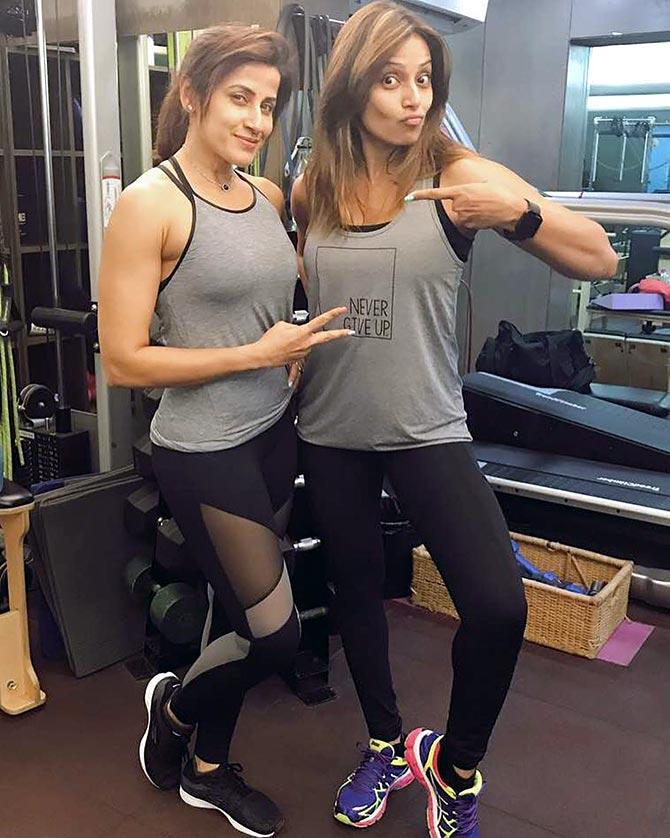 Yasmin twinning with Bipasha Basu.
Do you have cheat days too?
Sunday is my cheat day.
A weakness when it comes to food?
I had many weakness like any normal human being, but over the years I've trained myself to make smart food choices.
My main rule is 'don't eat anything you can't pronounce'.
Like anything else in life being able to control your weakness takes time, effort and determination.
Your idea of unwinding on a relaxed day would be to...
I love to curl up in bed post dinner and watch either my favourite TV show or a movie on Netflix.
It's me time :)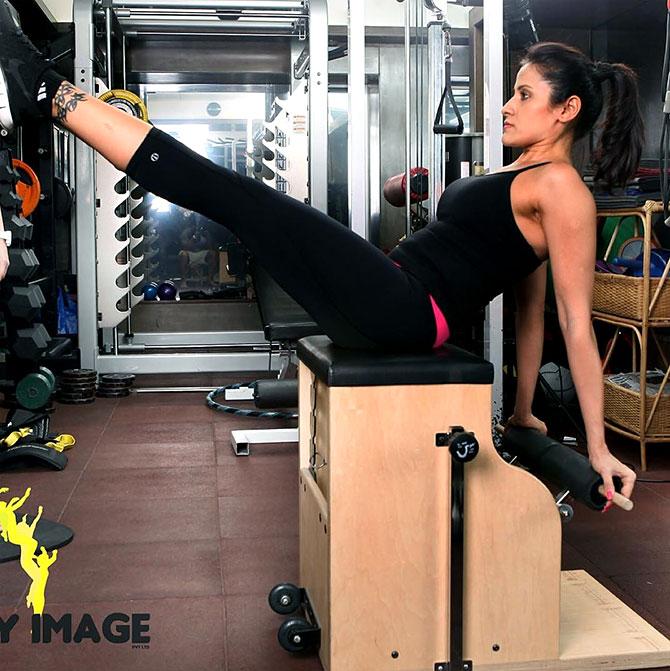 Yasmin's main rule is 'don't eat anything you can't pronounce'.
What according to you helped make the cut in your association with Skechers?
Skechers has always been a highly reputed brand.
They make a wide variety of shoes for all types of activity.
The Go Walk line of shoes is amazing and I use them for my daily walks they have an amazing support and are very comfortable.
Fitness tips for people with busy schedules
We are part of the animal kingdom and not meant to sit behind a desk for hours.
You have a mind, use it to know what foods are good for your body and what you eat only to satiate your taste buds.
As we age, we lose muscle, it's important to maintain the adequate amount of muscle in your body to avoid complications like osteoporosis, arthritis, etc.
Drink adequate water, set reminders to make sure you are well hydrated.
Have a positive attitude towards your fitness and your body. Know that you can and you will.
Advice for readers
Be fit because you deserve it!