The stars of Brahmastra have been training under Movement Culture pioneer Ido Portal.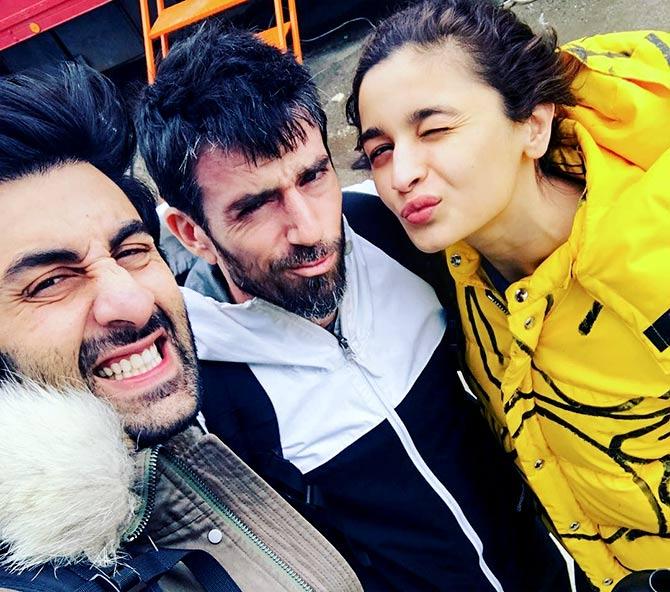 (From left) Ranbir Kapoor, Ido Portal and Alia Bhatt in Bulgaria.
Ido Portal captioned the picture: 'harddd working, dedicated, talented people. So much heart in these two - it's an honor to call you friends and students guys [sic].'
Photographs: @portal.ido/Instagram.
The shooting for Ayan Mukherjee's fantasy-action film Brahmastra is underway in Bulgaria, and judging by the pictures on Instagram, Movement Culture will have a massive role in the film.
The filmmaker has roped in Ido Portal, the pioneer of the fitness trend, who has been training the film's stars -- Alia Bhatt and Ranbir Kapoor -- since 2016, when the film was still called Dragon.
Ido Portal had travelled to Mumbai earlier to train Bhatt and Kapoor and is now on the sets with them guiding them on movement and scene design.
Who is Ido Portal?
Ido Portal's journey began at an early age with traditional martial arts.
'I was always obsessed with the physical,' he says in the introduction on his web site.
But at age 15 he came across Capoeira, the Afro-Brazilian martial art that combines dance, acrobatics and music -- a meeting that, Ido Portal says, sent him 'on a lifetime journey leading to the realization that I don't just love martial arts or strength or this or that, but I am actually obsessed with... movement.'
He adds, 'That epiphany got me to embark on a journey to study from "Movement Teachers". After countless searches, I could not find anyone who HONESTLY could represent that title, and believe me, I've searched -- around the world.
'All those Movement Teachers were talking about a SPECIFIC discipline -- either dance or the martial or fitness, but none were actually interested in the bigger picture of movement. They also lacked some basic tools that were not available within their own disciplines to deal with movement in the highest level.
'So, I decided to become that person.'
In the years since then, Ido Portal has traveled the world to study from osteopaths, manual therapists, MDs, professional dancers, yogis, athletes, circus performers and fighters. He has tried not to neglect any angle 'from the nutritional approaches to movement and health to functional anatomy and physiology to methodology of the training process to mental aspects of movement practice and more.'
What is Movement Culture?
On his website Ido Portal describes Movement Culture as 'a contemporary paradigm shift' in physicality and fitness that moves us away from the separation between health, aesthetics, performance and art.
The goal behind Movement Culture, he adds, is 'first and foremost, to create a dialogue and a cross disciplinary exchange of information between various types of movers. Information that was isolated in specific isolated practices can be extremely useful for other types of movers, but in the past this information was not shared.
'Second, the intention is to provide tools and support the development of Movers and specialists -- practitioners of both isolated movement practices as well as wider spectrum ones.'
Ido Portal defines a mover as someone who sees beyond the technicalities of each movement pursuit or discipline -- 'someone who... wishes to understand the body, health, performance and physical artistic expression.'
Urging people to 'MOVE', he adds, 'We are designed to do so -- hence we are in this amazing body. I don't mean "training" for 45 minutes three times a week. I mean A LOT. Heck, 100 years ago just to have a drink of water was a workout.'
How Movement Culture grew
As Ido Portal's body of knowledge on movement education, development, and cultivation grew, his workshops began to grow in popularity and he found himself traveling all over the world to teach.
Against isolation of technique or knowledge in any form, Ido Portal also started an annual 'Movement Camp' to bring movers -- ranging from fighters and dancers to anatomists and even rock climbers -- from around the world together.
He says, 'A small community and a culture started to develop around my ideas, but more importantly around movement.'
How to master Movement Culture
Ido Portal cautions against any 'Masters of Movement' and doesn't wear the title either, because 'anyone presenting himself as such is delusional at best. No one can be a master of all movement pursuits.'
He still moves, researches and explores more than his students, even the most advanced ones.
How Movement Culture met Brahmastra
In an Instagram post, Ido Portal reflected on his Brahmastra experience.
He wrote, 'The world of cinema does not escape the modern battle between technology and the humans that created it. Where cinematically new technologies have opened endless possibilities for the visuals on screen, acting has suffered tremendously from these developments, along with performers and their bodies.
'Actors have become somewhat ... Disconnected ... Excessive focus on verbal communication, words and facial expression have taken center stage but the rest of the body is far from keeping up - in posture, movement, intention, position, organization and dynamics.
'You look at most modern films done these days and see an actor speaking - one energy but if you observe the body and especially if in movement- completely different story.
'Bollywood in this regard is in much better spot than Hollywood, for example, as Indian culture as well as film still contains a fair amount of movement, actors are often required to dance in multiple songs and keep somewhat mobile and coordinated, able to study choreographies, get in rhythm, move and express through motion. I've been fortunate to collaborate on the production of a special idea- Brahmastra, the brain child of director and good friend Ayan Mukerji.
'Ayan is a dreamer. An innovator and a daredevil in how he approaches things. We've spent a lot of time together over the last year putting imagination, mind and body into the development of the characters. My role was initially movement design for the main character and later the transmission of that design into the actor playing that role- the talented Ranbir Kapoor.
'Brahmastra seems to evolve in the direction of innovation, and collision/collaboration between incredible technical powers with the ever present and old skool refinement of movement, body expression dynamics and gesture.
'I'm honored to take part in this production but most importantly happy for the friendships and great creative times spent in the development of this film. Thanks Ayan and the whole production for your trust in me and my vision!'
Scroll down to check out his photographs from their training...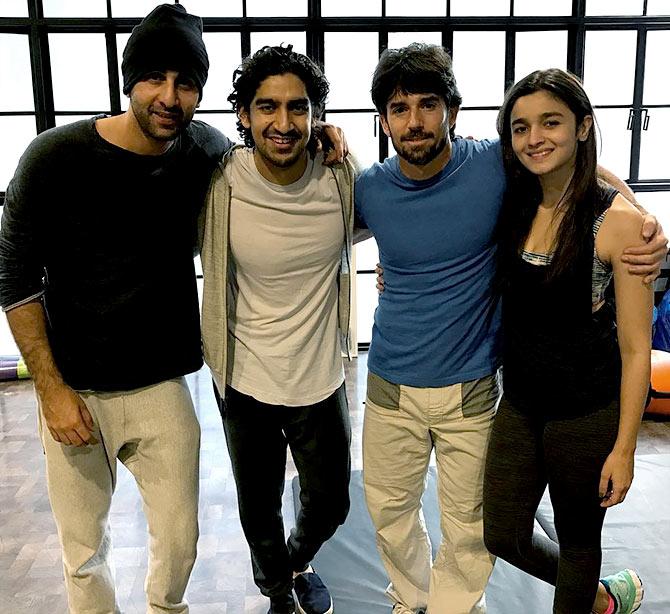 (From left) Ranbir Kapoor, Brahmastra director Ayan Mukherjee, Ido Portal and Alia Bhatt.
This photograph was taken in November 2016 when the trainer travelled to Mumbai to develop a creative process for the movement design of the film.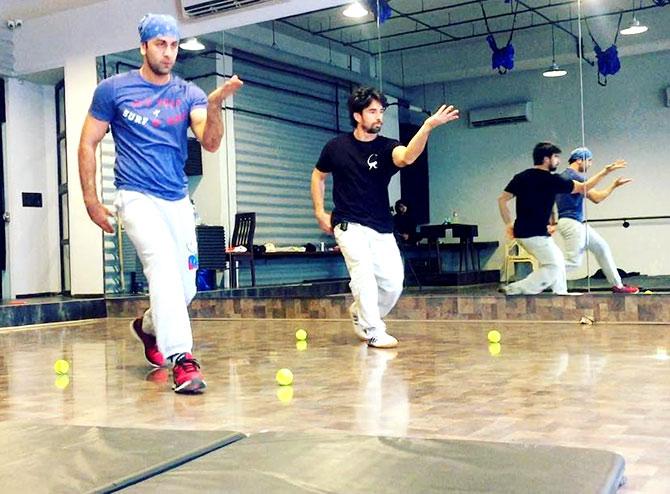 An early Movement Culture workshop with Ranbir in Mumbai.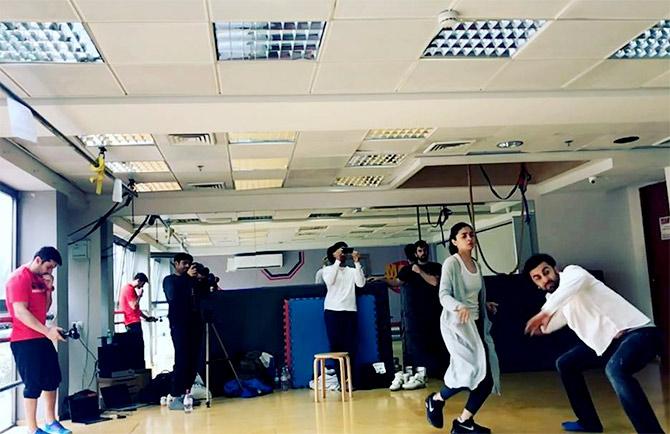 The stars in training in Bulgaria last month.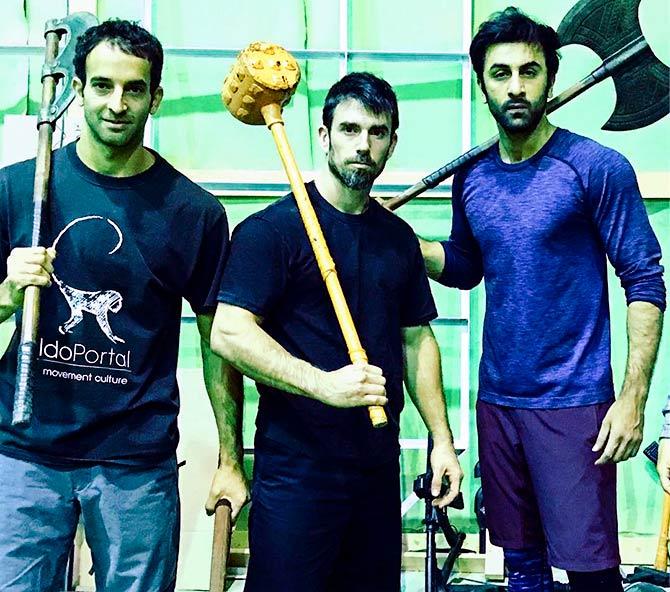 (From right) Ranbir Kapoor, Ido Portal and his student Jonathan Fletcher -- who travelled to India multiple times to train Ranbir and Alia -- at the Nu Boyana Film Studios in Sofia, Bulgaria.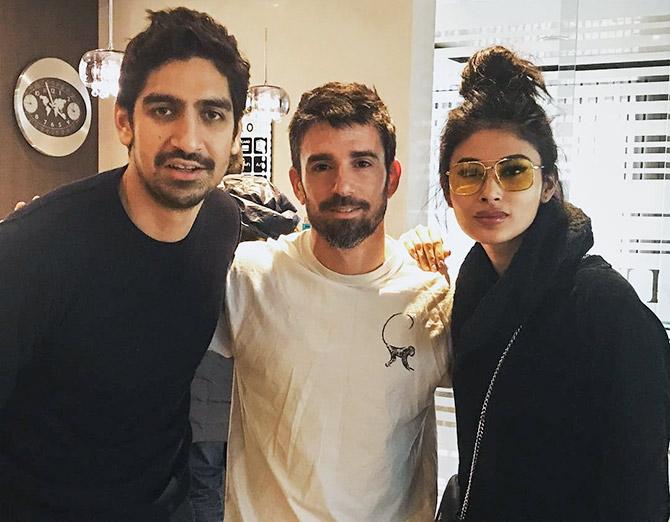 Ido Portal (centre) with Ayan Mukherjee and actor Mouni Roy, who also stars in the film and is also learning Movement Culture.