The singer's health struggles have come to light in a recent Netflix documentary trailer.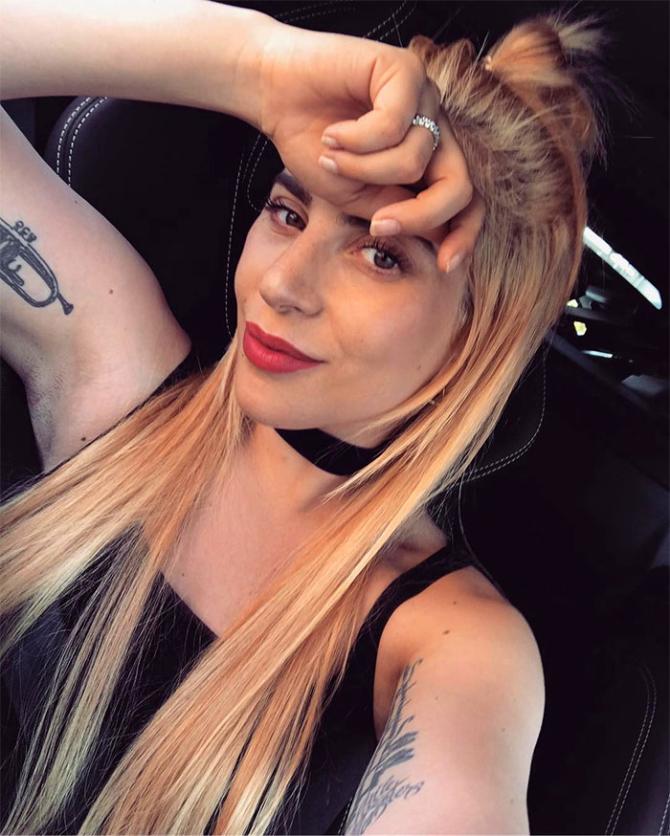 Lady Gaga has endured the pain of her fibromyalgia condition for five years, which has led the pop star to postpone the planned European leg of her Joanne World Tour.
The Million Reasons hit-maker has admitted that it has been difficult dealing with the widespread muscular pain for the past few years, but praised her fans for not letting her lose herself.
While speaking in a trailer for her upcoming Netflix documentary, Gaga: Five Foot Two, she said, "I have chased this pain for five years.
"But, when I feel the adrenaline of my music and my fans, I can f***ing go."
The footage also shows medical procedures performed on Gaga, though the clip additionally touches on the creation of the singer-songwriter's most recent album, Joanne.
The clip also includes a touching sequence involving Gaga visiting her grandmother, whose daughter inspired the LP's title following her battle with Lupus, which resulted in her death at age of 19 in 1974.
Meanwhile, Gaga has postponed her European tour due to "severe physical pain".
A statement from her label read, "Lady Gaga is devastated that she has to wait to perform for her European fans.
"She plans to spend the next seven weeks proactively working with her doctors to heal from this and past traumas that still affect her daily life, and result in severe physical pain in her body."
"She wants to give her fans the best version of the show she built for them when the tour resumes. Lady Gaga sends her love to all her fans across Europe and thanks them for their support and understanding."
Earlier due to health concerns, Lady Gaga has cancelled her upcoming performance at the annual Rock in Rio music festival in Brazil.
"Brazil, I'm devastated that I'm not well enough 2 (sic) come to Rock In Rio. I would do anything 4 u (sic) but I have to take care of my body right now," she wrote on Twitter.
The 31-year-old also didn't want fans in Brazil to feel disappointed by the cancelled performance.
"I ask for your grace and understanding, and promise that I will come back and perform for you soon," the 'Bad Romance' singer continued in a follow-up tweet.
She also posted a photo, below, on Instagram of her arm with a needle in it and a tube running outside the photo's frame.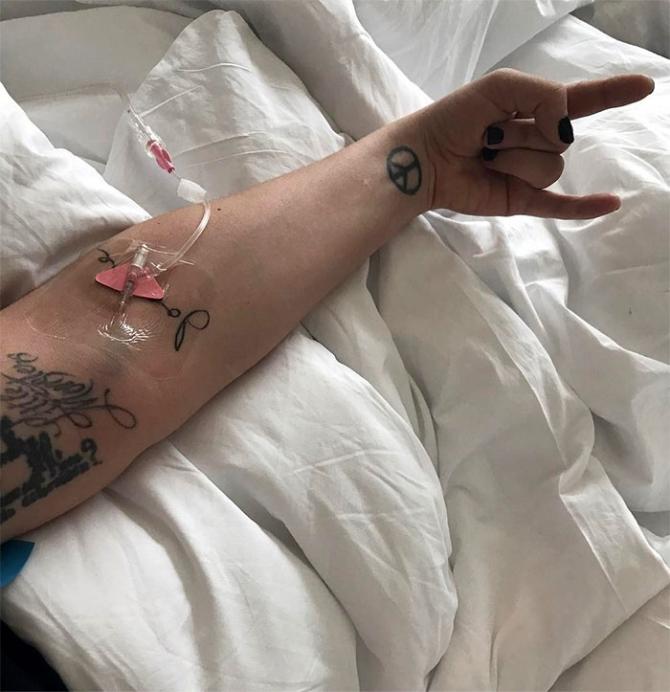 What is Fibromyalgia?
According to the National Fibromyalgia & Chronic Pain Association, it is "a common and complex chronic pain disorder that causes widespread pain and tenderness to touch that may occur body wide or migrate over the body.
"Along with other symptoms, pain and tenderness wax and wane over time.
"Fibromyalgia affects people physically, mentally and socially.
"Approximately 10 million Americans (2-4 per cent) have FM with a ratio of about 8 to 2, women over men.
"It occurs in people of all ages, including children.
"The literal translation of the word fibromyalgia is pain in the muscles, ligaments and tendons. But FM is much more than pain and presents with many other symptoms that vary from person to person."
Symptoms
"Symptoms of fibromyalgia can vary in intensity," informs the National Fibromyalgia & Chronic Pain Association on their website.
"Fatigue, sleep disturbances (sleep apnea and/or waking up unrefreshed), cognitive difficulties (memory problems or thinking clearly), and stiffness are the most prevalent symptoms reported.
"Additional common symptoms may include depression or anxiety, migraines, tension headaches, pelvic pain, irritable or overactive bladder, irritable bowel syndrome (IBS), TMJD (including tinnitus), and gastrointestinal reflux disease (GERD).
"Stress often worsens the related problems and symptoms."
Cure
Unfortunately, there is no cure for fibromyalgia.
The National Fibromyalgia & Chronic Pain Association suggest a multi-disciplinary approaches for management and relief of symptoms.
"Medications, cognitive behavioral therapies, and gentle exercise are the most common combinations."
Click on the link to read some useful tips that will help you cope with fibromyalgia.
(With inputs from ANI and www.fmcpaware.org)
All photographs: Kind courtesy Lady Gaga/Instagram