After Goa's outrage over condom ads on buses, Gujarat outrages about Navratri condom ad.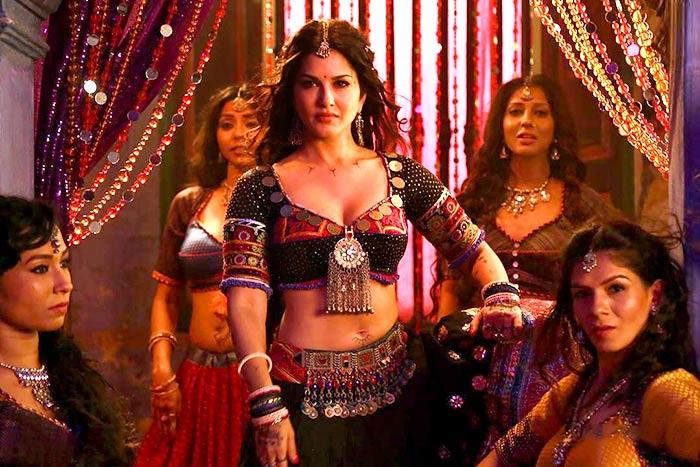 Photograph: Sunny Leone in a still from the song Piya More from the movie Baadshaho.
Sunny Leone is back in the news for her condom ads.
In August, a condom ad campaign featuring the actress had offended Goa's politicians.
And this time, her condom ads have offended the religious sentiments of people in Gujarat.
'Aa Navratriye ramo, paraantu prem thi (Come play Navaratri, but with love),' the ad reads.
The Confederation of All India Trade (CAIT), raising objection over the advertisement, has requested the Minister for Consumer Affairs, Ram Vilas Paswan, to take a strict action against the manufacturing company, Manforce Condoms, along with the actress.
CAIT has accused the manufacturer of taking 'the marketing ethics at all low level of irresponsibility' and said that the banners in cities across Gujarat are encouraging the youth to use Manforce condoms in the name of the Navratri festival.
'Though they have not used the word 'condom' on their banners, but the intention is very clear as the combination of words like 'play,' 'love' and 'Navratri' are coined above the large logo of Manforce,' the CAIT told Ram Vilas Paswan, in a letter.
Stating that it is a 'clearly irresponsible and immature attempt to boost sales by putting all our cultural value system at stake,' the organisation has requested Paswan to direct the concerned officials to ban it.
However, it is well documented that sales of condoms and other contraceptives increase by 'at least 25 per cent during the Garba season and go as high as 50 per cent in Gujarat, especially in Surat and Ahmadabad.'
It is also well-documented that NGOs working in the field if AIDS awareness have made an effort to speak to the high-risk groups about safe sex before Navratri.
And former chief minister of Gujarat Anandiben Patel had once acknowledged that number of abortions in Gujarat rise after Navratri.
So, why the outrage?
Is the real problem the billboard ad?
Take the poll below and let us know. You can also share your opinions in the message board below.
(With inputs from ANI)