We have the highest suicide rate among 10 Southeast Asian countries.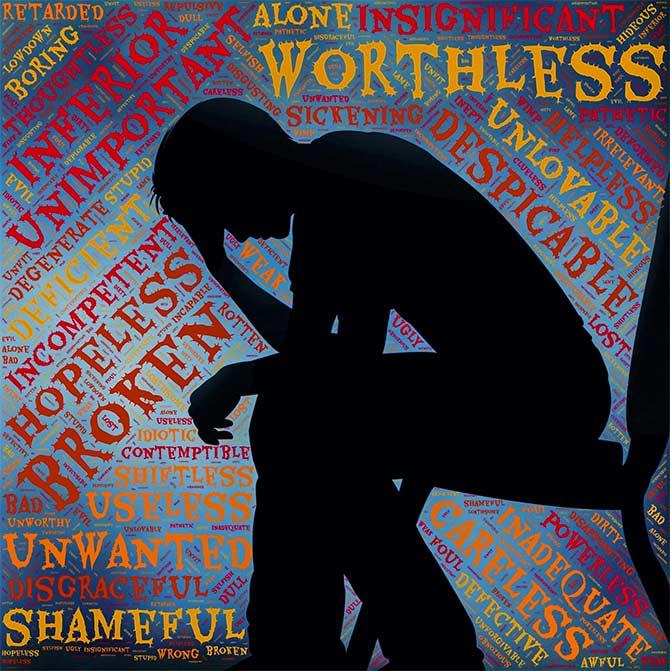 Photograph: Kind courtesy Johnhain/Pixabay.com
Here's some food for thought: One in four children, in the age group of 13 to 15 years, in India, suffers from depression. Depression affects 86 million people in the Southeast Asia the WHO said on the occasion of World Health Day.
India is said to have the highest suicide rate among 10 South-East Asian countries.
The WHO released Mental Health Status of Adolescents in South-East Asia: Evidence for Action report stated that in 2012, the estimated suicide rate per one lakh people in India, in the age group of 15-29 years, was 35.5.
The estimated suicide rates, per one lakh people, in this age group varied from 3.6 in Indonesia to 25.8 in Nepal, it added.
Noting that depression can lead to suicide, which is the second highest cause of death among people in the age group of 15 to 29 years in the region, WHO's South-East Asia Regional Director, Poonam Khetrapal Singh, said depression-related health services must be made more accessible and of higher quality.
The report, released on the eve of World Health Day, which focuses on depression this year, pointed out that the total population of India was 1,311.1 million, of which, adolescent (13 to 15 years) population was 75.5 million, which is 5.8 per cent of total population. Of that, 39.8 million were boys and 35.7 million girls.
Seven per cent adolescents were found to be bullied and they felt disturbed by the comments of their peers, family members or teachers.
While 25 per cent of adolescents were depressed, sad or felt hopeless. And 11 per cent were distracted and had a hard time staying focused on their work most of times or always, according to the report.
Eight per cent adolescents faced anxiety or could not sleep because of worries, while a similar percentage of adolescents felt lonely most of times or always, it stated, adding 10.1 per cent of adolescents in India had no close friends.
The report highlighted that a significant number of students reported low levels of parental engagement, ranging from 15 per cent in Sri Lanka to almost one fifth students in India.
In 62 per cent cases, parents understood the problems and worries of the adolescents, while 47 per cent parents checked if the homework of their adolescents was done.
Four per cent adolescents used tobacco products, while eight per cent used alcohol, the report read.
"The reported prevalence of cigarette smoking, defined as smoking cigarettes on any of the days in the past 30 days,varied from 1.2 per cent in India (for 13 to 15 year old only) to 5.9 per cent in Nepal to 20.1 per cent in Timor-Leste (East Timor) and 24.6 per cent in Bhutan," it asserted.
Apart from smoking cigarettes, use of other tobacco products was also found to be high.
The WHO's South-East Asia regional director complimented India for passing the Mental Healthcare Bill, recently, that decriminalises suicide and seeks to provide healthcare and services for persons with mental health conditions.
"Mental health has been among the top 10 health priorities in Bangladesh, Bhutan, Indonesia, Maldives and Sri Lanka in recent years. Eight of the 11-member countries have mental health policies or plans," said Singh.
"By talking about depression more openly and by better understanding of signs and symptoms of the condition, we are in a stronger position to help ourselves if we experience depression-like symptoms," she added. "We are also better placed to support colleagues, friends or loved ones who may have depression."
Though depression affects all demographic groups, it is more common among adolescents and youths, women of childbearing age (particularly following childbirth), and those above the age of 60.
Signs and symptoms of depression include disturbed sleep, loss of appetite, guilty feelings, low self-worth, feeling tired and lethargy. It may also manifest as agitation or physical restlessness, substance abuse, reduced concentration and suicidal thoughts or acts, Singh said.
"People experiencing depression often find a range of evidence-based coping mechanisms useful, from talking to someone they trust to exercising regularly or staying connected with their loved ones.
"Avoiding or restricting alcohol intake and refraining from using illicit drugs help keep depression at bay. But many people also find professional help an important part of managing the condition," she said.
Emphasising how support for persons experiencing depression is vitally important, Singh said, "Health services across the region, related to depression, must be made more accessible and of higher quality. This is possible even in low and middle-income settings.
"At present less than 1 per cent of health expenditure by governments in low and middle-income countries is allocated for mental health," she said.
Healthcare workers at all levels can be better trained to detect the signs and symptoms of depression, community health facilities can be better integrated with national mental health networks, Singh said.
World Health Day is celebrated April 7 every year to mark the anniversary of the founding of the World Health Organization and each year a theme is selected that highlights a priority area of public health.