Lauren Wesser, who had her right leg amputated due to a rare tampon infection in 2012, might lose another leg as well.
Here's what you must know about Toxic Shock Syndrome, a fatal medical condition.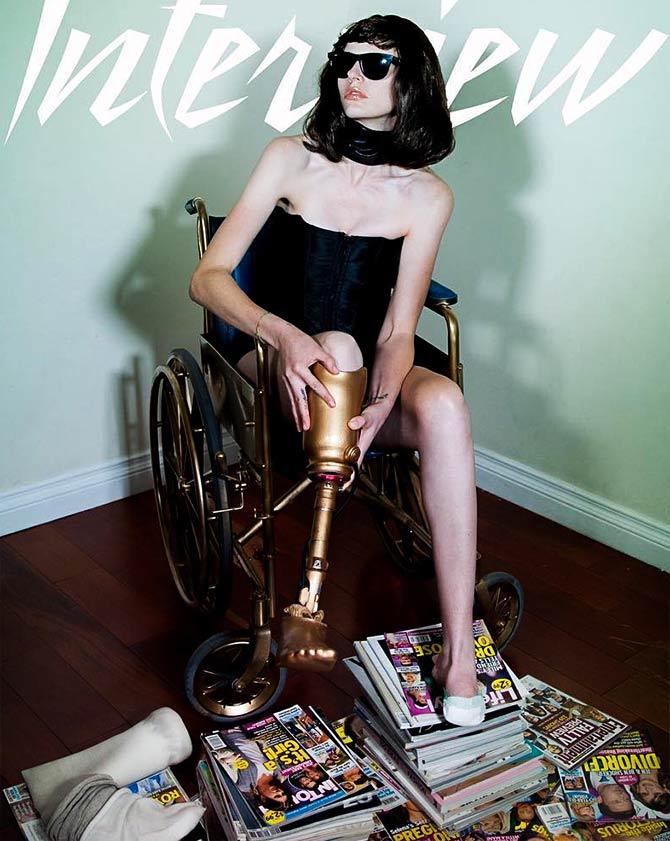 US-based model Lauren Wesser lost her right leg due to Toxic Shock Syndrome caused from a tampon.
She is often featured in magazines talking about how she fought and survived the medical condition.

Photograph: Kind courtesy Interview magazine
In 2012, Lauren Wesser, then 24, who was on her period, went to a store to buy a certain brand of 'super-absorbent' tampons.
After inserting it, she went on about her day.
By evening, she fell nauseous and had fever-like symptoms. Despite that, she attended a party from where her friends sent her back home because she was sick.
'I had a 107°F fever; my kidneys were failing; I had a heart attack,' Wesser shared in an interview.
The next morning, she was rushed to a hospital and put in a medically induced coma.
Thankfully, the doctors had rescued her, removed the tampon and tried to flush out the bacteria. But the damage was done.
Lauren's infection was so severe that her right leg had turned gangrenous and had to be amputated. She was later diagnosed with Toxic Shock Syndrome.
Since then, she has been educating girls about the side effects of certain tampons and raising awareness about TSS.
'My left foot has an open ulcer, no heel and no toes,' she recently wrote in a column for InStyle magazine suggesting an impending amputation of the other foot as well.
'In a few months, I'm inevitably going to have my other leg amputated. There's nothing I can do about it.
'But what I can do is help make sure that this doesn't happen to others,' she added.
What is Toxic Shock Syndrome?
Toxic shock syndrome is a rare medical complication which happens when a person is exposed to staphylococcus aureus (staph) bacteria.
At the initial stage, the side effects of TSS involve high fever, high blood pressure and sunburn like rashes on the body.
If one notices the symptoms, the first thing to do is to remove the tampon and seek medical intervention.
In worse cases, when treatment is delayed, TSS could lead to gangrene, coma and multiple organ failure.
According to the National Organization for Rare Diseases, TSS affects one in 1,00,000 yearly in the United States. Unfortunately, Warren was one of them.