Did you know that pineapples are low fat and good for diabetics?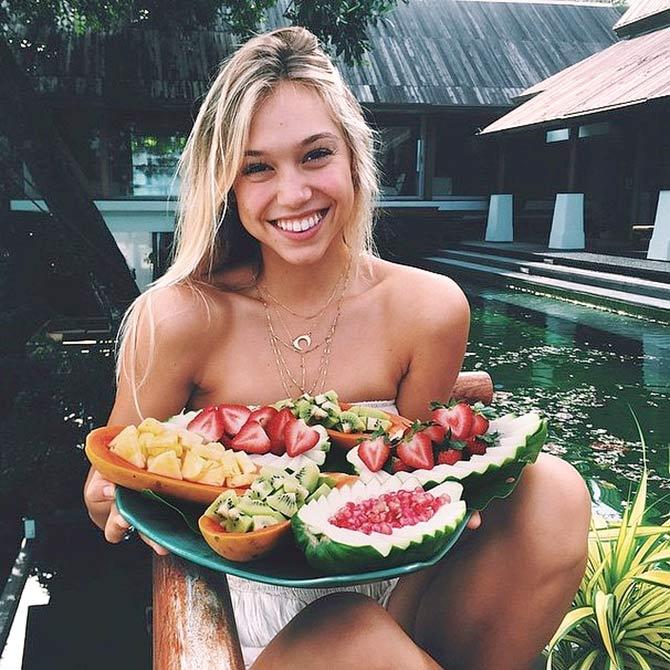 Photograph: Kind courtesy Alexis Ren/Instagram
A healthy diet includes fruits and vegetables that provides all round nutrition.
Nutritionist Daljit Kaur presents a list of fruits you must eat to stay healthy.
1. Banana
Banana may be a cheap fruit but it is an excellent source of potassium and vitamin B6.
The fibrous fruit helps fight diarrhoea and ulcerative colitis.
One banana gives approx 100 kcal.
The best part of banana is it makes you feel full, helps clean your digestive system and improves your bowel movement.
2. Mango
The diet of an average Indian is low in vitamin A.
Eating mangoes in the season may provide a store of vitamin A in the liver which will be sufficient to last for the rest of the yea.
Vitamin A in mangoes are also good for vision.
Meanwhile, ripe mangoes help build calories.
Vitamin C carotenoids in mangoes increase with the growing stages of ripening.
3. Papaya
Ripe papaya is rich in carotenoids, a good source of antioxidants due to lycopene, it reduces inflammation.
It also contains magnesium which helps the blood vessels relax and improves blood flow in the body.
It is rich in potassium, vitamin C and contains a good number of amino acids.
Papayas also have cardiac glycosides which help power your heartbeats.
4. Apple
Apple is rich in pectin and tannin which act as an astringent in the intestine and precipitates food protein.
This essential fruit has the ability to kill cancer cells and protect your body against liver, colon and breast cancer.
Do not throw away the peels because apple peels are packed with vitamins A and C.
Processing apples reduces the nutrition value remarkably.
Most bottled clear apple juice contains only a part fraction of the nutrients that were in the original whole fruit.
5. Guava
Guava is one of the cheaper food sources rich in vitamins A, C E and B potassium and phosphorus and zinc.
It is good for the immune system and fights constipation.
It has high fibre content which is good for diabetics and heart patients
6. Watermelon
Watermelon is rich in lycopene and helps reducing cancer risk.
Melons contain large amounts of vitamin C and beta-carotene.
Watermelon contains high water content which is good for summer months as it helps you rehydrate.
It increases free arginine, which can helps maintain cardiovascular functions.
The amino acids in melons help maintain blood flow and heart health.
The B1 and B6 vitamins in melons are vital for energy production.
7. Pineapple
There is a myth that pineapple is not good for people with diabetes.
You'd be surprised to know that pineapples are fat-free food rich in fibre and vitamins.
Vitamin B6 in pineapple helps stabilise blood sugar.
Along with manganese and thiamine, it aids in energy production.
Pineapples being high in vitamin C assist with collagen synthesis and encourages the condition of the bones, skin, organs and blood vessels.
8. Citrus fruits
Citrus fruits are so named because they contain large amounts of citric acid, the thing that gives them their distinct, sharp flavour that is sometimes bitter and sometimes sweet.
There fruits are an excellent source of vitamin C, it helps lowering blood pressure and helps to relieve stress and are also powerful detoxifying agents.
It also helps regulate glucose levels. Potassium is important for fluid regulation, mineral balance, and muscle contraction.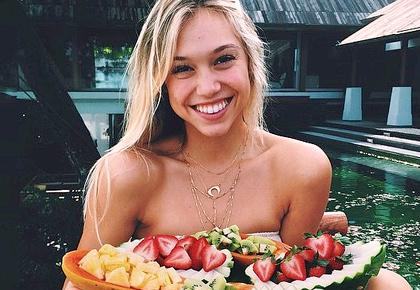 Daljit Kaur is chief clinical nutritionist, Fortis Escorts Heart Institute.