Sodium can cause water retention resulting in inflammation and damage of the blood vessels, Dr Manoj Kutteri.

Ever experienced headache, excessive sweating and palpitations lack of sound sleep and breathlessness?
Well, this is not a result of climate change or diet change.
Your body is wanting to indicate to you about a lifestyle uneasiness or disease which is hypertension.

Hypertension or blood-pressure can be of two types -- high and low. In India, however, the chances of individuals having high blood pressure is more.

The early symptoms of blood pressure are: heavy breathing, balding, breathlessness, dizziness, headache, confusions, chest pain to name a few.

Here are some quick tips to keep your blood pressure under check!
1. Obesity
Obesity is a common, unhealthy phenomenon in India.
Untimely, imbalanced food consumption leads to our body performing extra tasks to bring the body to the same equilibrium.
One should definitely have a balanced diet with fibres, herbs and anti-bacterial foods. It is essential to eat vegetables and fruits in equal amounts.
It is best to avoid alcohol and tobacco.
2. Replace salt
Sodium can cause water retention resulting in inflammation and damage of the blood vessels.
Salt should be consumed in moderation.
A few replacements for sodium can be -- pink salt, lemon, black salt or Sendha namak.
Use other herbs or spices to add flavour but salt. Also ensure that the salt intake is not more than 3-4 gm per day
3. Manage stress
Indulge in timely meals, meditation, yoga or some type of workout. Create jot books and To-do books. Invest in some me-time. Learn to love yourself.
4. Exercise Regularly
Introduce walking and working out in your day.
Involve in some sport like badminton, swimming or squash.
Network with motivating friends who will push you to maintain a healthy lifestyle.

If the above habits are looked into the possibility of you suffering from blood pressure is manageable.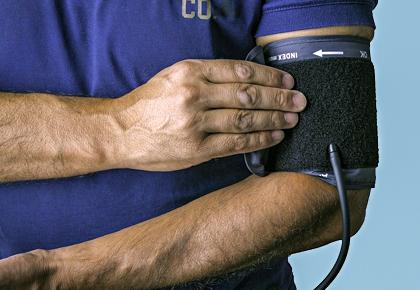 ---
Dr Manoj Kutteri, Wellness Director at Atmantan Wellness Centre. He can be contacted on ga@rediff-inc.com.
---