Mohit Vaid, 28, a media professional from Jammu shares his incredible weight loss success story. You can share yours too!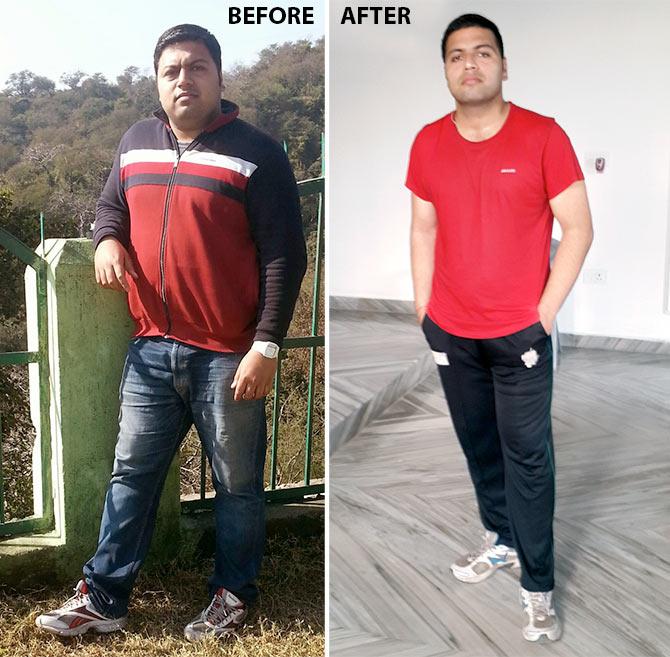 Photograph: Kind Courtesy Mohit Vaid
As a child, I was fat. But when I was in Class 11 and 12, I was fit enough (not overweight).
Right after graduation (from Gandhi Memorial College, Jammu) I started to put on weight. At the age of 27, I was 130 kg.
Few of my friends bullied me because of my weight issue. I stopped going to social gatherings. I felt bad that I was obese.
When I saw people around me losing weight, I tried to lose weight too, but everything went in vain.
I used to go for a run, but it was very irregular. Moreover, I indulged in junk food like pizzas, burgers, puri chana, etc.
One day, I decided to wake up to the alarm sound in the morning and go for a run. But I failed to wake up. This went on for eight days.
Finally on March 23, 2015, I got a call from my sister-in-law, Purbhasha Mondal from New Delhi. She had called to wish me good morning. After the call, I got up and went for a run.
Initially, I could only run for 1 to 1.5 km. It was really hard for me.
But within few months of exercising really hard, I got used to running twice in a day.
I ran 9 km in the morning and covered the same distance in the evening.
Along with this, I hit the gym.
I would start with cross-fit training and cycling for around 20 minutes (in total) and then head to do weights training.
I started having milk and cornflakes for breakfast and vegetable salad for lunch.
I replaced evening snacks with fruits like cucumber, papaya, guava and apple, and had a roti and sabzi or vegetable soup in the night.
I thank my mom for supporting me and making my meals.
After seven months, I lost 36 kg. I am 94 kg now. But I am trying to lose another five to six kg.
During these seven months, I kept myself motivated.
I gave myself a target -- I have to wear a 40 cm shirt. (I was wearing 46 cm then)
I think you just need to be dedicated to lose weight. That's what matters the most.
It's a ratio of 80 to 20 percent, which means 80 percent depends on your diet and the rest is on exercises.
Have you recently lost weight? We want you to share your weight loss story with us.
Write in to getahead@rediff.co.in (subject line: 'Fat to Fit'), with a before and after photograph, if possible, and we'll feature the best entries right here on Rediff.com!