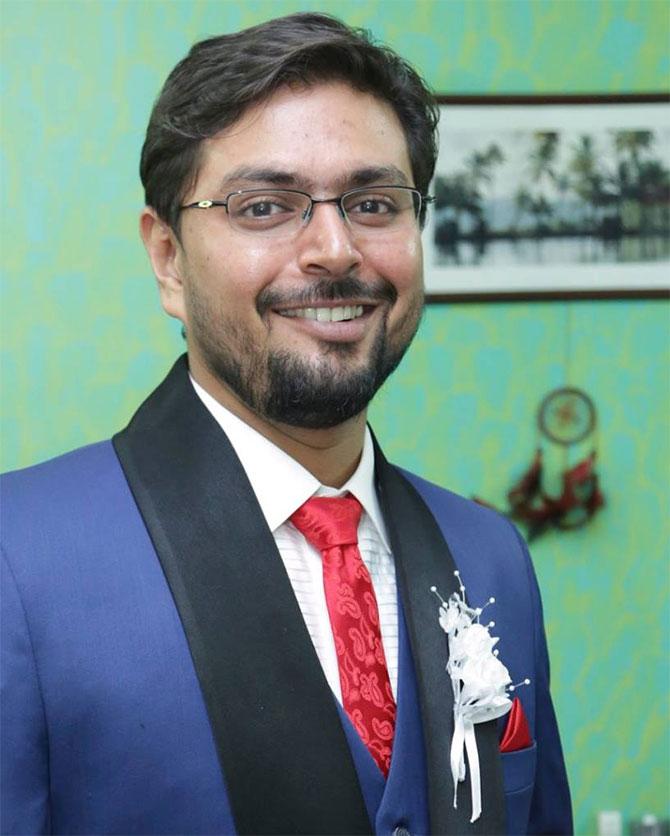 Mumbai-based commodity trader Jezreel Pannikot was 103 kilos when he decided to do something about it.
The story of how he gradually lost 15 kilos, is sure to inspire you. You can share yours too!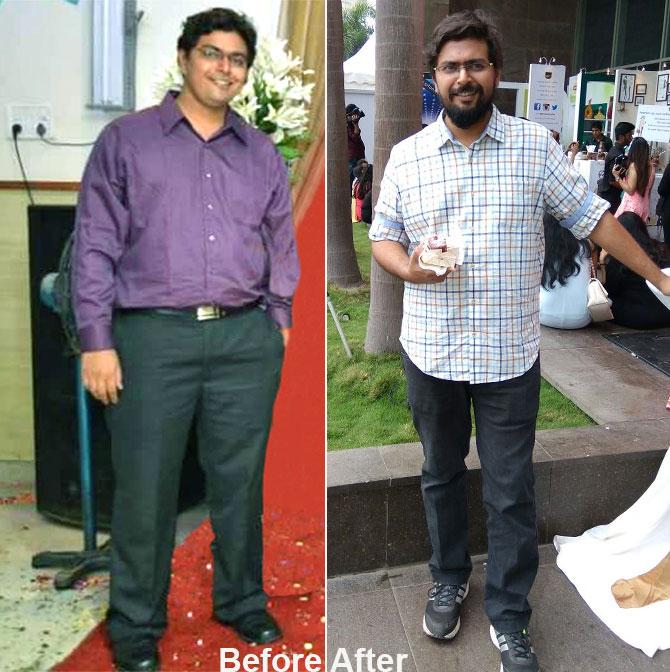 Photograph: Kind Courtesy Jezreel Pannikot
On my way to work in early July 2015, I stepped into Kandivali railway station (in suburban Mumbai). I saw the train -- that I wanted to take -- pulling into platform number two.
I had to run for around 300 metres, climb up a bridge, run across it and then take the steps down.
Now this was something that I would've done with ease back in the day.
I did manage to make it to the train, but I was panting until the train reached Goregaon railway station (which is two stations south of Kandivali).
That's when I realised that I had to do something about my fitness.
The first and most obvious step was to lose weight.
My wife (then my girlfriend) introduced me to a dietician. But I was never in favour of going to one as I felt they would put me on an unsustainable course and prescribe weird kinds of medications to lose weight.
But my wife insisted and accompanied me too. Just so that I stay motivated to lose weight, she started visiting the dietician and followed my diet too.
The diet mostly started with me having a few glasses of warm water with or without some natural detoxing ingredients like lemongrass or gokhru seeds (small caltrops).
This was followed by my breakfast in about two hours. It generally included green salads with or without eggs, some rotis (made from either jowar, bajra or nachni) and washed down with a cup of green tea.
Although I had been asked to eat a couple of fruits before noon, I rarely had them, owing to a hectic schedule at work.
My lunch comprised rotis (again made from either jowar/bajra/nachni) with a healthy portion of cooked veggies. This is basically your normal sabzi but should be super low on oil. Then, I'd have a large helping of sprouts salad followed by a refreshing glass of buttermilk.
At around 5 pm, I had a cup of green tea (sometimes milk tea without sugar) with khakhras (a Gujarati cuisine) made of the same grains used for the rotis.
For dinner, my wife and I usually stuck to soups and stir fried veggies with diced chicken.
Following this diet regularly was extremely tough in the beginning.
I was certainly missing my visit to the chaatwala, enjoying my evening burger or sandwich with a cold drink, and mostly my first love and my favourite Chinese cuisine.
What worked greatly to my advantage is that I went on this diet with my equally (if not more) focussed wife. We both pushed each other when the cravings for junk food hit us.
On those weak days, we'd cheat and try to cheat while cheating.
We would have a moong and chana chaat instead of a sev puri. We have tandoori chicken instead of a butter chicken and would settle for a Manchow soup, instead of a rice or noodle in gravy.
I was lucky as my mom is pretty creative in the kitchen. So instead of rotis, I would sometimes, get to eat dosas, uttapas and pancakes.
Four months later, I lost 15 kg. From a whopping 103 kg, I weighed 88 kg.
I am quite confident that I'll lose another 10 kg soon.
I can easily do those dashes at Kandivali station now. Most of the credit goes to the diet I have been on.
As cliched as it sounds, there is no substitute to determination and perseverance.
What triggered me to start working on my diet was the shame of realising that I had become completely unfit.
I look and feel much better now.
I have intentionally not set timelines because I want to be in a permanent process where I can change my lifestyle to a healthier one.
I haven't really done any kind of exercise till now. Just that instead of an autorickshaw, I walk to and from office. I have joined yoga classes now.
Hope that I continue with the fitness regime in future as well. Fingers crossed!
Have you recently lost weight? We want you to share your weight loss story with us.
Write in to getahead@rediff.co.in (subject line: 'Fat to Fit'), with a before and after photograph, if possible, and we'll feature the best entries right here onRediff.com!