It is a myth that talking about depression aggravates the situation. Giving them a chance to vent out their feelings and emotions is more likely to help lighten the burden, feels Dr Samir Parikh.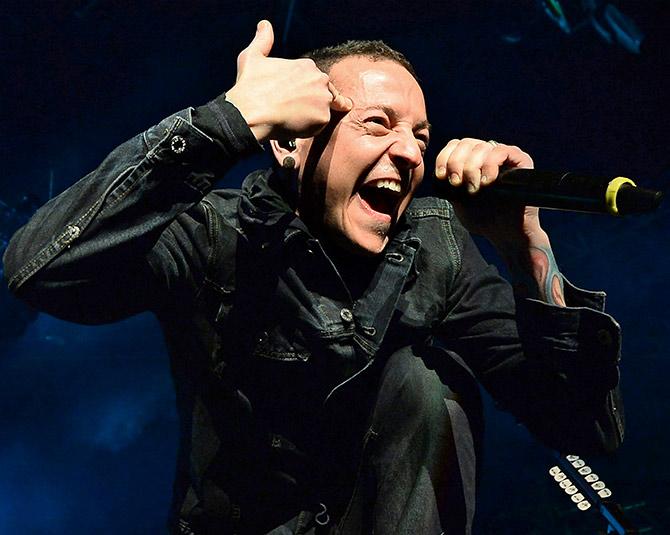 IMAGE: Linkin Park frontman Chester Bennington, who committed suicide on July 20, 2017, is the latest in a long line of celebrities who struggled with depression. His death has once again spotlighted the need to talk about depression. Photograph: Ethan Miller/Getty Images.
Ankit, a 28 year old male, has not been feeling quite himself for the past couple of months.
He no longer enjoys things the way he used to and feels a profound sense of sadness just about every day. So much so that he feels utterly hopeless about his future.
His previously healthy appetite has reduced and he often finds himself waking up very early in the morning and unable to fall back asleep.
Although Ankit has always enjoyed hockey and weight-training, lately he has found that he just doesn't have the energy to do much of anything.
At work, he has been unable to concentrate or make decisions. His friends, co-workers and family are growing increasingly concerned as he is returning phone-calls and e-mails less frequently, and seems very withdrawn and despondent.
The worst part -- he doesn't know he is depressed and how to cope with it.
Depression is the kind of illness most of us either ignore or choose not to talk about.
Every day we read about people committing suicides, taking pills and doing strange things in the process of dealing with or not being able to cope with the condition.
What is depression, really?
How does one know that a person is depressed?
More important, how does one react?
It is quite likely for us to feel perplexed or at a loss if we suspect someone around us to be feeling depressed.
More often than knowing what to do, it is more important to be aware of what NOT to do or say at such times.
Here are some tips to keep in mind.
Do not jump to conclusions
Being on the lookout for signs is good, but at the same time, it is important not to jump to conclusions about the diagnosis.
It is very common for almost all of us to feel sad or low, which we frequently label as being depressed, at some time or the other in our lives.
Everyone goes through the blues or through a low mood that is of a passing nature. It is alright to feel low and out when trying to cope with loss or disappointments at work or at home.
However, in such situations, after some time has passed, things get back to normal and we fall into our daily routines. These situations don't warrant the utilisation of the services of a professional to help deal with the low moods.
Don't over-diagnose
It is important to be aware of the identifying signs which can be a cause of alarm.
Some of the signs are:
Sadness of mood
Irregularity at work
Lethargy
Social withdrawal
Sudden increase or decrease in appetite
Sleep disturbances
Decreased efficiency or productivity at work
Less interest in previously enjoyed activities
Feelings of worthlessness and hopelessness
Difficulty in attention and concentration
Difficulty in decision making
(The person has) suicidal ideas
Frequent and unexplained somatic complaints
Increased irritability or anger on trivial issues
Don't lose your calm
If you see a colleague or a near one depressed, it is important for you not to get anxious or distressed. Be calm, and provide your support by being there for the person.
If you yourself get anxious or worked up, you would not be in a position to be of any help or support to the person who is in distress.
Don't give false hopes or false reassurances
It is almost instinctive for us to tell a person who is sad or worried -- 'Don't worry, everything will be alright'.
While it seems like a very obvious statement to make, it is likely to be unrealistic or over-optimistic. It may also irk the individual further, instead of calming him/her.
Often there is not much you can actually do to change the situation yourself.
Don't force yourself, but simply be there for the person
In today's fast-paced world, it is extremely important to establish a strong network of support, be it at home or at work.
You could be that support by simply being available for the person. Answer the phone when they call you, or respond to their text message when they need your help.
Don't interrogate or form judgements
Provide support, empathy and a listening ear.
Give the person a chance to express him/herself. Convey your genuine concern and support.
In fact, if you are able to engage in a conversation about the person's feelings, you can help the person in coping with the situation by taking a solution-oriented approach, and reaching out to the existing support mechanisms.
It would also be beneficial if you could help the individual to reach out to the help of a professional mental health expert for adequate interventions.
Don't dismiss or ignore any warning sign
Particularly, in cases of severe depression, it is vital for the family, friends, colleagues as well as caregivers to be on the alert for signs of suicidal ideation.
All dangerous items that are potentially harmful including sharp objects, pills, and poisonous substances need to be removed from the reach of the individual.
At the same time, it is important to assess for the risk of suicide, and not to ignore such signs.
Don't hesitate to talk
Initiate the conversation as it is important to give a chance to express their feelings and release their pent-up emotions.
It is a myth that talking about the problem aggravates the situation. Giving them a chance to vent out their feelings and emotions is more likely to help the person lighten the burden by being able to share it with someone who is concerned.
Don't be too inquisitive
If you suspect someone to be suffering from depression, it is important for you to give the person a listening ear, and be non-judgmental.
Do not offer them unsolicited advice. Giving reassurance with active listening and engaging with the person is very beneficial. Try and empathize with the individual, to try and understand his or her emotions.
Show that you care for the person, and do not interrogate. The most effective role you can play is to be a listener, and offer your support.
Don't hesitate to reach out for help or suggest action.
It is important to encourage the depressed person to seek the support of mental health experts to ensure adequate interventions and prevent adverse outcomes.
The author Dr Samir Parikh is consultant psychiatrist, director-department of mental health and behavioural sciences, Fortis La Femme, Greater Kailash, Delhi.