Nutritionist and fitness coach Rujuta Diwekar explains the importance of using the iron kadhai, brass pots and silver plates in our daily lives.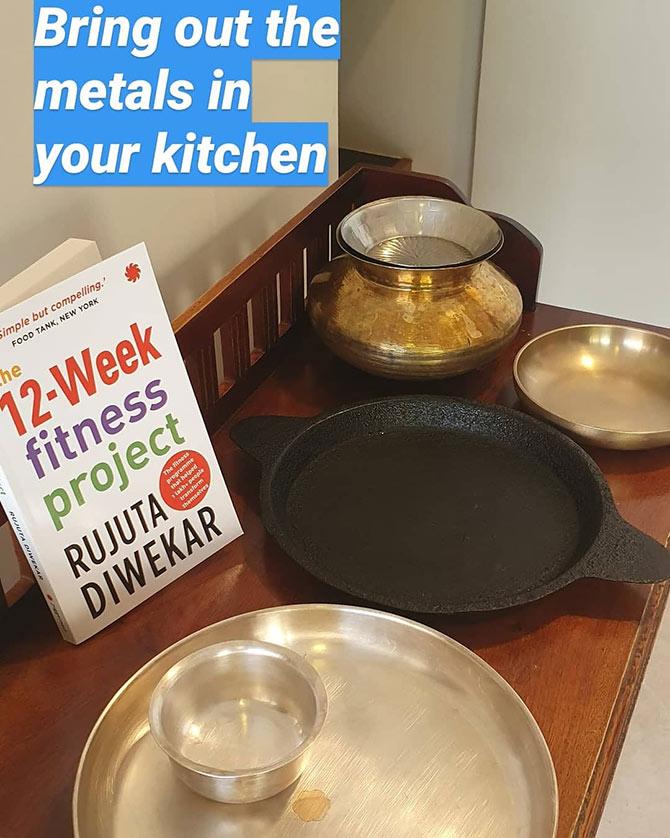 Rujuta Diwekar is known to give some of the most fascinating tips to stay fit and healthy.
From what to eat to how to work out, the nutritionist and fitness coach's social media is full of resources you can use.
The author of 12-Week Fitness Project recently shared a post about the metals you need to use in your kitchen and how it benefits your overall health.
'Bring out the metals in your kitchen,' she urged as she went on to share how how you need to replace nonstick cookware and plastic/steel plates plates with traditional kitchen and cookware.
Here's what Rujuta wrote:
'They say, and rightly so, that good health starts from the kitchen. And we also seem to have the time on our hands to rediscover our kitchens right now. So, here's what I want you to do, open those cupboards and bring out your heritage cookware.
'The right utensils, the right plates and the right glasses can make all the difference to your skin, immunity and even your digestion.
'Here are the 3 things that I would recommend you bring out and why -
1. Iron kadhai and tava -- for making sabzi and rotis -- improved Hb and lesser tiredness. Especially for kids and anyone with poor skin and hair health.
2. Pital (brass) pots - for making dals and khichdis - for improved taste and digestion.
3. Silver or Kansa plates/glasses -- to eat food and drink water -- proven antimicrobial properties and known for boosting immunity.'