Did you know that dark chocolate is full of antioxidants that are good for your skin?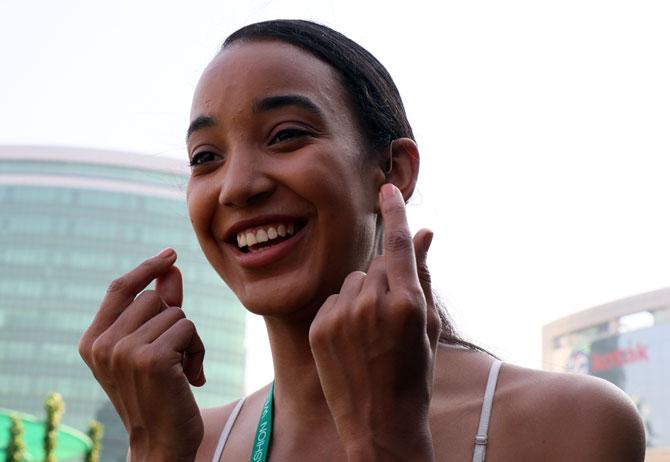 Photograph: Rajesh Karkera/Rediff.com
Remember when you were in middle school, agonising over a pimple?
It was so important to have a clear complexion.
How could we give speeches or debate or recite poems in front of the whole class with a face that resembled a slice of pizza?
And at the age of thirteen, hardly anyone had parents willing to spend thousands on potions and creams that promised clear skin.
Those of us who were particularly afflicted with bad skin had to resort to DIY-ing skin care and that never seemed to really work well for most.
But fear not! It is seriously possible to acquire an almost airbrushed looking face -- or at least calm your breakouts -- without spending a single rupee, as long as you use the right ingredients.
1. Turmeric powder
The most important ingredient is turmeric powder.
Everyone's mother and grandmother has touted the benefits of turmeric and I hope you haven't scoffed at yours.
This is perhaps the single most effective ingredient you can use to attain clear skin.
It has strong anti-inflammatory properties and packs a powerful punch. If used as a component of a face mask, it will definitely help diminish any zits or redness.
Just be careful to use it sparingly as it's strong enough to sting and irritate your skin when used in large quantities.
If your skin looks ominous the night before a big event, turmeric used in conjunction with some other ingredients in a face mask should leave you looking flawless the next day.
It's best to work turmeric into your daily skincare routine as well, since it works to fade acne scars and make your skin glow. It'll be like all that middle school zit-picking never happened!
2. Lemon Juice
Another powerful ingredient is lemon juice.
It sounds innocuous enough but you have to be a little more careful with it than you are even with turmeric.
Its antibacterial and an antioxidant and will clear skin, fade scars and its Vitamin C will brighten your skin tenfold.
However, it will certainly sting if applied over any cuts, and it makes your skin more susceptible to sun damage.
It's wisest to apply it with some milk as a mask around bedtime a couple of times a week, so that you don't come in contact with sunlight at all.
If you use it carefully, your skin will truly thank you.
3. Sandalwood powder
Sandalwood's another ingredient that's been used by Indian women to clear their skin for aeons.
Milder than turmeric but almost as potent, you can (gently) scrub your face with it everyday.
Moreover, you can turn it into a face mask with some milk and proceed to traumatise everyone in your home with your diseased looking face.
First they'll be scared, then they'll enchanted with your smooth, radiant skin.
4. Honey
Honey is an incredible ingredient -- an antibacterial, supremely hydrating antioxidant.
This implies that it can prevent and diminish acne and zits, reduce signs of ageing and intensely moisturise your skin.
Yes, it's a tad sticky, but you can create a creamier mask by adding some milk and sandalwood.
Used regularly, honey will transform your skin into that of a baby's bottom. Just stay far away from any flies while you're coating your face with it.

5. Dark Chocolate
The last skin-fix on this list is my absolute favourite -- dark chocolate!
This may be a bit of a surprise to skincare newbies, but dark chocolate is replete with antioxidants.
It reduces fine lines and makes your skin glow. However, this is unfortunately only applicable to chocolate with very very high cocoa content (70 per cent and higher).
You can melt some in a pot, mix in a little whole milk, let it cool, and enjoy a uniquely delicious face mask.
It will genuinely leave you with the softest skin in the world.
On the other hand, even simply eating a couple of cubes of dark chocolate everyday is meant to enhance collagen production and improve the general appearance of your skin.
Personally, I recommend using all the other ingredients on your skin and just eating the chocolate.
To use chocolate any other way just seems slightly blasphemous.
That's it! At least a couple of these ingredients are certainly already lurking in your kitchen pantry.
Soon you will be able to proudly boast near-perfect skin, without having spent a single rupee on it.