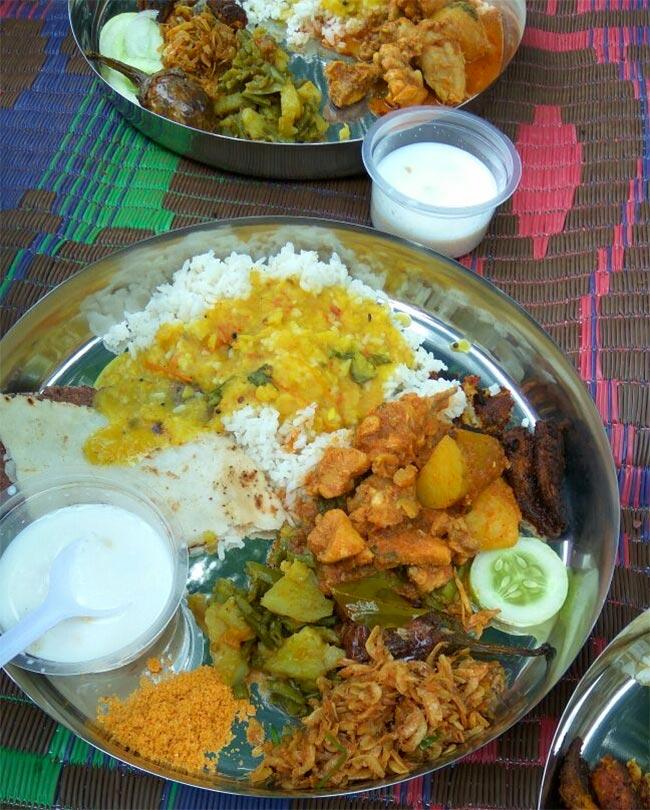 A group of Adivasi women are using organic produce grown on their farms to change our perception of healthy eating.
Here's what Rediff.com's Anita Aikara discovered when she set out to enjoy a tribal lunch in... Mumbai.
"What's a tribal lunch?"
That's what my husband asked when I told him about our weekend plans.
It's been five months since our wedding. The first month was spent with my in-laws.
It wasn't long before we moved into a lovely terrace flat in a quaint neighbourhood in north Mumbai.
The initial weekends were dedicated to setting up our home.
Then we focused on the terrace garden. We kept ourselves busy buying pots to sow the seeds our friends had gifted us from various destinations -- basil from Bali, flowers and herbs from Kashmir, curry leaves from Kerala.
Weekends meant entertaining friends who would come over and party.
After weeks of entertaining folks and playing the good host, I decided we needed to step out for a bit.
That's when I stumbled on a Facebook post about a tribal lunch.
Yes, the same thought crossed my mind too.
What is a tribal lunch?
A little research yielded the following answers:
The food was cooked by tribal women.
It was cooked on a traditional Indian wood-fire stove.
And the menu boasted some delicious food.
It was a rare opportunity to eat in a tribal village located in Mumbai's Aarey Milk Colony, probably the city's last green lung.
I had to attend this lunch... if not for the food, then definitely for the experience.
*****
Aarey is where love birds (the human kind, that is) descend on for some privacy. Some Bollywood movies are still shot there -- though most shoots have moved to Film City close by. Then there are the picnic spots, which draw all kinds of Mumbaikars.
Why is it called Aarey Milk Colony? Because the city's biggest dairy is located here, and its staff live in its verdant premises.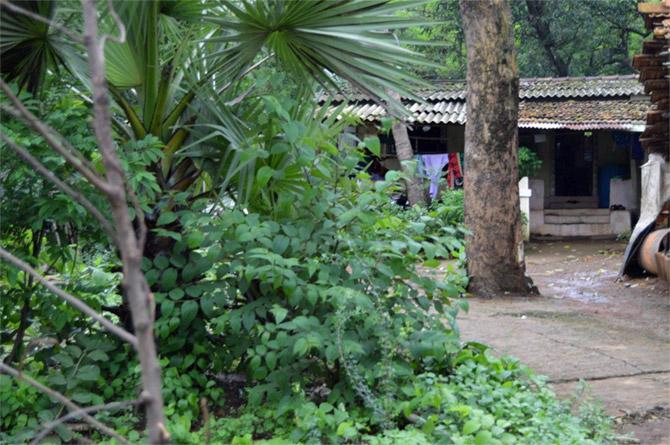 IMAGE: A tribal home in Aarey. Photographs: Anita Aikara/Rediff.com
In the confines of this large green park also live a lesser-known, self-sufficient tribal community, who call Aarey their home.
The tribals have been here for years... living a rather secluded existence; one which is cut away from city life. They have their own farms, where they grow organic vegetables.
At 1 pm last Sunday, our tiny Alto pulled into the massive gates of the Aarey Milk Colony.
There was a sudden dip in temperature and after the endless honking cars on the Western Express Highway, the sudden calmness of Aarey was such a relief.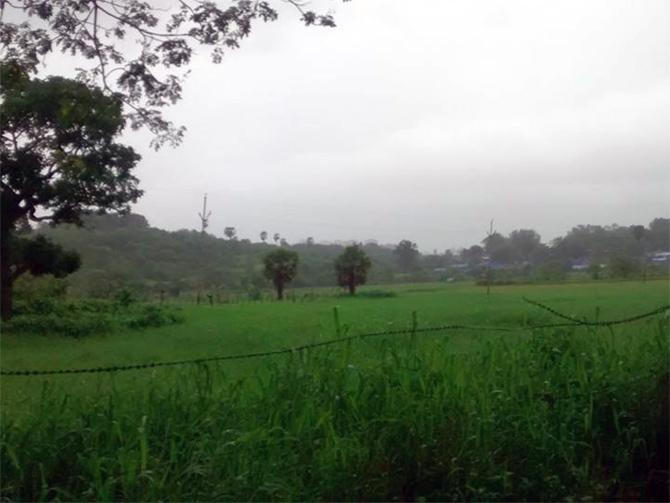 IMAGE: It was a relief to sight these green fields in Maximum City.
As we drove past a lake, I rolled down the glass to take in the scene.
It was a straight road, and we were surrounded by greenery... tall trees bowing in the wind, lush green leaves swaying with the breeze.
The drive reminded me of Kerala and I longed to stay a little longer on the road, just to soak in the scene. But my growling stomach forced me to reconsider the idea.
We were asked to look out for a tabela (cow shed) after passing the picnic spot. Not sure if we were on the right track, we stopped and asked a local for directions.
"Aarey is filled with picnic spots and tabelas," he said with a laugh. "Which one are you looking for?"
We decided to turn to Google Maps.
After diligently following the instructions on the map, taking several turns and passing a dozen tabelas, we finally reached the edge of a cliff. Our destination was probably just below the cliff, but there was no way we could get there in a car.
Surprised and confused, we turned around, this time relying less on the app, and more on directions from passersby.
Almost an hour after arriving in Aarey, we finally found our destination tucked away in an isolated corner. Apart from loud sounds coming from a nearby studio, it was unusually quiet.
I peeped into the studio and noticed that a set of a railway station was being put up. Technicians laboured over blue-coloured boogies, giving it the final touches.
On the left was a long winding road which would take us to the village.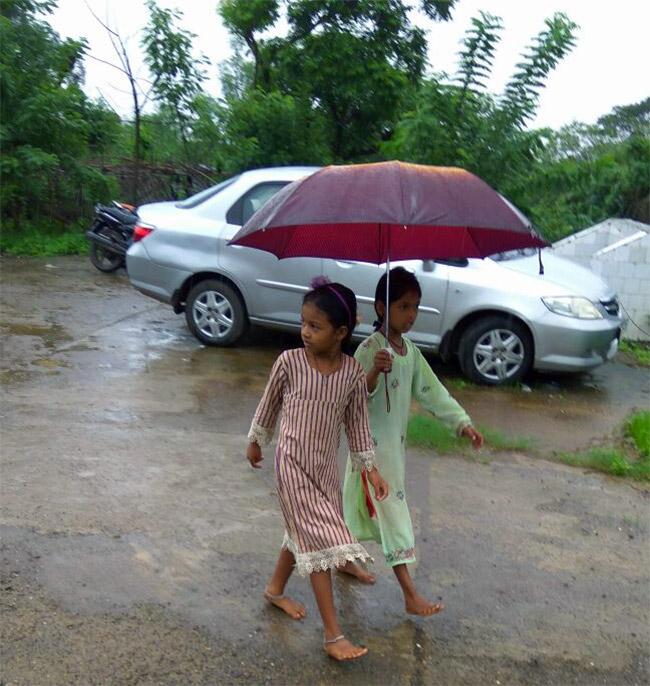 IMAGE: We followed these two girls, who lead us to the village.
"Oh! Look they use solar energy," exclaimed the husband as we made our way up the narrow road.
I noticed rows of bitter gourd growing on rope trellis and small beautifully painted huts with Warli art looking cheerful and inviting.
As it began to drizzle, I quickly reached out for the umbrella. As I struggled to open it, I noticed unassuming children walking around merrily, enjoying the rain.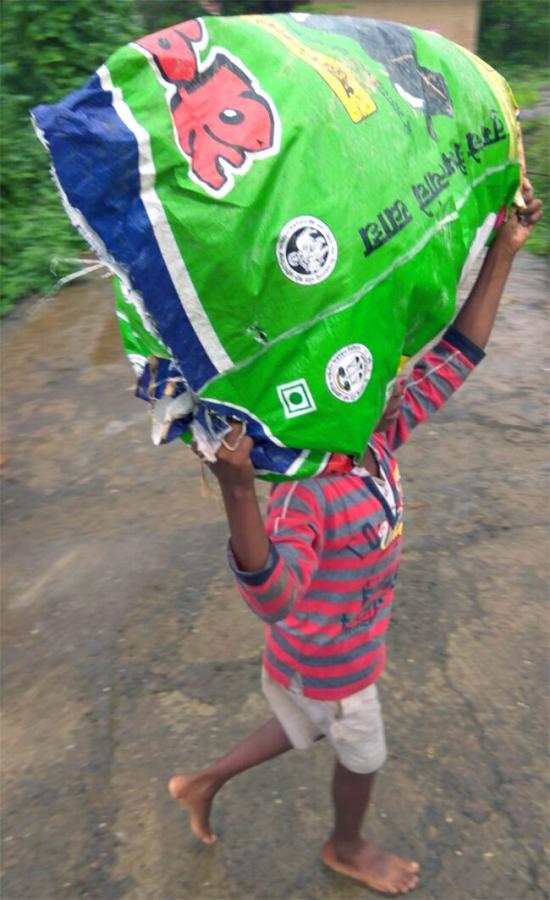 IMAGE: A smart technique to avoid the rain, isn't it?
Hidden from the prying eyes of builders, it reeked of innocence, something that seems to be lost in the city's bustle.
As we approached the village, I spotted mats on the ground, just outside a mud hut with hatched roofs.
A young girl came charging out with a pot of chicken curry. She rushed to the main lunch area where she poured the curry into another pot.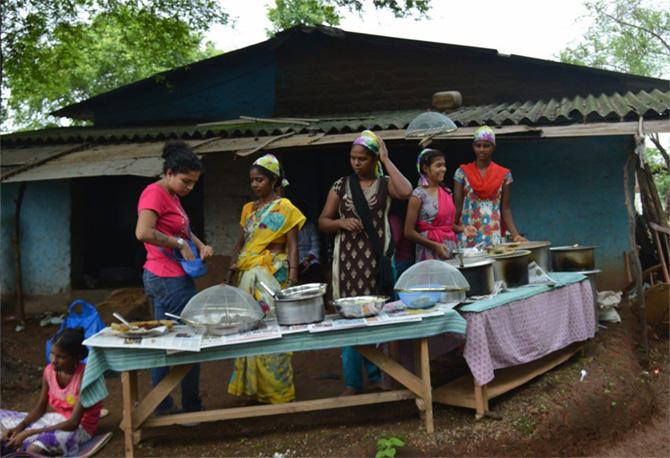 IMAGE: The buffet is ready.
That's when we spotted the buffet table, with delicious food, under a tree, just outside the hut.
My stomach growled a little more.
Had we had reached on time, we could have seen them cook lunch and probably learnt more about the tribal recipes too.
Fried fish, stuffed brinjal, rice bhakri, ragi roti and lasoon (garlic) chutney, cucumber salad, boiled rice, beans sabji, aloo dal, chicken curry, sukha zinga (dry prawns) and rice kheer were neatly placed in huge vessels.
Greedily, I approached the buffet table, grabbed a plate and removed a tissue hoping to wipe it clean. But surprisingly, the plate was clean.
After being served generous portions of the food, and invited to come back for more, I settled down on a mat, and start eating my lunch.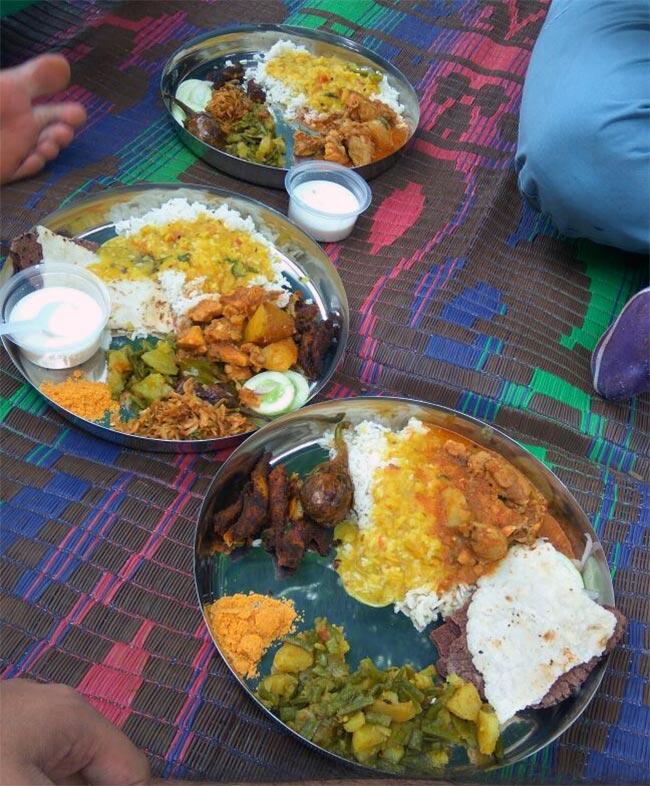 IMAGE: A table set for three.
I have always imagined visiting a farm, plucking the freshly grown veggies, getting it cooked in a kitchen close by and then enjoying my meal sitting under the shade of a tree.
This was really close to what I imagined.
The food was simply delicious. I heard someone say that the rice bhakri (a type of Indian bread) was made on a chulha (a traditional stove) and the brinjal -- probably gathered from the nearby farm -- was stuffed with lasoon-shengdana (garlic and peanut) mix.
That, according to them, was why the food tasted so good.
I disagree. There's something about eating fresh vegetables, plucked minutes before being cooked. And nothing can beat that taste of freshness. I sighed thinking about the ordeal the vegetables go through before they reach our homes; that's probably the reason they never taste as fresh.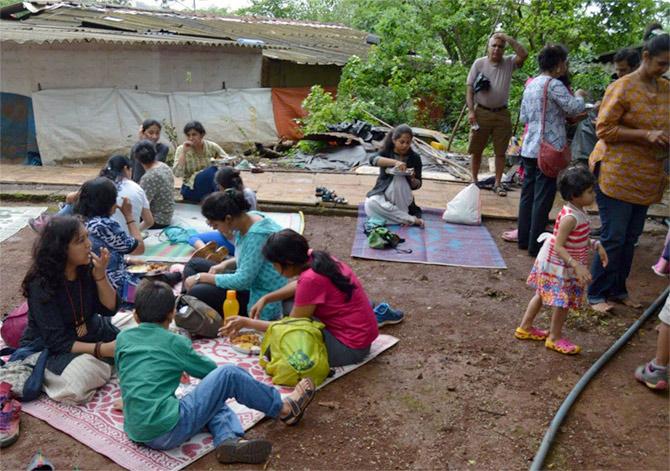 IMAGE: No one complained about sitting on mats on the ground to eat.
Lunch seemed like a never-ending affair, and I just couldn't stop at a single serving. Every bite seemed so delicious that I ended up over-eating.
Just when I was making up my mind for a third serving, a bus filled with enthusiastic guests, who had gone for a tour of the tribal village, arrived. So I ditched the idea.
Post lunch, we took a walk around the village.
We spotted a flea market where organic vegetables grown in the village were sold. Surprisingly, the rates didn't burn a hole in our pocket.
A packet of bay leaves (tej patta) cost Rs 50. There was fresh ginger-garlic paste, mangoes, drumsticks, leafy vegetables and plants too. But the bestseller was the Mirchi Thecha (a thick, dry, spicy chutney).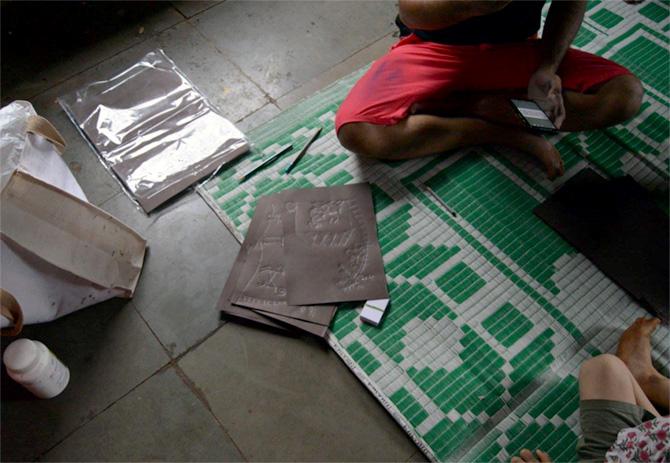 IMAGE: The pencil sketches on the floor are evidence of a Warli painting workshop in progress.
A Warli painting workshop being conducted in a tiny hut.
Guests were also invited to plant saplings in the tribal farm.
But we chose to watch a game of cricket played by local boys.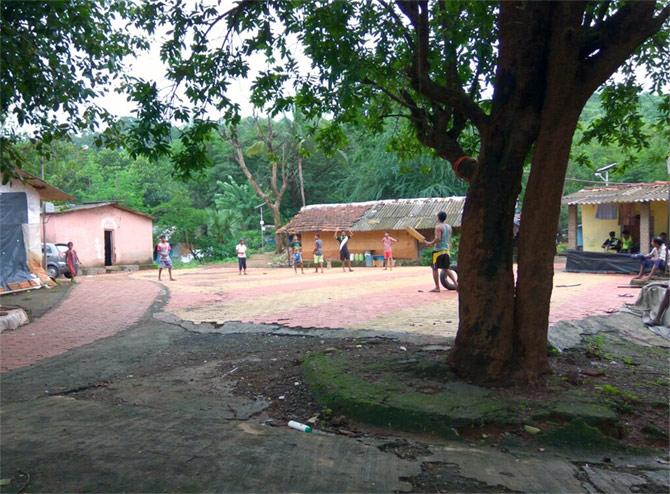 IMAGE: Standing in the shade of a tree, we set our sights on this cricket game, minutes before it began to rain.
We'd have stood there for hours had it not been for the sudden shower that made us rush into a hut for shelter.
Despite the rain, I noticed that the children continued their game. The boys were drenched, but they didn't seem to care.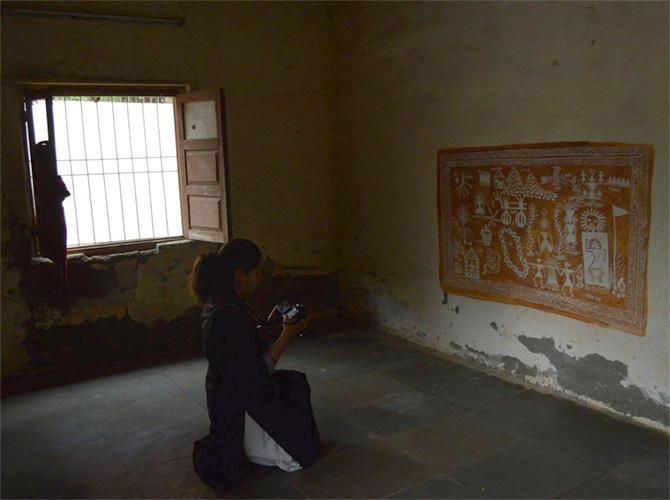 IMAGE: The village is a treat for budding photographers.
As the rain subsided, we reluctantly made our way back to the car, promising each other that we'd be back for more tribal food -- and this time earlier to catch the bus for the village tour.
---
Want to be a part of this tribal experience? Visit WWH Charitable Foundation on Facebook. We Will Help (WWH) Charitable Foundation, an NGO, has been working with the tribal women residing in Aarey Milk Colony to organise this Sunday outing.
WWH hopes to create awareness about the tribal culture and to remind us about the importance of Aarey, which people who want 'development' are ignoring.
You can also opt for a guided bus tour of the interiors of Aarey and attend a meditation session before lunch.
The meal costs Rs 300 for adults and Rs 250 for children below 12 years.
Where: Khambacha Pada, Unit 25, Aarey Milk Colony, Shivaji Nagar, Goregaon (East). Telephone: 98202 24450